This Japanese Ramen Chain Really Wants You To Focus On The Noodles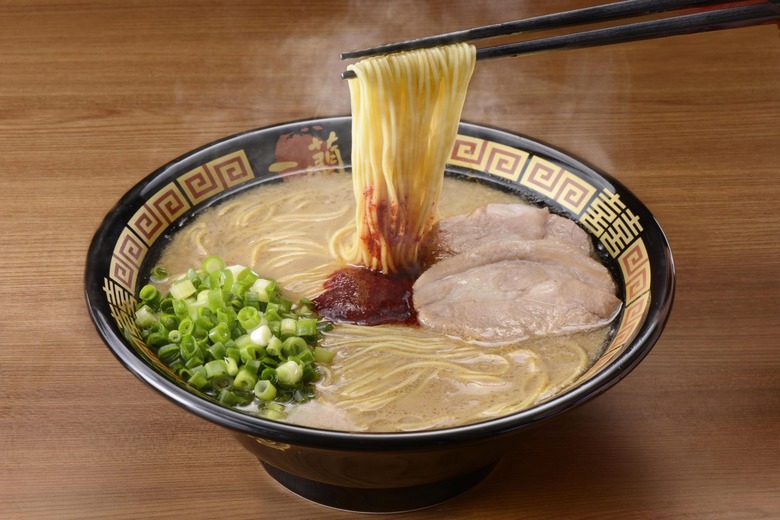 (Photos courtesy of Ichiran.
Throw everything you thought you knew about tonkotsu ramen out the window. Based in Fukuoka, Japan—the birthplace of the pork bone-based noodle soup—Ichiran serves what it claims to bet the most authentic bowl of tonkotsu ramen. The global chain just opened its second U.S. location in Manhattan (the first sits pretty in Brooklyn).
Known for its unique design, Ichiran is all about the opposite of communal tables. Tables reminiscent of voting booths line the room, each walled off on the left and right sides with a limited-view window at the front. Diners are presented with a slip of paper and pen to customize their ramen. Hit a button on the table to call a server, who will reappear in five minutes or less with a piping hot bowl of noodles, roll down a bamboo curtain and leave you to slurp as loudly as you please.
The original Fukuoka-style bowl is simply topped with scallions, slices of chashu pork and a dollop of hiden no tare, Ichiran's signature spicy red sauce. The noodles are straight and silky, unlike the wavy, chewy noodles served in most of New York's ramen shops. Marinated hard-boiled eggs, kikurage mushrooms, seaweed, extra noodles and other toppings are available a la carte. According to public relations manager, Iori Hanai, the dashi (the backbone of the broth), hiden no tare and flour to make the noodles are all shipped from Japan. Everything else is made either on location or at the shop's Brooklyn warehouse.
The broth is unctuous without leaving your mouth feeling coated and desperately desiring a hot cup of tea to cleanse. The restaurant enforces a strict rule that the slippery noodles must be served 15 seconds after they're cooked—which is precisely why Ichiran doesn't offer takeout. There are DIY kits available for purchase, however.
All 75 locations of Ichiran are designed to look identical and serve the same bowl of ramen. In a city of 8.5 million people, where dining alone still seems inevitable, Ichiran opening in New York City sounds like a foolproof plan. Nevertheless, Hanai tells us that feeding the lonely isn't the point.
"The basic idea is not really solo dining, it's to focus on the ramen," Hanai says. "Once you start eating, we want customers to just enjoy our ramen instead of looking at the phone and stuff."
Ichiran is the type of place to head to when all you need is a no-frills bowl of hearty ramen, away from dinner banter and serial phubbers. It's a restaurant where you can disconnect (there are signs that suggest you put your phone away, after you snap that photo, of course) and recharge, like a 30-minute spa trip for the soul. It's open from 9 a.m. to 1 a.m, so you have plenty of time in the day to get away.
Ichiran, 132 West 31st Street, New York, NY 10016; en.ichiran.com