Meet The Man Who Wrote The Book On Where Chefs Eat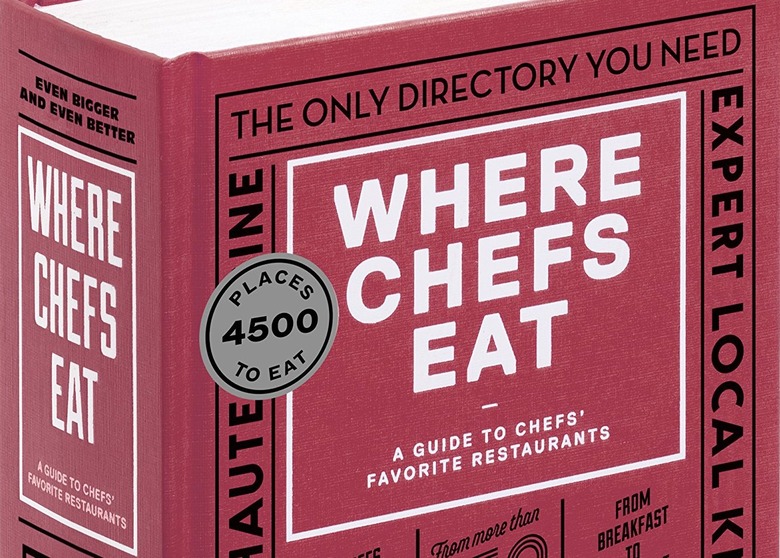 We may receive a commission on purchases made from links.
"Where do chefs eat?" It's a seldom-asked yet fascinating question. These are, after all, the world's leading authorities on food, tasked with mixing ingredients and marrying flavors to create new and exciting culinary combinations on a daily basis for the masses. It makes for tireless work that ensures their constant proximity to food more than any other professional. The workload is routinely so grueling that the large majority of meal periods are spent in their own kitchens. There's a humorous adage in the restaurant world that has it that most of the cooking at home is done by chefs' spouses. But what about dining out? Surely, chefs must have some favorite local haunts at which to spend their precious little free time.
Not only are chefs incredibly well-versed in their local restaurant scenes, but they are quick to offer support to those in the community. Food and drink writer Joshua David Stein, former restaurant critic of the New York Observer, was one of the four minds behind this year's edition of Where Chefs Eat, a 1,200-page tome compiling more than 4,500 restaurant picks from more than 650 of the world's most influential chefs in 70 countries. As U.S. contributing editor, Stein spoke with acclaimed chefs nationwide about restaurants not only in the country's established food cities, but in smaller and emerging markets. The result is a best-selling directory that serves as the ultimate restaurant guide from breakfast to late-night hangouts, fast food to high-end dining. We spoke with Stein about the process behind compiling such an exhaustive work. Be sure to look for it in stores on April 4 or pre-order it on Amazon today!
How did you first become involved in this project? Why were you interested?
I'm part of the Phaidon [publishing] family, which is how I first became involved. This is my first year involved. But it's really a guy named Joe Warwick, who is based in the UK, who has been the man behind the book for all three volumes. I was interested and am interested for a few reasons. First and foremost, it was a chance to research the great culinary cities of North and South America and not just the cities, but the chefs themselves and not just the chefs, but where they ate at all moments in their lives.
Secondly, I loved the logistical challenge. I now know so much more about Google Forms and Excel spreadsheets and Pivot tables! My section alone—North and South America—is by far the most logistically complicated editorial project in which I've been involved.
How does one start with the question "where do chefs eat?" and whittle it down to just over 1,000 pages?
Thanks to the good work of Joe and the other folks at Phaidon, the basic eight genres were already set. I think they do really hit all the notes you want from a chef. From then, I created a Google Form, which we sent out to chefs and/or their PR. Pretty much every chef who responded to all the genres was included. It's a lot of work on their end and these are busy men and women, so we didn't want to waste their time. That said, I only approached chefs whose opinions I thought would be interesting and trustworthy.
How do you decide on these chefs? These cities? Are many chefs unwilling to participate?
I'm not sure what the exact response rate was though I'm certain it was not 100%. Some of this might be because it's hard to get in touch with chefs in general. Not all of them are good on email. Some of it might be because chefs are, as I said, busy people who, when they sit in front a computer, are more likely to have to deal with payroll and procurement emails rather than an editorial inquiry. However, most did respond.
As for which restaurants and where, that was up to me completely though I used previous editions as a guide. I used a bunch of sources to create a list of restaurants within cities. I'd like to credit Eater for their Heat Maps and, more saliently, the Eater 38, which features not just hot restaurants but essential ones.
As for the cities, I really wanted to showcase that breathtakingly exciting food scenes in the United States aren't just located in New York City, Los Angeles, San Francisco and Chicago, nor even in Nashville, Philly and Charleston, but almost everywhere. Researching and talking to chefs from Minneapolis, for instance, and Detroit and Memphis was one of the most enjoyable parts of the entire experience.
Does any personal input go into the book?
In the sense that I chose to whom to send the questionnaire, yes this is a highly personal project. And I did edit their responses for grammar and clarity, but I did not editorialize. I did however — or really we did, since there was a team of us — write the short reviews that accompany hundreds of the restaurants. So that is our (the Editorial) voice.
Do you notice chefs' proclivities for certain cuisines?
Nearly every chef chose a noodle or dumpling place for their cheap-eat restaurant, and many did for their late-night place too.
Do you find that chefs generally enjoy talking up the cooking of other chefs in the area, even if they might be viewed as "competition"?
For sure. I got the sense that though we as consumers see these chefs as competitors, when by and large they see themselves as a community. After all, many have worked in each other's kitchens or in the same kitchen, so they really are a community.
What's different from the first two editions?
The book is 33% larger, with over 200 more pages than the second edition. There are 80% more restaurants included and 50% more chefs surveyed! In particular, the Americas section is much larger, with 535 more restaurants listed, including many located outside the major cities.