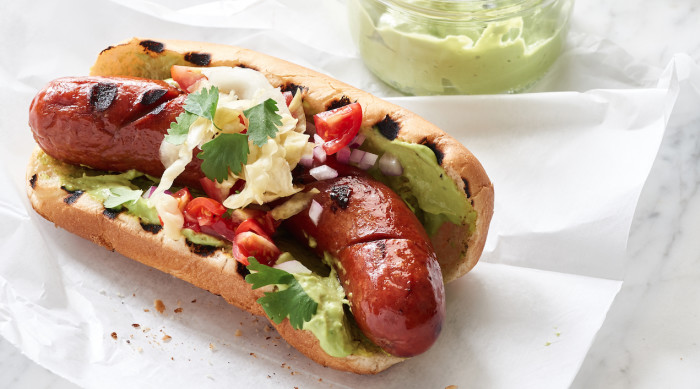 It's just not a ballgame without loaded hot dogs, which is why we're kicking off the 2018 baseball season with five of our favorite sausages in buns. Simple, humble mustard 'n kraut just won't cut it for an occasion like this. Pile the toppings high and ring in the first game of the year with one of these behemoths.
At the southern end of South America, hot dog fanatics in Patagonia, Argentina, revel in a colorful variation that involves sauerkraut, chopped tomatoes, and a creamy avocado mayo. Although it's a combination we probably never would have imagined on our own, it has made it into this collection for a good reason: it tastes great!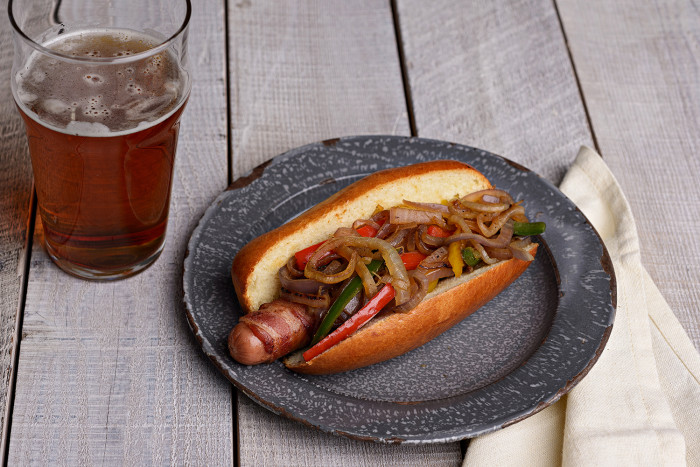 People are sometimes surprised that I miss food things from LA besides In-N-Out and amazing Mexican food (though I of course miss those things). I miss getting sushi in Little Tokyo. I miss sandwiches from Bay Cities in Santa Monica. And I miss getting a greasy delicious Victory Dog outside the Coliseum after watching my team demolish some losers in powder blue.
Alexander loves hot dogs, so our challenge was to make one that fit into a fine-dining atmosphere. We chose good-quality chicken hot dogs for both flavor and health and then we topped them with our chicken chili We also brush the hot dog buns with butter before lightly toasting them.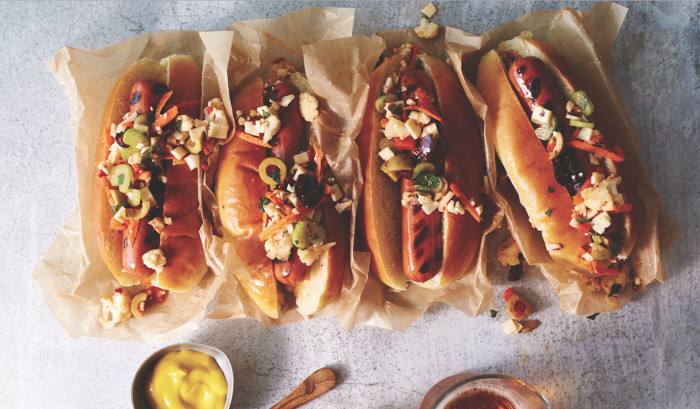 Looking to bring a taste of New Orleans to your next cookout? This is just the ticket. Our latest muffuletta riff (we've also made muffuletta deviled eggs, sliders, and cocktail kabobs) lightens up the classic filling and turns it inside out for a chargrilled hot dog topping. It's light, fresh and, quite frankly, delicious.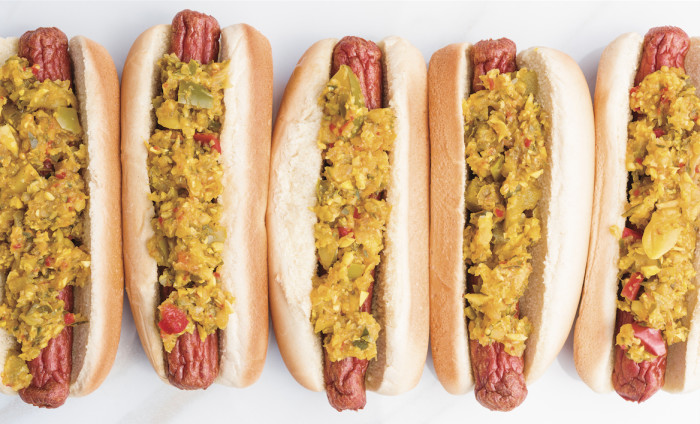 Everyone has their preferred way of cooking a hot dog. Some like the boiled or steamed ballpark variety; others like them to a varying degree of doneness on the grill. Here in Jersey, we deep-fry them. A quality frankfurter — beef or pork — will have a tough casing that withstands the hot oil, to a point; the dogs are done when they rip open, hence the nickname "rippers." Served on a bun, with a heaping of Jersey-style relish, these dogs require only a side of onion rings or fries.
Bonus! Here's how to make a hot dog "lobster" roll: