We Have A Ton Of Awesome Dumpling Recipes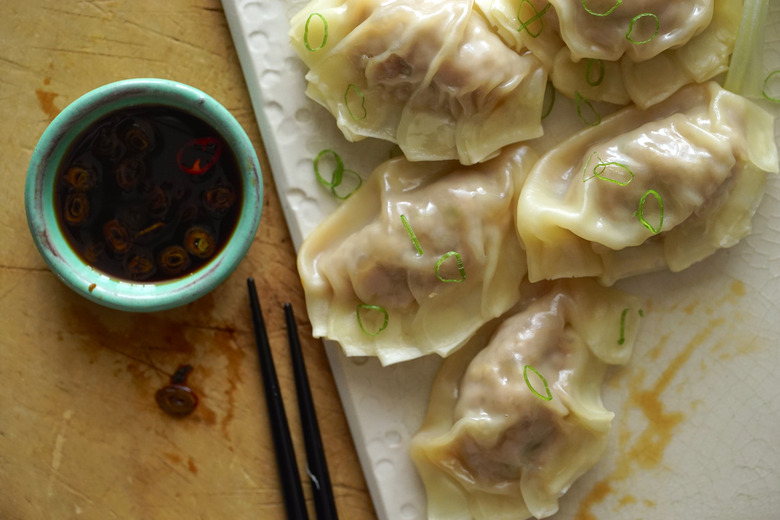 (photo: Kris Lindenmuth
Did you know that we have a ton of awesome dumpling recipes that need a new home in your kitchen? And we've got even more for our shumai and samosa enthusiast friends: handy explainers, crucial techniques, travel stories and in-depth guides about our favorite wrapper-encased and steamed, fried or seared treats. Take a deep dive into our colorful dumpling section for dishes from award-winning chefs and cookbook writers, and freshen up your repertoire from the steamer basket. Here are a few of our recent favorites:
Kitchen Hack: How To Make Dumplings Without A Steamer
You can have fresh, steaming hot pork and scallion dumplings on the table in 45 minutes — even less if someone's helping you fold them! Dumpling making is a great hands-on activity for a dinner party's first course that incorporates your guests' cooking skills at any level.
Recipe: Goat Cheese Dumplings
One doesn't usually associate pasta with Middle Eastern cuisine, but noodles and dumplings, in particular, are popular in several countries around the region. Stuffed pasta dumplings, called manti, are a key feature of Turkish cooking, and it's thought that they date back to the eighth century, when they were introduced to Anatolia from Northern China by the Uyghurs. The very best manti are teeny-tiny, and require a great deal of patience and skill to make. (See our earlier book, Turquoise, if you are interested in learning how to make them.) In this larger form they are much more forgiving, and just as delicious. Manti are usually stuffed with minced lamb and served under a blanket of creamy yoghurt. Our vegetarian version are stuffed with herb-spiked fresh goat's cheese and dressed in a light and tangy pomegranate vinaigrette.
Recipe: Sweet Potato Samosa Purses
We use square spring roll pastry sheets instead of a heavy dough because it makes the samosas lighter and crispier. Also, it's a lot easier to use. These are wheat-flour- based and made without eggs, so they are vegan. Do not confuse them with egg roll wrappers, which are thicker than spring roll sheets and made with eggs, or with rice paper, which is used for Vietnamese spring rolls.
Recipe: Labneh Kreplach Tortellini
Sometimes Middle Eastern flavors and Ashkenazi flavors are a match made in heaven. Ashkenazi borscht is often quite a meaty soup, but I wanted to give it some magic for all you vegetable lovers. Here it gets a rose petal and cumin twist, and instead of the fermented beet juice customarily used, I've added some pomegranate molasses, and the usual sour cream to serve is replaced with my zesty labneh kreplach with Za'atar Spice Mix.
Recipe: Potstickers Royale With Crispy Crepe
Adrienne has a strong childhood memory of hand-forming dumplings of various shapes and sizes with her family. Their potstickers contained an ingredient that isn't often found in dumplings much outside of northern China: dill, added by Adrienne's grandparents' caretaker, Li Na. Despite initial skepticism, Adrienne's grandparents came to appreciate the strange addition, and a taste for dill trickled down to the recipe we use at Fat Rice. Li Na also introduced the light, eggless crepe that adorns our potstickers, one reason people love the potstickers at Fat Rice; the extra crispy bits can be the best part.