Pressure's On! How To Make Shepherd's Pie In A Pressure Cooker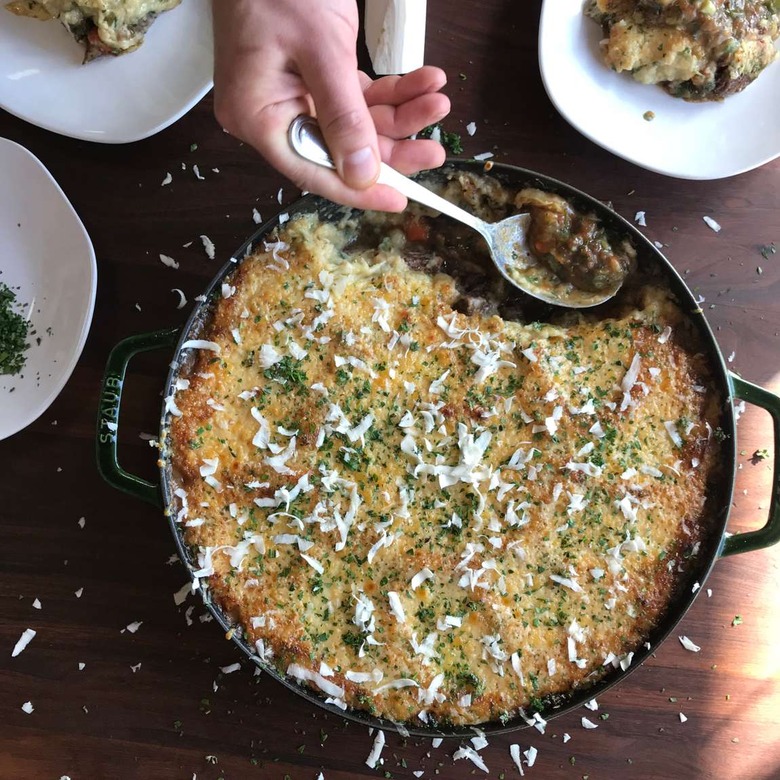 Spring may be here but it still feels like winter in some parts! With that said, we need some comfort food to fill our bellies and souls. Our friends at ChefSteps wrote in this week with this super easy recipe for shepherd's pie made in a pressure cooker. To add a level of twist (and to put in a good word for this root), this recipe calls for parsnips. Dress up this pie with a nice dose of cheese and fresh herbs and enjoy!
Easy, Amazing Pressure Cooker Shepherd's Pie
Serves 10; 1 hour totalIngredients: 
About 4 pounds beef chuck
1 gravy seasoning packet
2 sweet onions, diced
6 carrots
3 Russet potatoes
3 parsnips
1 bunch parsley
Cheese to put on top, as needed
Milk (optional), as needed
Salt, as needed
Fresh herbs (optional), as needed
Butter (optional), as needed
Horseradish, grated (optional), as needed
Equipment:
Pressure cooker, 8 quarts
Directions:
Cut the meat up into 1-inch chunks, trimming some fat as you go. You can slice up the extra fat to render and sear your meat, if you like—we do. Add fat to pressure cooker and begin to heat on medium-high. Then toss in your meat with the gravy seasoning packet.
Brown the meat in the hot oil for about 10 minutes. No need to rush here; you don't want to risk burning it all. Once the beef is brown, add the onions and cook until wilted. While your beef and onions are cooking, cut the carrots into large chunks. Next, add about ½ cup of water to prevent the meat from burning at the bottom and to create some steam for pressure-cooking. Add your cut-up carrot chunks. You can really add whatever you want here—Grant kept these flavors pretty classic.
Peel the parsnips and potatoes, then slice into halves or smaller, depending on how tough, large, or woody yours are. (For example, our russets were pretty tender, so they were sliced in half; the parsnips were very woody, so they were sliced in half and cut into chunks.) Gently stack the potatoes and parsnips on top of the cooking meat mixture. This is so that after cooking, you can easily remove them from the pressure cooker, season them and mash them up for the top of the pie.
Simply pressure-cook everything at ¾ power/pressure for 45 minutes. You can use any cut of meat you want here. We used chuck because it's available everywhere, and it's affordable and tasty. If you can find oxtail, short ribs, or shanks, they would make a very good pie.
Remove the potatoes and parsnips from the pressure cooker. Pop them in a bowl and smash away. Add milk if you need to make it thinner, but you probably won't need to. Add some salt, maybe some herbs and butter—your call. You actually want them to be a bit drier in this dish so they hold their shape and don't become sloppy when the pie is being served.
Season and garnish the pie. No special instructions here. You can also add peas if you like—maybe some shaved brussels sprouts or cabbage—we just recommend a hit of color. Otherwise, it will be pretty, you know, brown.
Top the mashed potatoes and parsnips. There's no stress about this part—you can throw them on, spoon them on, or even pipe them on.
Add cheese, if you please.
Stick your pie behemoth under the broiler on high for a few minutes until your cheese is melty and starts to crisp.
Garnish with fresh grated horseradish, if you've got it and serve!
ChefSteps comprises a team of award-winning chefs, filmmakers, scientists, designers and engineers focused on revolutionizing the way people cook by inspiring creativity and encouraging expertise in the kitchen. You can also get access to all of ChefSteps' Premium content — including paid classes and dozens of recipes available only to Premium members for a onetime fee of $39. Classes include Sous Vide: Beyond the Basics, Fluid Gels, French Macarons and more!