Nothing livens up dinner like something-crusted something! What does that mean, exactly? A crust is any kind of seasoning pressed onto the surface of what you're cooking. It can be as simple as breadcrumbs or as complex as you can muster. Whether you're crusting with seeds, nuts, cheese, lentils or — let's just say it — bacon, you can't lose when you crust your food.
The second year of our marriage, when I grew a little comfortable with cooking and a little relaxed around my kitchen, I planned to make something out of my comfort zone, something completely different. I made this effortlessly chic dish for Valentine's Day. I recall how impressed my hubby was, and how happy I was. I told myself, "Oh hey, I can cook." I scribbled in my diary so that I didn't forget anything, thinking that I would put this recipe in my cookbook, whenever that happens — and here it is. It's a surreal feeling that this recipe made it. If there's one thing you do not want to skip is the asafetida. Get a small bottle; it keeps for a while. Serve the fish with some chunky, toasted bread or herbed rice.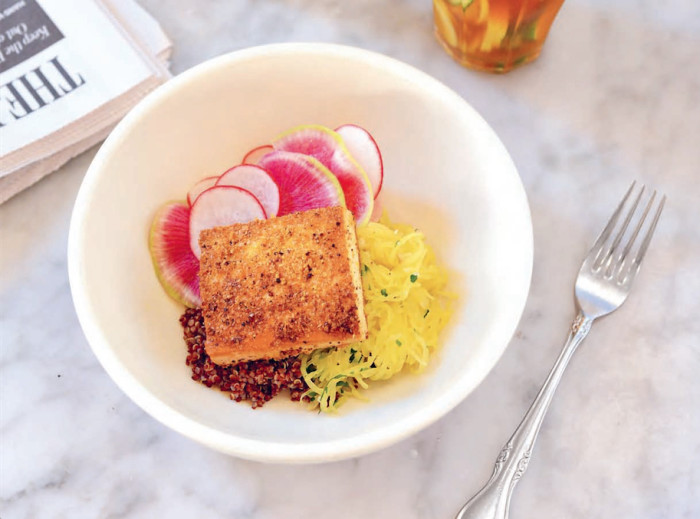 This is an excellent recipe for vegetarians and carnivores alike. The mustard seed crust provides a crunchy texture to the outside of the soft tofu and the spaghetti squash offers a starchy base to this dish.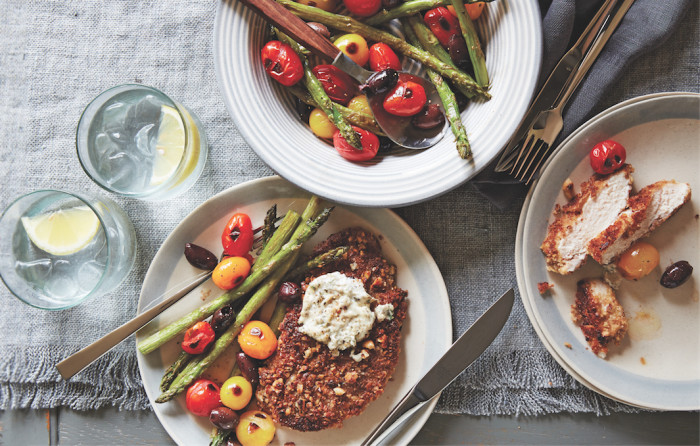 Sometimes I find myself stuck in a rut when it comes to chicken. Grilled, baked, sautéed, roasted — it all starts to taste the same. So I created this meal utilizing some of my favorite ingredients to make an elegant, tasty dish. I use sweet, nutty pecans to create a crispy crust for the juicy, tender chicken breasts. In addition, I use fresh goat cheese amped up with herbs and black pepper to serve as my "finishing" sauce by melting it atop the hot chicken right when it's cooked. Trust me, this goat-cheese technique is to die for. I like to serve this dish atop a bed of roasted tomatoes and asparagus. It goes right into the oven in one pan — simple, clean cooking at its finest. This meal pairs well with crisp, mineral-y white wines and light reds.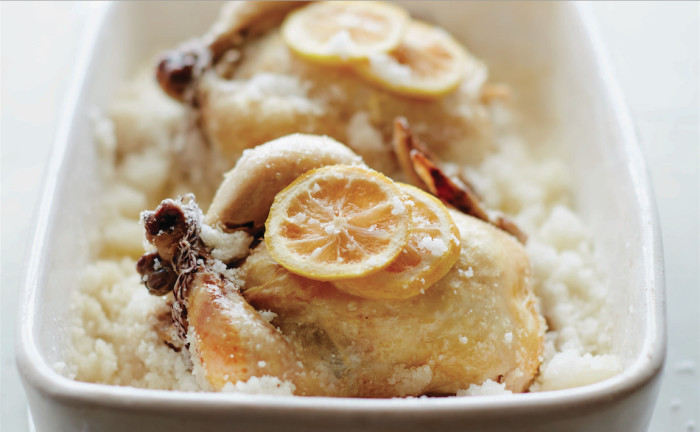 Cooking the hens in a salt crust leaves them incredibly succulent, allows the zesty lemon butter to infuse the meat, and — believe it or not — doesn't make the chicken salty at all.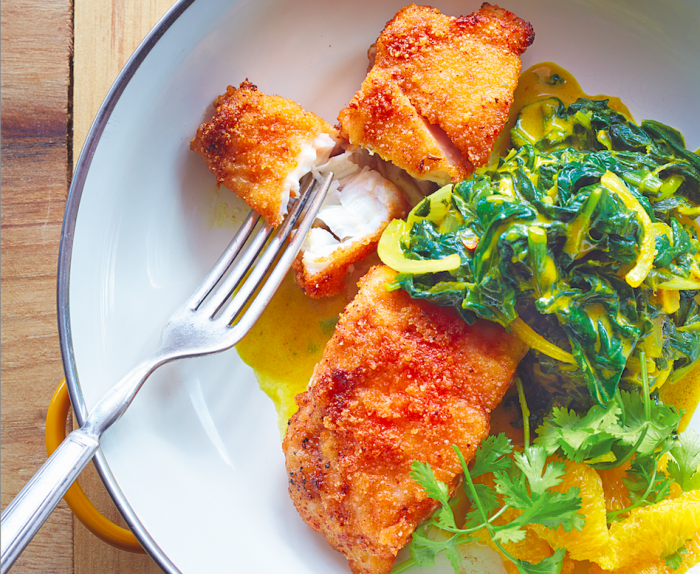 Crusting fish or seafood in lentils is a fun and easy way to add complexity, crunch and delicious flavor. I discovered the technique while experimenting with making flours from different grains. This lentil crust not only adds texture but a layer of flavor, too. The curry spices seem a fitting accompaniment as does the bright citrus and saag, a traditional curried spinach.
I love a twisted version of fried chicken. Smoky bacon enhances this bite in two ways: it adds crunch to the mustard-spiced crust and a unique flavor to the cooling aioli.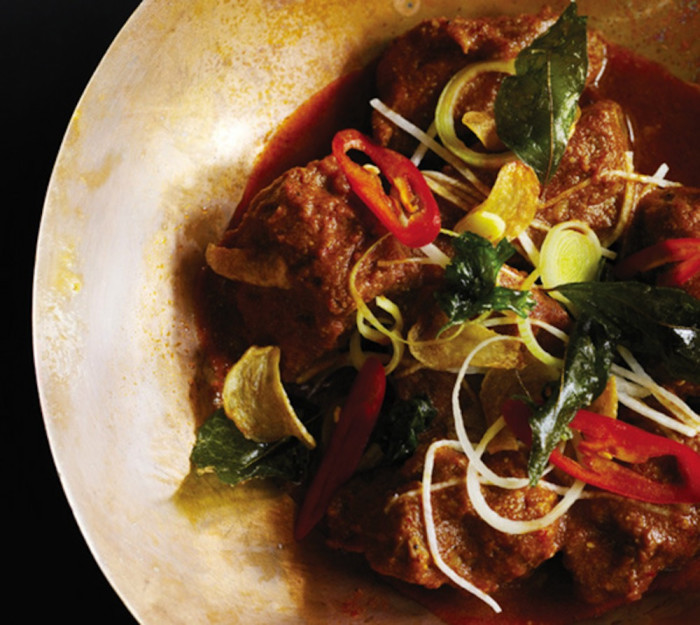 Make sure you caramelize the onions thoroughly, that's what makes the crust taste so good. This is also a great dish for freezing — the night you come home and think there's nothing to eat is the night you feast on spicy, fall-off-the-bone short ribs.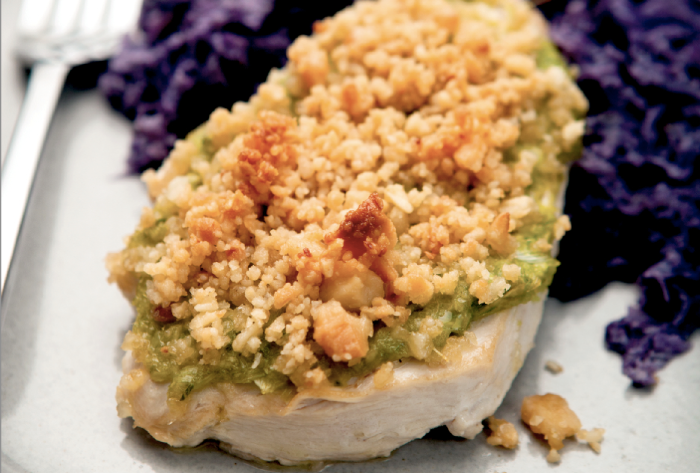 Back in 1997 or so, when I was waiting tables at the Druid Hills Golf Club in Atlanta, my friend Jonn "Nish" Nishiyama won best seafood chef in Georgia for his ginger-garlic-scallion-crusted halibut. It was the one dish that we could not remove from the formal dining room menu at the golf club—everyone absolutely loved this dish (myself included). Ever since then, coating things in a ginger, garlic and scallion paste has been a go-to technique of mine, and I have Nish to thank for the inspiration. Not only does the crust taste great, but it also adds some great color to the dish.