Green Scene: 10 Creative Avocado Recipes To Make Now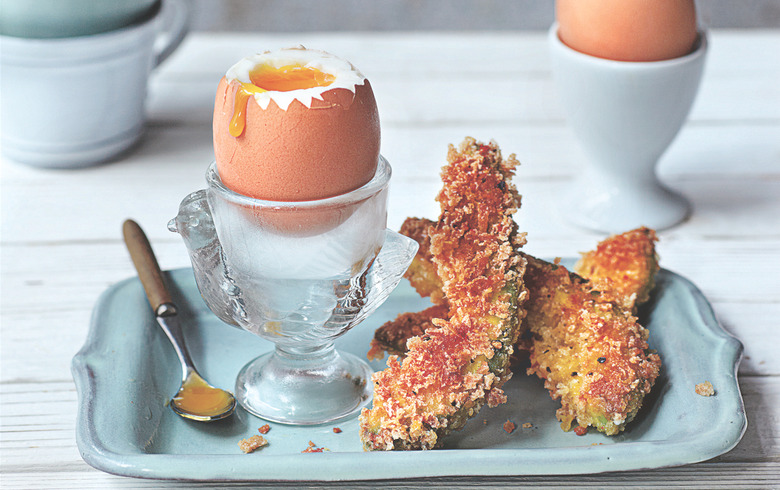 You can't find a more promising blank canvas than a perfectly ripe avocado. With that in mind, we've gathered up our favorite creative avocado recipes so you can take a break from the old standbys of toast, salad and guacamole. We've got ideas for your deep-fryer, grill, blender and ice cream maker. You heard us right.
Recipe: Soft Boiled Eggs With Crisp Avocado "Fries"
These melt-in-the-mouth avocado fries bring a whole new dimension to boiled eggs. Crispy on the outside and beautifully buttery in the center, they are just perfect for dipping into a hot, runny yolk. Use vegetarian hard cheese to make this vegetarian.
Recipe: Labneh-Stuffed Avocado
This combination of avocado, labneh, and dukkah also makes a great Mediterranean-inspired dip served with pita chips. Just mash the labneh and oil into the avocado and then sprinkle with the dukkah to serve.
Recipe: Avocado Tartare
Serve With: Toasted baguette slices.
Pairing Wine: Citrusy, medium-bodied Spanish white, such as Verdejo.
Recipe: Seared Avocado With Fried Lentils
Last week, we hosted a Facebook Live with Boston chef Rebecca Arnold, owner of vegetarian/vegan fast casual joint Whole Heart Provisions. She blew our minds with one of the most popular dishes on the menu: seared avocado with fried lentils, drizzled with a tangy, savory tahini sauce. It's a hearty vitamin and protein-packed lunch that's big on flavor and low on impact.
Recipe: Vegan Avocado Mint Chocolate Chip Ice Cream
Avocado naturally gives a really nice flavor to mint ice cream, and a handful of chocolate chips makes this ice cream even more fun to eat.
Recipe: Fried Halloumi And Avocado Salad
Fried cheese doesn't really need an introduction. You know you'll like it. Serve as a salad or stuff in a pita bread.
Recipe: Sweet Potato Fries With Avocado "Mayo"
You may never return to regular mayonnaise again. This unintentionally dairy- and egg-free "mayo" is made simply from silky smooth avocados, fiery ginger, a teensy bit of garlic and zippy limes, with an optional extra kick from chile. Slather it into a steak sandwich or dollop on the side of these addictive sweet potato fries.
Recipe: Crab Tostadas With Mango-Avocado Salsa
Both recipes, like all recipes at Nixta, are a collaboration between myself and my Executive Chef Tello Carreon. We like to take a familiar item and give an unexpected angle of refinement and ingredients.
Recipe: Avocado Key Lime Pie
Can't get key limes? You can make this recipe with regular limes, but it won't be quite as tart. You can also use bottled key lime juice, but don't skimp on the fresh lime zest.
Recipe: Patagonia Hot Dogs With Avocado Mayo
At the southern end of South America, hot dog fanatics in Patagonia, Argentina, revel in a colorful variation that involves sauerkraut, chopped tomatoes, and a creamy avocado mayo. Although it's a combination we probably never would have imagined on our own, it has made it into this collection for a good reason: it tastes great!