How To Make Sous Vide Braised Spareribs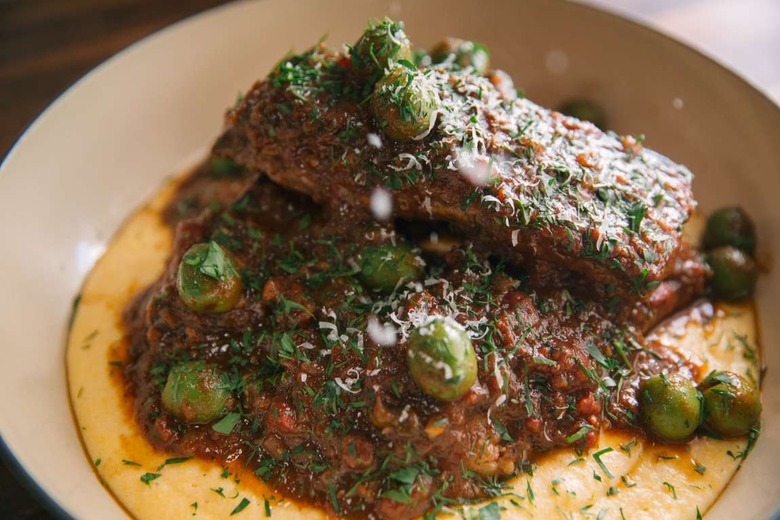 Super-succulent ribs are totally worth the wait. Our friends at ChefSteps wrote in this week with a simple recipe for sous vide braised spareribs that requires 24 hours of cooking. Why the long cook time? Well, you want that meat to be fall-off-the-bone tender, don't you? With capers, marjoram, tomatoes and chili flakes this recipe is incredibly flavorful. Pick up a rack tonight and get cooking!
Soul-Soothing Braised Spareribs
24 hours; serves 4Ingredients:
1 large onion
5 cloves garlic
1 rack pork spareribs
Salt, as needed
Black pepper, as needed
Oil, as needed
735 grams tomatoes, crushed, about 1 26-ounce can
150 grams olives, such as castelvetrano
25 grams capers
2 grams marjoram
0.4 gram chili flakes
Equipment:
Sous vide setup
Directions:
Preheat Joule or sous vide to 158°F/70°C. Cooking your ribs at 158 °F / 70 °C gives you super-succulent, tender meat that you can cut with a fork. That's exactly how we like it, but if you prefer some other degree of doneness, check out the Joule app for other options.
Show off your well-honed knife set and equally sharp skills—finely dice the onion and mince the garlic.
On the rib side of your meat, you'll find a membrane that runs the entire length of the rack. You want to remove that—it's tough and chewy.Using a dry rag, grab ahold of the corner of the membrane and rip it off.
Sprinkle your rib rack generously with salt and pepper. PRO TIP: We like to use a ratio of about 0.5 percent salt to the total weight of the rack.
Use a knife to divide ribs into sections—we prefer two-rib portions.
Add oil to a very hot pan, then sear the ribs on both sides until they are brown. It should take you roughly two minutes per side.
In the same pan you used to sear the ribs, brown onions and garlic with a little oil. Add tomatoes, pitted olives, capers, and herbs and spices. Reduce the mixture to a very thick glaze. Make sure the sauce is super-thick at this stage—it will thin out as it cooks. This means you'll be reducing the sauce for quite some time—mix it well and scrape the bottom of the pan to prevent scorching.
Once the sauce and meat have cooled slightly, add them to the bag. Cook sous vide for 24 hours. For long cooks, it's important to cover your pot to reduce evaporation. Use a lid or some high-quality plastic wrap, then go enjoy life while Joule makes meat magic with your ribs.
Serve with a side of polenta or couscous.
ChefSteps comprises a team of award-winning chefs, filmmakers, scientists, designers and engineers focused on revolutionizing the way people cook by inspiring creativity and encouraging expertise in the kitchen. You can also get access to all of ChefSteps' Premium content — including paid classes and dozens of recipes available only to Premium members for a onetime fee of $39. Classes include Sous Vide: Beyond the Basics, Fluid Gels, French Macarons and more!