10 Things I Learned From Closing A Restaurant For The First Time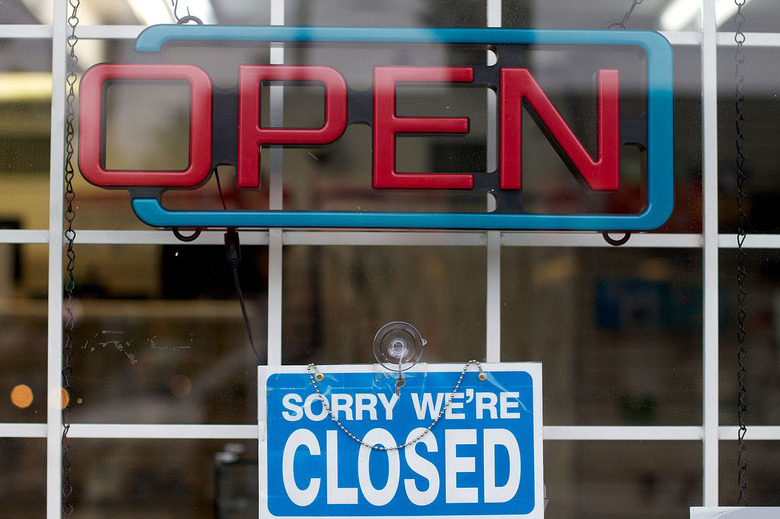 Evan Rosenberg is a restaurateur and business owner who lives in New York City where he currently owns and operates Atwood, Kitchen & Bar Room (982 2nd Avenue), which opened in November 2014.
When it comes to hospitality, I am smart, ethical, creative and hardworking. However, a few months ago, I had to close down a restaurant for my first time, Shay & Ivy, which was located inside Hotel Henri in New York City. Shutting the doors was a massive blow to me personally, but it made me realize that failure offers a great learning experience.
Recently, I read Food Republic editor George Embiricos article titled "10 Things You Learn in Restaurant School," which inspired me to share the lessons from having to close a restaurant for the first time. I should note that I continue to own and operate Atwood Sports Bar & Lounge in New York, which has been open for 3 1/2 years in what I consider one of the toughest markets in the world.
I wish that it were as easy as replicating what I've created with Atwood when trying to expand but it wasn't. Below are 10 things I learned from closing a restaurant for the first time:
1. Choose Your Partner Wisely
It might sound cliché, but you should think of a business partnership like a marriage (this coming from a 30-year-old man who has never been married). When you enter into a business agreement, you must be prepared to handle whatever the business throws at you as a team. This is why it's crucial to choose the right business partner from the start, someone who shares the same long-term vision and goals as you, and who complements your expertise.
My business partner and I attempted to focus on what we were good at, playing off one another's strengths, which initially seemed like the key to growing our restaurant's success. Over time though, it was evident that we weren't communicating enough about our respective responsibilities in order to better our business. We didn't see the same big picture. The phrase "when one door closes, another one opens" became clear when the business shuttered and my partnership ended. These were not doors I wanted open. In a breakup, you can be left picking up the pieces. So choose your partner wisely: this seemingly simple task will set your business up for success or failure.
2. Read every contract thoroughly
Mere months after opening to the public, the landlord closed Hotel Henri for nearly four months of renovation. With the construction came multiple floods caused by burst pipes, broken air conditioning/heating, no running hot water (a health code violation), and construction debris everywhere, which ultimately brought the restaurant business to a complete halt. As a result, multiple large-scale events were canceled, and the restaurant's brand and reputation were damaged beyond repair. Had we had a clause to avoid or account for a shutdown of this magnitude, we would have been protected. So, be sure to review all contracts and adjust accordingly so you don't make the same mistake.
3. Don't expand too quickly
I currently operate a sports bar and lounge in Midtown East called Atwood. Atwood existed both before and after my first closing and my vision of its success is likely why I shrugged at the high closing rates of NYC restaurants; I never thought they'd matter to me. At the time, Atwood was (and still is) growing, and my confidence was high when an opportunity presented itself to expand, so I leaped at the chance. As entrepreneurs, it is in our blood to take risks, but knowing when to say no is maybe even more important than risk-taking. Opening a second restaurant means less time spent at the first. For this and other reasons, be very careful about expansion.
4. Communicate with your staff, no matter the situation
When a restaurant closes, employees are often the last to know. In my case, the writing was on the wall. Orders were getting smaller, the schedule was thinning out, and empty positions weren't being filled. Handling questions from employees in a situation like this is extremely challenging and must be done delicately. On one hand, if you give too much notice, you risk the staff slacking on attention to detail. Conversely, if you don't give enough notice, you risk people's livelihoods and their ability to search for a new job. My communication was lackadaisical, as I didn't truly know how to handle closing a business. Now that I have gone through the experience, I believe it is safe to stick to a three-week timetable, which allows someone the chance to look for — and land — new employment.
5. Prepare for the post-closing backlash
When the public finds out you're closing down, people start commenting, so be prepared, because their thoughts will be shared whether you like it or not. For me, it meant a pile-up of messages in my inbox and questions from press and reporters asking what had happened. I chose to divulge more information to "insiders" and less information to those who knew little of my situation. It takes a strong mental fortitude to get through. Just remember: The constant questioning can mess with your head, but handling what people have to say with grace—and not letting your ego get in the way of learning from your mistakes—will only make you a better leader in the end.
6. Notifying an investor that you've lost his or her money is arguably the hardest part of the process
Telling someone you care about that your business failed and that they've lost their investment is the most humbling part of closing. A deal went bad. I lost your money. I'm so sorry. I shudder at the thought of even talking about it.
7. Get ready to answer for your failure if you haven't planned ahead
Should you have to close, investors will likely have questions such as: Could you have changed the chef? Did you know the food was inconsistent? Could you have lowered your food and labor costs? Was your partnership ok? All I kept asking myself was, would these changes have saved a small business in its infancy from a loss of 150k+ that was out of my control?
What I learned from all of this is that with investors—friends or family—it's important for both sides to look at the worst-case scenario before diving into a partnership. This is something I failed to do. When it comes time for my next venture, I'll be considering the risks up front and whether or not I can live with the consequences.
8. Steer Clear of Personal Guarantees
When you're a young entrepreneur, it's common to sign smaller documents without consulting an attorney. I was the quintessential inexperienced operator who was foolish enough not to seek the guidance of counsel when we were given paperwork from purveyors. These documents very often contain a personal guarantee, which puts you, as an individual, on the line should anything happen to the business. Lesson learned. Plus, when you're starting a company, you need to protect yourself and your family from personal liability, and these legal documents need to be looked over to ensure that. I wouldn't put myself on the line financially in a normal circumstance, so why would I do it in my business without legal review? In short: Find a good lawyer and run every single document past them.
9. Your support system is everything in a time like this, so lean on them
Closing a business seems like the end of the world to its founder. But in these hard times, you have to allow other leaders to push you, let mentors guide you and most importantly, you have to lean on friends and family for support. You still have what it takes to lead and succeed, so don't let your past failures cast a long shadow over your future.
10. Closing the business makes you better
I don't think a course in restaurant management could have prepared me for closing a restaurant. Terminating 40 employees and losing money from multiple investors taught me more about a closure than any textbook ever could. I can't say I'm grateful that I had to learn the hard way, but I am grateful that I'm able to learn from my mistakes and focus on the positive so that I can continue to help my current restaurant flourish, and so that I can be a better businessperson in the future.
To anyone looking to start a business or in the beginning stages of doing so I say this: Never stop raising the bar, inspire yourself and others and always take the risk. The next big idea could be yours.