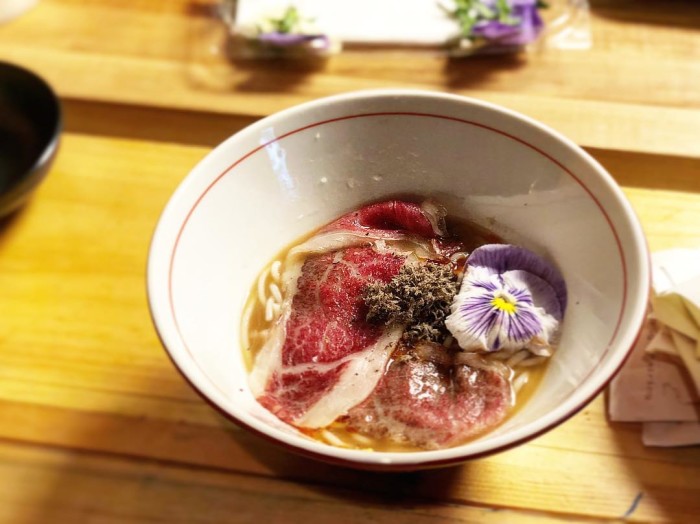 Happy Lunar New Year! Friday marks the beginning of the Year of the Dog and a full 15 days of celebration! Though the holiday is commonly referred to as Chinese New Year, it's not only celebrated by the Chinese, but also by Vietnamese, Singaporean and Laotian people. It's a time to regroup with family and friends, wish everyone luck and success in the year and eat tons of food.
According to the lunar calendar, which follows moon patterns and changes every year, the new year falls on February 16. Red envelopes filled with money will be gifted, longevity noodles will be slurped and firecrackers will be set off to ward off bad spirits. As such a food-centric holiday, we checked in with some chefs and asked how they're celebrating the Lunar New Year.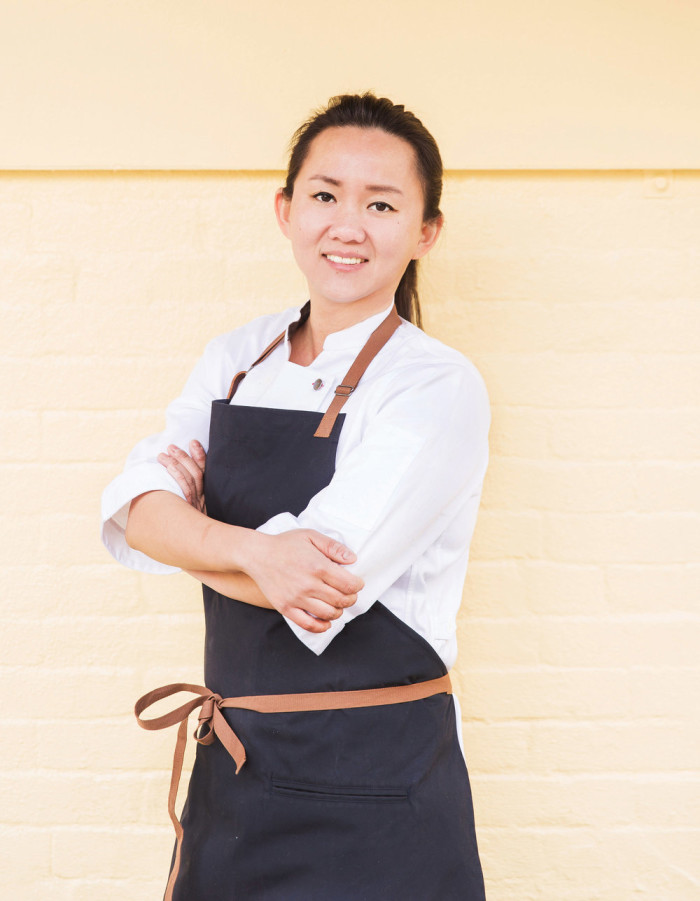 Simone Tong, Little Tong Noodle Shop
Hailing from Chengdu, Sichuan and having lived in Singapore, Macau and Hong Kong, Simone Tong has celebrated many iterations of the holiday. While she's seen varying traditions of giving and receiving red envelopes, gifting mandarin oranges and cooking dinner versus going out, Tong says it always comes down to food.
"It's the same thing every day, we eat a lot," she says. "We get sick of it at the end, but sure as hell we eat a lot during."
When she worked at the famed wd~50, Tong says that she would amp up the spirit within the kitchens and got all her colleagues to help her celebrate.
"I made it a point to make sure everybody knew what day Chinese New Year is," she says. "They're all non-Chinese but we're all family. So, everyday, I'll say something like 'Let's celebrate Chinese New Year number seven!' We just drank and ate a lot of Chinese food for 15 days for family meal."
This year, Tong is going all out and serving specials every day for the 15-day holiday at Little Tong (with a bonus day on Lunar New Year's Eve). Each day is dedicated to honoring something different such as pigs, cows, dogs, millet, jade and more—and she's making sure to have plenty of fun with it. For instance, she's working on a savory Chinese carrot cake to in honor of the horse on the sixth day, February 21.
"[Horses] eat carrots and grass, so we're doing a carrot cake because I'm not going to butcher a horse," she laughs before wondering if she'd even be allowed to serve that in New York.
She's also showcasing regional dishes like gou bu li baozi—adapted into dumplings—from Tianjin, qingtuan—a green steamed and stuffed sticky rice bun—from Shanghai and lao yu sheng—a raw fish salad tossed by everyone at the table to represent prosperity—from Singapore.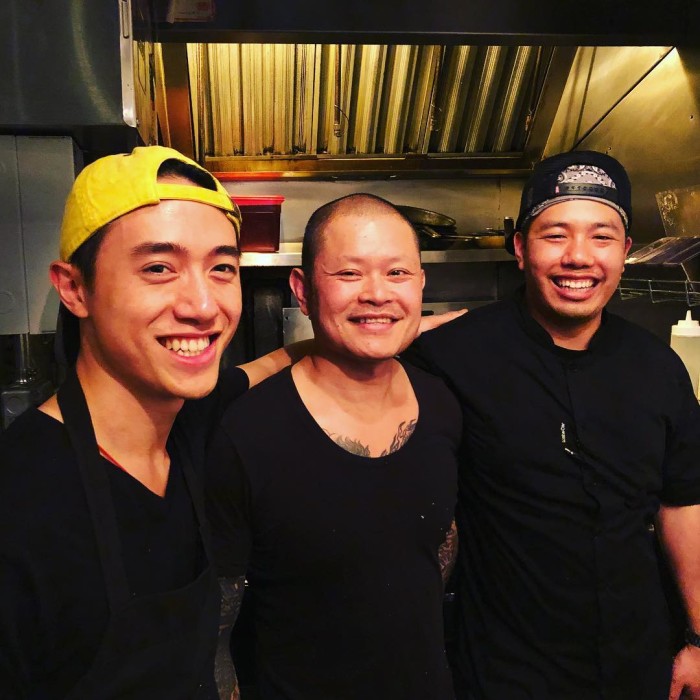 John Nguyen, Hanoi House
Têt, as the New Year is called in Vietnamese, is celebrated similarly with red envelopes. However, instead of dining on noodles and dumplings, chef John Nguyen of Hanoi House in New York tells us that families typically dish out 15 to 20 small plates of simple, homemade food.
Nguyen, who grew up in southern California, worked in Chengdu for a year before making the move to New York.
"In China and in Vietnam, it's the biggest thing going on," Nguyen says. "One or two weeks beforehand, we buy things for the house, buy things for the family, celebrate. When New Year's hits, everything dies for two weeks. Stores are closed, you can't really go anywhere, can't go out to eat."
Hanoi House recently celebrated its first year anniversary. To celebrate this milestone and the Lunar New Year, the restaurant will serve a remixed, nose-to-tail bo 7 mon, or seven-course beef tasting menu on Monday, February 19. Dishes include cow's blood congee with beef cheeks, oxtail coquette, beef tongue with morning glory and more.
Because of his busy work schedule in recent years, Nguyen says he hasn't gotten a chance to properly celebrate. But when he does, he'll head to a Buddhist temple, pray for luck in the new year and hang out with friends.
"I think a lot of people who grow up Asian, Chinese, Vietnamese, when they grow up in America, they grow up with what their parents taught them," Nguyen says. "The older you get, the more you think back on tradition. I used to love Christmas and Thanksgiving, but the older I get—it's like Thanksgiving is awesome, Christmas is awesome, but New Year's is one of the most important holidays to me because I'm Vietnamese-American. I want the best of both worlds and if I have kids, I'd teach them the same."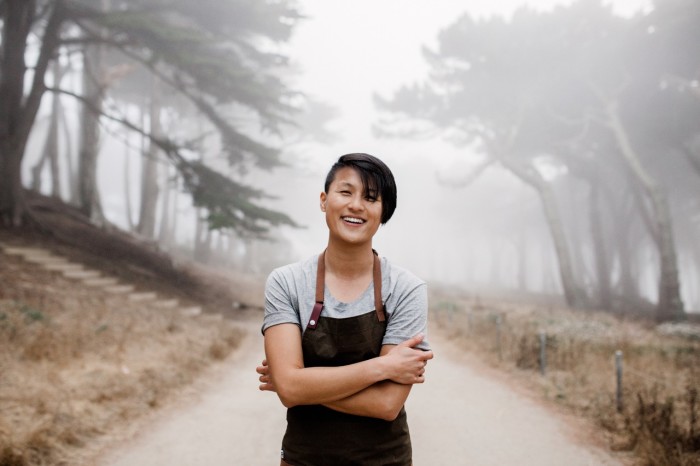 Melissa King
Melissa King of Top Chef fame and Whole Foods chef ambassador remembers having to wear at least one red article of clothing for Lunar New Year.
"Typically, my mom would get me red socks or underwear, something silly like that," she chuckles. "But something new and something red."
King compares Lunar New Year to Thanksgiving in that the two weeks of celebration is centered around food, starting with sugary coconut strips and lotus seeds from a Tray of Togetherness at her grandmother's house. A Tray of Togetherness provides guests with lucky snacks and is usually also filled with candied lotus root, winter melon and dried watermelon seeds.
Growing up in Los Angeles, King says that after making the rounds and visiting her aunts and uncles, they'd head out to a nearby Chinese restaurant "for a huge feast." Nowadays, King opts to celebrate with hot pot and even offered her tips for a successful hot pot party to Sunset Magazine.
"We do always eat dumplings at some point. Traditionally, dumplings represent little bags of money and prosperity. But there's always a lot of food, like too much food," she laughs. "Always a good thing."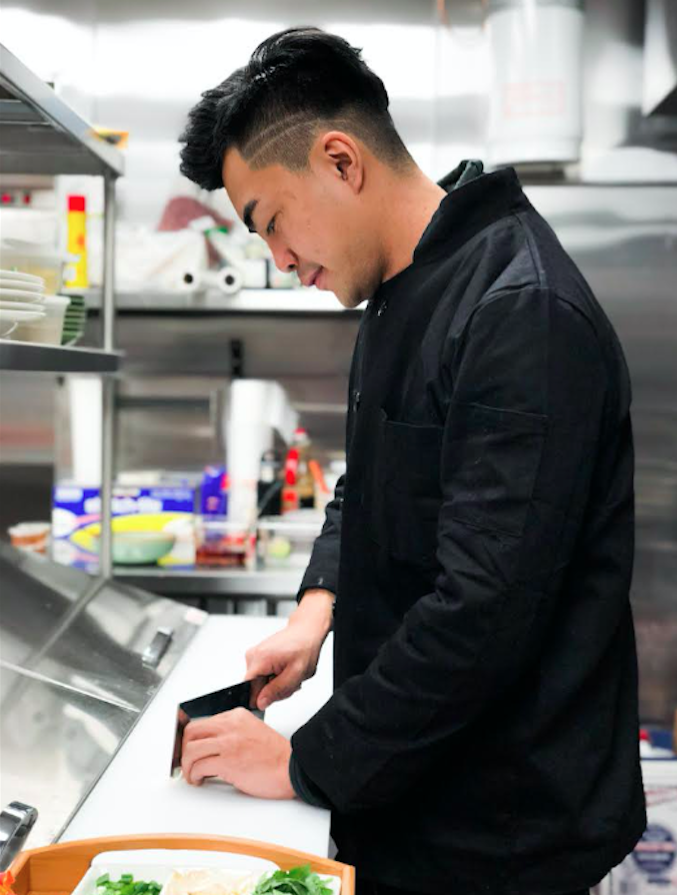 Liheng Geng, South of the Clouds
Liheng Geng has worked at his father's Brooklyn restaurant, Yunnan Flavour Garden, since he was 14 years old. Now, he's opening his very own restaurant in Greenwich Village, South of the Clouds.
Named after the Yunnan province in China, where Geng and his family is from, the restaurant will officially open later this month. With all the commotion of opening a restaurant, Geng says he hasn't had time to plan any Lunar New Year celebrations at South of the Clouds, but he'll be sure to feast with his family on noodles, dumplings porridge and more.
Geng says that while he was growing up in China, his family gathered around the television to watch CCTV's annual New Year Gala, likening it to the Super Bowl.
Little Tong Noodle Shop, 177 1st Avenue, New York, NY 10003, 929-367-8664, littletong.com
Hanoi House, 119 St. Marks Place, New York, NY 10009, 212-995-5010, hanoihousenyc.com
South of the Clouds, 16 West 8 Street, New York, NY 10011, sotc-nyc.com