Ring In Lent With 15 Delicious Seafood Recipes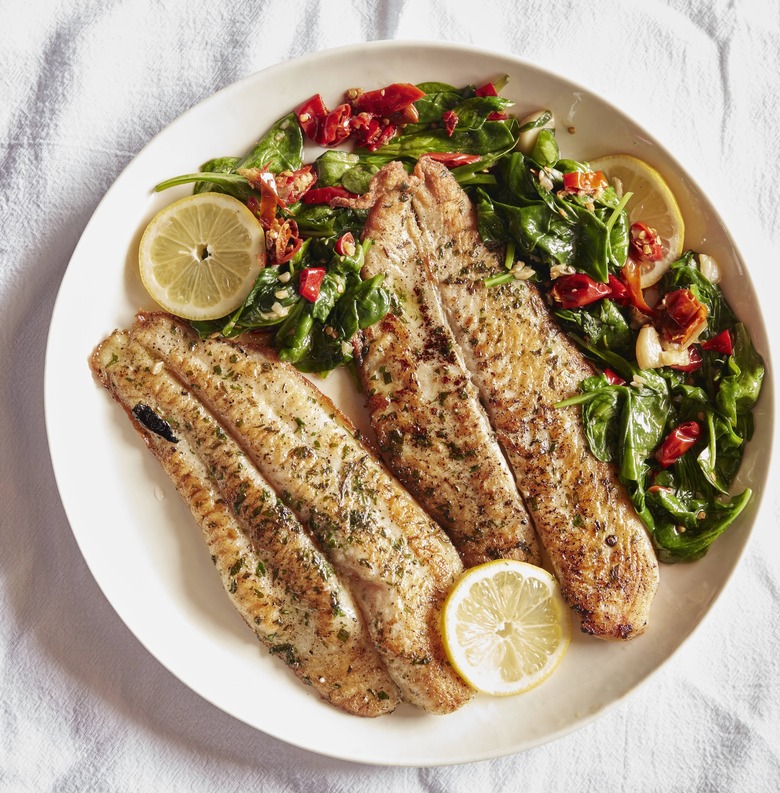 We've got 15 fish and seafood recipes perfect for the season of Lent, and so delicious you won't notice what's missing. Whether you've given up meat until Easter or are simply getting your Omega 3's and 6's on to obtain that pre-spring "glow," you'll find something in this mix that's perfect for you.
Recipe: Italian Pan-Seared Sole
My mom makes this dish in about five minutes; I need ten! We both put everything in a plastic bag and refrigerate it so the fish marinates while we do something else, but letting it soak for fifteen or twenty minutes at room temperature works fine and allows you to get dinner on the table quickly.
Recipe: Mussels Marinière Quiche
Nobody makes a sweet or savory tart like the French, which is why we're powering through this new book of recipes from Michelin-starred Paris chefs Frederic Anton and Christelle Brua. From seasonal fruit and rich chocolate to leafy greens, hearty fish and tender meat, there's a pastry shell for every filling you crave.
Recipe: Thai Baked Sea Bass
This has been on our menu for years, its popularity never wavering. It's fresh, fragrant and extremely flavoursome, so perfect for a light supper, or for a showstopping addition to a barbecue party. In the restaurant, we use banana leaves to wrap the fish, but given that banana leaves are not easy to come by, we have given instructions on cooking it 'en papillotte', meaning 'in parchment'. You will lose nothing doing it this way, apart from the subtle fragrance imparted by the banana leaves.
Recipe: Tamarind Honey Shrimp
Iranians love all things sour: lemons, limes, pomegranate molasses, young plums and tamarind. I especially love tamarind because you can use it so well in savory cooking and balance it with sweetness to create something really delicious. In this recipe, I simply mix tamarind paste with honey to make a marinade that has lots of flavor without much effort. These shrimp are also great to skewer and are easy to cook on the barbecue.
Recipe: Skate Au Poivre
No, not a typo, rather cartilaginous ray, cooked with the classic pepper sauce. The soft flesh has a robust flavor and holds up well to all that creamy pungency. Crack the pepper in a pestle and mortar and apply liberally.
Recipe: Sea Bass With Ginger Beer
You could call this an entry-level fish dish — it's that easy. But beyond its simplicity, the fatty lusciousness of sea bass contrasts gorgeously with the crunch of bok choy and the spiciness of the sauce spiked with ginger beer.
Recipe: Homemade Fried Fish Sandwich
There are some things in life that just sound like they wouldn't work. One of those things is McDonald's Filet-O-Fish, a breaded, fried fish "square" topped with American cheese and tartar sauce on a standard squishy white bun. Doesn't sound great, does it? But that's where you're wrong! This little sammy is actually a delicious piece of nostalgia from my childhood, and it's surprisingly good.
Recipe: Fish Taco Bowl With Soft Grits
Mexican and Southern foods have formed a fusion of their own, and grits are a perfect player in that game. Instead of tortillas, soft and creamy grits say Georgia, while the fish taco fixins say SoCal. We can dig in wherever we live, just because this bowl is so dang tasty.
Recipe: Cured Seared Salmon On Rice
There's never been a better time for silent protest in the form of comfort cooking! Food writer and cookbook editor Leyla Moushabeck documents the culinary contributions of America's formidable immigrant community. Our collective palate has never been richer or more robust, and we owe it all to those who came from abroad. Dive into this dense tapestry of deliciousness, and start with Japanese chef John Sugimura's cured seared salmon on rice.
Recipe: Seafood Tacos With Green Mango
Jicama is sometimes called Peruvian pear and I was delighted to discover they grow in Australia in Darwin and far north Queensland. In Mexico jicama is often served as an aperitif snack, cut into strips and sprinkled with smoked paprika then served in a tall, narrow glass partially filled with freshly squeezed lime. This is a terrific alternative to any olive in my opinion! This tropical taco is given a South-east Asian twist with herbs, green mango, chilli and jicama for a lip-smacking and feisty taco treat. The marinade for the seafood is very versatile, the hero being the achiote paste, with its savoury, citrusy and complex taste.
Recipe: King Salmon Marsala
You love opening your CSA box — why not do the same with fish? When it comes to simple, stunning seafood, look to Alaska's Sitka Salmon Shares. The company is a pioneer in the sustainable seafood industry, connecting home cooks with the fishermen in Alaska who harvest their monthly catch. The result speaks for itself: nothing makes delicious fish taste better than knowing exactly where it came from. This quick and simple King Salmon marsala with mushrooms is one of our favorite ways to make it.
Recipe: Crab Fra Diavolo
As boys, my uncles Michael and John often went crabbing in Barnegat Bay off the coast of New Jersey with their cousins. They'd bring back the day's catch to my great-aunt Mary's house, where she would make a marinara sauce, throw in the cleaned crabs, and then serve them straight from the pot with either pasta or bread. This recipe is inspired by their memories; even with shelled crab for ease and hot pepper for kick, the sentiment is the same.
Recipe: Whole Roasted Branzino With Fennel
Italian Christmas celebrations, or at least the Italian-American Christmas Eve I grew up with, always includes a fish entrée in addition to the beef or poultry. My grandmother makes salmon because it is  her favorite, but I love to prepare a whole Mediterranean fish, like branzino. Its mild flavor and simple preparation even appeals to those who do not love fish. If you are serving only this dish as the main course, you may want to double the recipe.
Recipe: Cajun Fish And Shrimp Sliders
Making fish cakes at home is relatively new to me. I only discovered it recently, when I was really craving a homemade fish burger. Instead of going down the freezer aisle to pick up a pack of breaded "fish patties," I decided to be adventurous and try the fresh seafood case instead. Turns out, grinding up fish and shrimp with a bunch of other ingredients to make a mixture isn't all that difficult. The food processor does all the work for you. This slider is inspired by my trips to New Orleans. Catfish and shrimp are ground and formed into a patty, seared, and then topped with Cajun rémoulade sauce, lettuce, tomato, and pickles. Any white fish will work very well here — try cod or trout if you prefer.
Recipe: Quinoa Paella With Shellfish
Each summer when I was growing up, the Collinses had our two weeks somewhere warm in mainland Europe to get sunburned and sleep late. One year, on a trip to the island of Majorca, my mum was adamant that we experience the local culture. I immediately took to Spanish food — it's hard not to like crispy-fried patatas bravas, oozing croquetas, and Serrano ham, after all — but wasn't so sure about the paella. Rice was still a novelty in 1980s Britain, and it wasn't for me. Years later, when I moved to the States and discovered quinoa, I knew that it would make a perfect substitute. It might fly in the face of tradition, but I find quinoa easier to eat than rice and really dig how it absorbs all the dish's delicious flavors while adding a pleasing crunch.