Story On A Plate: Beef Love Crostini At NYC's Houseman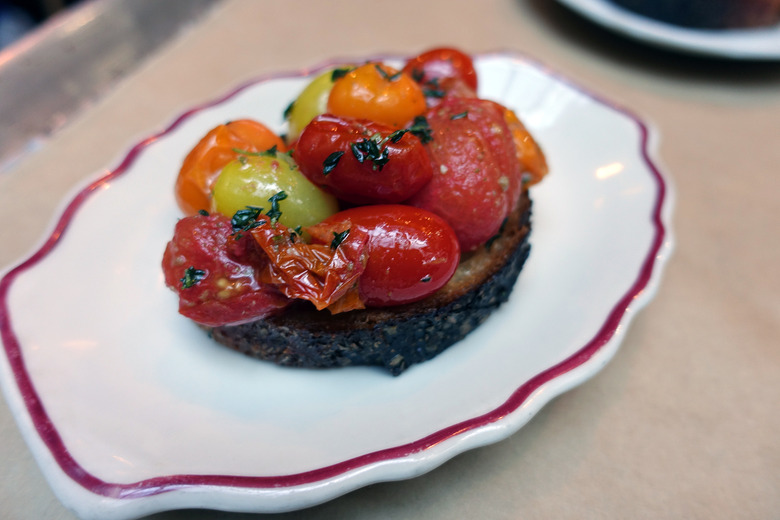 Where's the beef in the Beef Love, the crostini-like dish from NYC's Houseman? Read on to find out. (Photo: Richard Marti
It's listed on the menu simply as "Beef Love." But when my waiter at Houseman, chef Ned Baldwin's jewel of a neighborhood restaurant tucked away near the entrance to the Holland Tunnel, delivered the dish on a cold recent night, it looked like a cherry tomato crostini. So, where's the beef?
One bite into the crunchy Sullivan Street Filone bread topped with exquisitely roasted tomatoes—wait! Tomatoes, in winter?!—and the flavor of beef surfaces, slightly at first. Then the tastebuds get completely upended. If this is tomato-based, why is the acidity so muted? Sure, the thyme is visible, but the dish is deceivingly herbaceous, with a finish as long as a Bordeaux Superiéur.
To be honest, I couldn't stop thinking about the Beef Love for days after eating it. So I went back to Houseman to find out from Baldwin himself how it's made. The chef and owner, who is from Seattle originally and is best known in NYC cooking circles for running the kitchen at Gabrielle Hamilton's Prune while she was often away promoting her great book Blood, Bones and Butter, says the dish resulted from Houseman chefs' predilection for stocking their pantry.
He starts out by telling me about the tomatoes:
"Annie Meyers [a noted NYC vegetable supplier], of all people, is working with a farmer who is greenhousing cherry tomatoes in January and February. I wouldn't normally buy a fresh tomato in January or February, but because it was her we gave it a shot. They were sweet and delicious and amazing. What we often do with cherry tomatoes is roll them in olive oil, just lightly, and roast them at a pretty high temperature until they relax a little bit and the skin wrinkles, and then we cool them down and submerge them in good olive oil and keep them in the fridge. So we'll have 20 pints of them. Sometimes we do it with a particular intention, and sometimes we have the tomatoes when we have them around."
Then, at last, the secret to the beef in Beef Love:
"Over the holidays, we had bought a couple of DeBragga and Spitler 30-day dry-aged ribeyes. Definitely not a regular item for a neighborhood restaurant, but fun to have for the special occasion. So they come with a huge fat cap that's covered with mold. We get it primal, so when I break it down I trim off all the moldy stuff and the funk from the mold, like a cheese, has penetrated the beef. That's why the beef is so delicious when it's aged like that. I cut off the nasty mold bits and chop all [the rest] into pieces and throw it in a pot. And on top of that 6 or 8 or 10 lbs. of butter and a bunch of heads of garlic and shallots, thyme, rosemary and black peppercorns, and a little red wine vinegar. Bring it up, render the fat, and then let it steep, and infuse for a couple of hours. Then we strain it out and pint it up and we put it in the fridge. And we have it to do whatever we want. We'll paint a non-aged ribeye with it. It's delicious on Brussels sprouts."
How the dish finally came together:
"Darra Tesser, who is the chef here, she got in the tomatoes. She's on the line every night. She has an acute knowledge of what's in the coolers, because we're always worrying about space. The dish was the consequence of having fun stuff in the pantry. She had the beef love—that's what we call it—over here, the tomatoes over there. We like to fry herbs because it lengthens their life once they've been processed. So it's got some fried thyme in there. And then toss it in Katz's red wine vinegar. It's from Napa Valley. As far as I can tell it's the best vinegar on the planet. We toss it in that, brush the toast with the beef love and there we go."
Houseman, 508 Greenwich St., New York, NY 10013, 212-641-0654, housemanrestaurant.com