Chocolate is probably the most beloved yet under-appreciated food in the world. For example, when I first started researching my book, Bean-to-Bar Chocolate: America's Craft Chocolate Revolution, I had no idea that chocolate came from a plant, that cocoa beans were fermented, or that there's a machine officially called a CocoaTown.
That's why I created a series of cartoons with Ecole Chocolat, a culinary school dedicated to chocolate making, They tell you everything you need to know about the chocolate-making process. We hope to tell the story as simply as possible, and while we may not capture all of the nuances of the process, we hope people remember the image. We call it the Life and Times of Chocolate, and without further ado, here it is!
Despite what most of us think, chocolate doesn't appear fully formed out of thin air, a gift of the flavor gods to us gluttons. Instead, it starts as a cacao flower and pod on a TREE. (While this has convinced some people that chocolate is technically salad, this isn't quite the case.) The ripe cacao pods are cracked open and the beans are harvested. Then our friend the cacao bean (we call him Caesar) gets chocolate-wasted off fermented cacao-pulp martinis and tans in the sun until he's all dried out.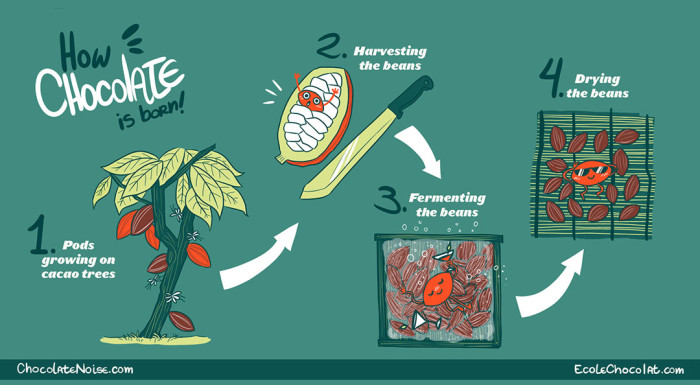 Those dried cocoa beans taste nothing like chocolate. I know, it's weird. I guess if you squint your eyes and really pretend, you can kind of taste what will turn into chocolate.
So once our little cocoa beans make their way to the factory, they get toasted brown and chocolatey in the roaster. Then they're cracked and their outer shell winnowed away, getting naked for all the world to see (in an SFW kind of way). The part of the bean that's left is called the nibs. After that it's a trip to the grinder with sugar and sometimes extra cocoa butter for sweetness and flavor. Then the chocolate is tempered, a process that uses temperature and motion to make sure the chocolate hardens shiny and stable. And last but not least, the chocolate is molded into bars.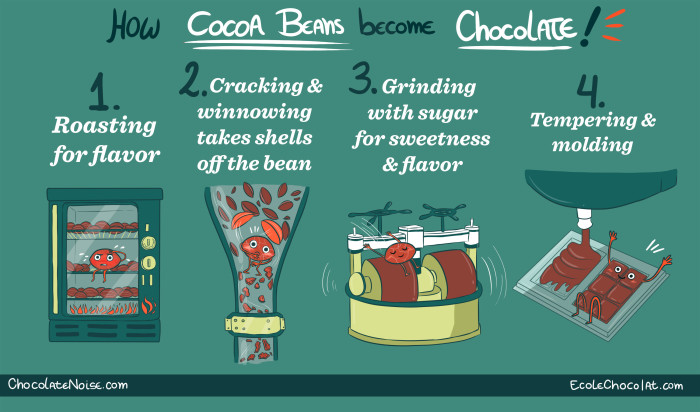 Only certain outstanding chocolate can be called fine-flavor chocolate. "Fine flavor" means high-quality cocoa with more nuanced flavors (usually from the Criollo and Trinitario families, if you want to get nerdy about it). Almost all craft chocolate fits into this category. Then to varying degrees there's cocoa butter and sugar and in some cases, vanilla, all skipping around like they're in the most delicious musical ever.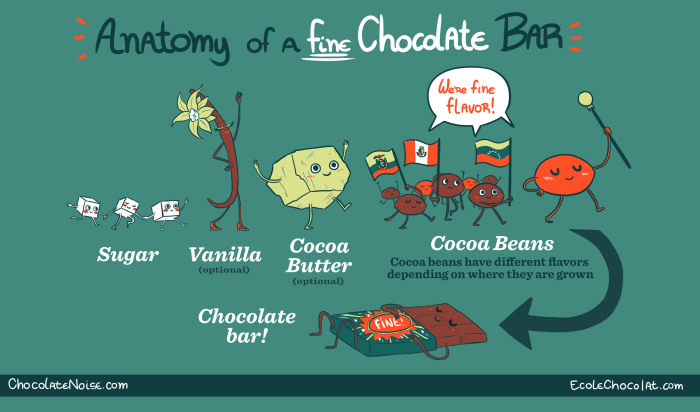 As I hinted above, not all fine chocolate includes added cocoa butter and/or vanilla. In my book, I talk all about how the American craft chocolate revolution was founded on two-ingredient chocolate: chocolate made using only cocoa beans and sugar. Nowadays, many makers add cocoa butter and some even measure in some vanilla. There's also fine milk chocolate, fine white chocolate and fine chocolate with inclusions like sea salt and almonds.
Rest assured, fine chocolate does not include anything beyond these ingredients in their base chocolate recipe: You won't find vegetable oil or additives like PGPR (yuck). That's part of what makes it stand out so much from the crowd as something delicious and worth eating.
There's another kind of chocolate treat I haven't even mentioned yet, though: bonbons! I used to call all round things made out of chocolate "truffles." But if you want to be technical about it, most of these little round shapes are actually called bonbons. That distinguishes them from other confections like marshmallows, turtles, caramels that aren't covered in chocolate — you get the idea.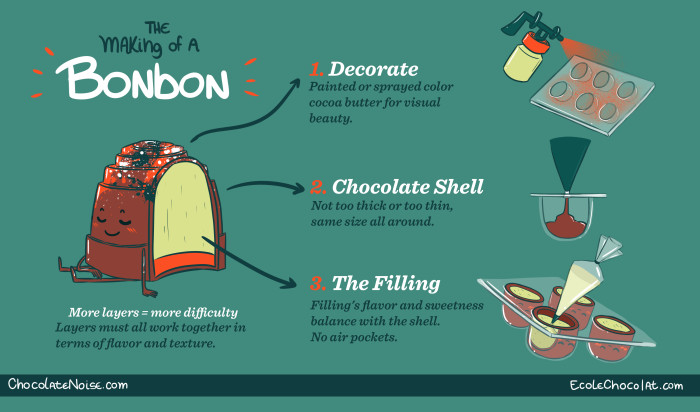 A proper truffle is typically filled with ganache, a delicious mixture of cream and chocolate. Bonbons, on the other hand, can be filled with chocolate mixed with fruit purée, caramel, nut pastes and so on.
In my book I mostly write about chocolate makers, people who buy whole cocoa beans and roast, grind and smooth them into bars in their own factory. Think of a chocolate maker as an engineer, creating chocolate from the raw materials. But most of the time, the people who make bonbons are called chocolatiers. Most of the time chocolatiers buy pre-made chocolate, melt it down and use it to make their own bars and confections. Once in a while, they make their own chocolate and use that to create confections. Think of a chocolatier as a chef who uses a pre-made ingredient to create his or her own masterpieces. (Learn more about both — as well as how to make chocolate treats yourself — in one of Ecole Chocolat's programs.)
There are lots of ways to make bonbons, but we've highlighted how to make molded bonbons: First, chocolatiers decorate molds with colored cocoa butter (many chocolatiers use a special gun that sprays colored cocoa butter into their chocolate molds). Then they pour in tempered chocolate to make a shell. Usually chocolatiers will fill a mold with chocolate, then tip it upside down so that all the excess chocolate runs out, leaving a perfect outer shell that is not too thick or too thin. Next, they add the filling (like ganache or caramel) and last, they close up the molds with more chocolate (called "bottoming"), making sure to scrape off the excess.
Some of my favorite bonbons come from bean-to-bar makers: Fruition, French Broad and Escazu, among others. Get yourself something delicious to nibble on!