10 Bold Recipes For A Japanese Fusion Feast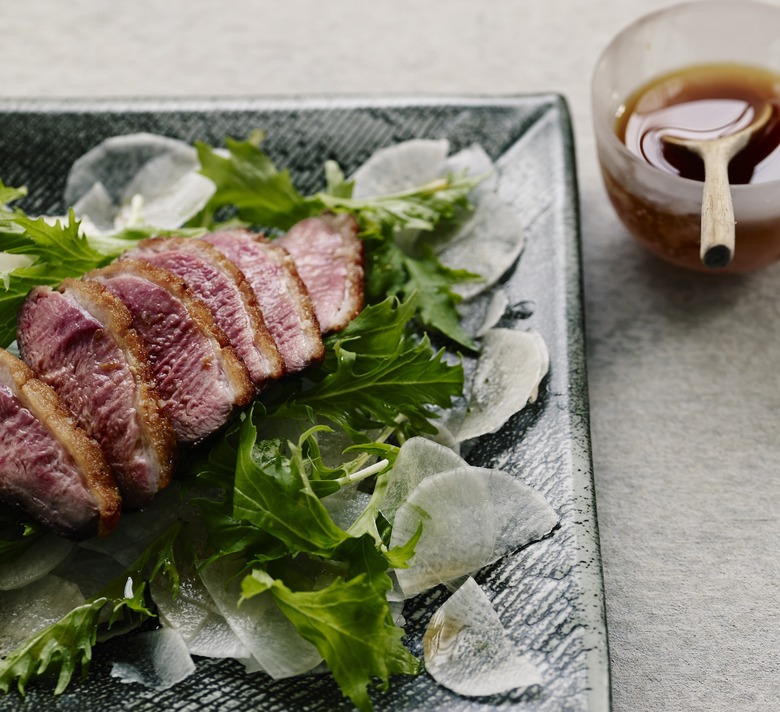 Feel like Japanese food tonight but aren't so great at making sushi? We gathered up our favorite Japanese fusion recipes — no sushi-making skills required — for a dinner that hits every flavor note you're craving. Soy and yuzu? Check. Uni and rice? You bet! Noodles, rice bowls, salads and tasty fried things? Right this way...
Recipe: Japanese Duck à l'Orange
The famous French dish has been adapted with the addition of classic Japanese ingredients, yuzu juice, and refreshing giant white radish.
Recipe: Cucumber Umeboshi Salad With Cashew Crunch
In Japan they say that umeboshi plums possess magical healing powers, the ability to cure everything from ancient Samurai battle fatigue to the modern-day hangover. Umeboshi are shockingly expensive, but a little of their concentrated, salty tartness goes a long way.
Recipe: Japanese Carbonara
Believe it or not, there is a whole world of Japanese pasta dishes, collectively known as wafu (Japanese-style) pasta. Almost invariably based on spaghetti (which is not so different from ramen, in a way), Japanese pasta often resembles traditional Italian or Italian-American pasta dishes, but with innovative touches based on indigenous Japanese flavors. A classic example is mentaiko pasta, which uses pollock roe cured with chilli to flavor a buttery sauce – the flavor of mentaiko is kind of like a combination of Italian bottarga and chilli, so it makes sense.
Recipe: Sriracha Mayo And Chicken Onigirazu
The Japanese can't get enough of these seaweed and rice 'sandwiches.' Fill them with anything you fancy — the combinations are endless.
Recipe: Sea Urchin Toasts With Shiso And Lime
Sea urchin "tongues" are shaped like tongues but are actually the roe from inside the spiny sea creatures. I prefer the sweet large varieties harvested off the West Coast. Sometimes labeled uni, these delicacies are sold at specialty or Japanese fish markets and counters. They often come packaged in bamboo trays. Look for plump, bright orange sea urchins that smell sweet and slightly briny.
Recipe: Pork Belly Onigiri
Onigiri is basically a big rice ball. It's what a lot of Japanese kids eat for lunch at school. Japanese women will use leftover rice and fish or another protein and stuff it inside of a rice ball. I've made a thousand versions of this, but with the pork belly version, we mix the rice with bonito flakes and scallions for flavor. We take pork belly, press rice around it to form a ball and then we fry it. We always serve it with a sweet component for accent. It's such a surprise, crispy on the outside and soft on the inside, and people really love it.
Recipe: Kyoto Sloppy Joe
All the best after-work spots have great eats, not just happy hour drink specials. Mira Sushi and Izakaya in NYC's Flatiron District, happens to have both. We borrowed this recipe for Asian-style sloppy joes with crunchy shallot-spiked panko breadcrumbs that are, very simply, slider heaven, from chef Brian Tsao. There's no shortage of creative small plates, skewers and delicious fried things on his menu. You'll want a beer for these.
Recipe: Somen Noodle And Chicken Salad
The fine and delicate Japanese somen noodles are flavored here with shredded chicken and a nutty sesame dressing to create a light and refreshing salad, perfect for a summer's day. The flavored Japanese egg, known as ajitsuke tamago, can be made a day or two in advance and kept in the fridge; these eggs will give the dish a wow factor.
Recipe: Bacon And Scrambled Egg Onigri
This onigiri is a little fatty from the eggs scrambled in butter and the bacon. If you like, you can hold it all together by wrapping it like an envelope.
Recipe: Japanese Potato Salad
In some areas, 'Japanese' is synonymous with 'superlative.' Customer service. Trains. Lunch boxes. Therapy robots. Karaoke machines. Beauty found in the sadness of impermanence and imperfection.