8 Korean Bites To Usher In The Olympics Opening Ceremony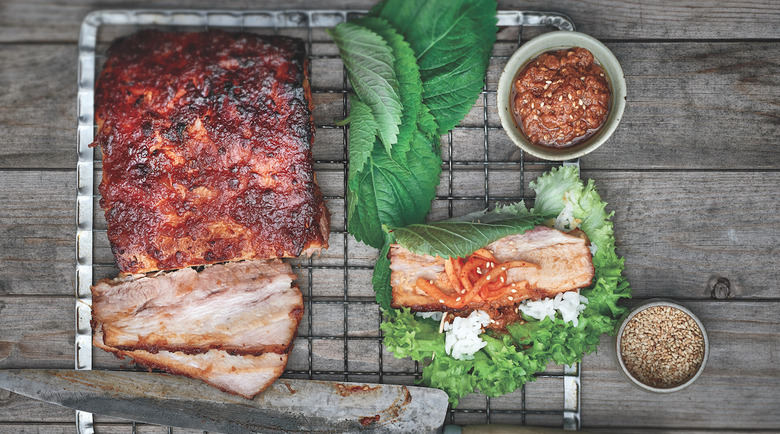 The Olympics debut this Friday, February 9th, with an opening ceremony in PyeongChang. Plan your menu accordingly, because if you're anything like us, you'll be craving kimchi and rice the moment the announcer says "South Korea." Here are our favorite Korean bites to keep you fueled through what we're certain will be a memorable performance.
Recipe: Pork Belly Lettuce Wraps
Sharing is a common theme underlying all Korean food. Bo ssam embodies this convivial sentiment — everyone sharing from the same plate, yet creating a small bespoke parcel for their own consumption. The lettuce leaves and pickles cut the fat nicely and bring a welcome freshness to the dish. If your pork belly comes with the ribs on, cut them off and slather with some doenjang-honey-ginger-gochujangpaste (make extra). Roast until cooked through and caramelized and you'll have the tastiest ribs ever.
Recipe: Edward Lee's Gochujang Chili Cheese Nachos
"I want that stick-to-your-teeth texture that only gochujang can deliver in a sauce. It isn't just spice for the sake of heat. It is nuanced and layered. It has a sweetness to it and umami, lots of umami," says Edward Lee.
Video: Mung Bean Pork Belly Pancakes
Beverly Kim, the co-chef and co-owner of the increasingly popular Chicago restaurant Parachute, grew up eating the staple pancake dish known to Koreans as bindaedduk. So she pretty much had to put it on the menu when she opened her own place. Here, she creates her version of what she calls a "casual snack," combining the mung beans, Korean rice, pork belly and kimchi into one delicious-looking pancake. Watch and learn.
Recipe: Korean Poke Bowl
Hot and cold, sweet and tangy, with a heavy dose of spice: This is hoedeopbap, the tantalizing Korean raw fish and rice salad. Kochujang, a spicy fermented soybean paste, forms the base of the dressing. When serving, be sure to use bowls that are large enough to let you comfortably mix everything without the lettuce and rice going flying. I like to toss it tableside, while the rice is still warm and the fish cool.
Recipe: Korean Fried Chicken
Your first bite into this Korean fried chicken will change your concept of twice-fried breadless chicken forever.
Recipe: Daeji Kalbi
Growing up as huge fans of American-style barbecue, Matt and Deuki have rarely found a pork spare rib they didn't want to take home to mother. But unlike the typical pitmaster style — where smoke is applied in concert with indirect heat — Korean-style ribs are all about the marinade, soaking the meaty ribs in a gorgeous fruit-based sauce. This marinade, which Deuki has been making for backyard barbecues for years, needs to work its magic for at least 4 hours, but ideally, plan ahead and just let it sit in the fridge overnight. Trust us when we say there is no better party favor than bringing over a couple freezer bags stuffed with gochujang-and-soy-marinated ribs. Throw them on the grill. and the scent of Koreatown will perfume your gathering.
Recipe: Mildly Insane Kimchi Bokkeumbap
Bacon. We kept coming back to bacon when talking about this kimchi fried-rice recipe. Bacon is quintessential Americana. Our kimchi fried rice needed bacon, and for months we tested and were continually disappointed that the essence of bacon — Americana! — was being muted by either too much rice or too much kimchi. Then it came to us. We needed to use more bacon! Like a lot more. Like how French chefs view mashed potatoes: equal parts butter and potatoes. That's scary, right? Also scary good.
Recipe: Kimchi Deviled Eggs
You may recall my zero-effort kimchi pickled eggs. You can make this recipe with regular boiled eggs or my magical spicy ones. Either way you're in for some fermented cabbage goodness. Kimchi and eggs are a natural pairing. The acid and heat cut the richness of the yolk, so it's only natural that during a deviled egg-inventing rampage I went with something like this.