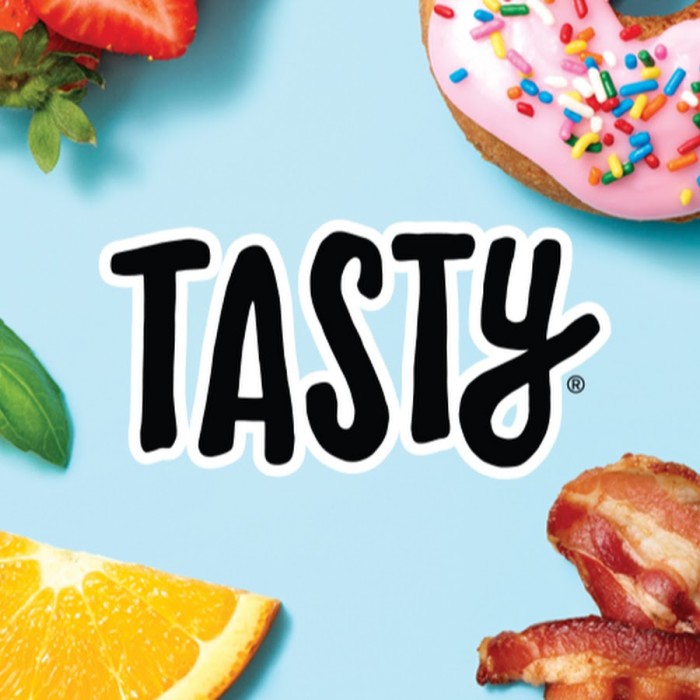 If you're not familiar with Tasty's cooking videos, you're not on Facebook. Their bread and butter is hypnotizing shots of cheese pulls, removing crunchy golden-brown things from the deep-fryer and inventing insane three-way food mash-ups like chocolate chip bananas foster cheesecake. But just because they have more than five million YouTube subscribers doesn't mean any of their cookbook recipes mirror those visually striking hits or actually work. Just ask the furious folks who gave one-star reviews to their recent cookbook, Tasty Latest and Greatest: Everything You Want To Cook Right Now (An Official Tasty Cookbook). 
Here are a few highlights, complete with angry caps lock, so please yell in your head accordingly.
"This is the second cookbook by "Tasty" that I've tried. First and foremost, it is RIDDLED with typos, EVEN IN THE INGREDIENTS. My most recent fail was a salad dressing that called for 1 TABLESPOON of salt AND pepper. It seemed outrageous to me, but I thought maybe it was going to be heavily diluted by the end. Nope. First bite of the salad was like a kick in the face. Imagine your mouth full of warheads sour candy – That's pretty much what this was like. Throughout the rest of the book, there are plenty of typos to be found as well. Now, every time I try a recipe from the book, I have to unleash my inner chef and play guessing games as to whether or not each ingredient is properly listed with the correct amount."
"Bought this with hopes that all the good recipes they show would be in here, (Thats what tasty facebook page advertises). Not the case. None of the recipes are in this book. Was a waste of money. Very disappointed in this."
"It was a big deception. The majority of the book's recipes are mediocre, different from the cool recipes I usually watch on the TASTY videos. If you are looking for creative, different recipes, skip this book. I'm glad it came late and I didn't give it as a gift."
"Of the 2 recipes that I was interested in (page 88 and 89) the directions were switched around. Clearly a big error when it comes to editing and printing."
"ALL of the recipes are completely unoriginal and simple. Any simpleton can make them and the sense of accomplishment in creating the garbage contained in this book is proportionately unrewarding and embarrassing. NEVER AGAIN!"
The truth is, the book's recipes are in fact quite bad. It's unlikely that any of their video creations are conducive to having one solid triple-tested recipe that can be recreated by the average home cook. This isn't so important when it comes to things like marinating time, leftover storage or boldly proclaiming something to be the "best ever." But it is crucial when it comes to things like salt measurements, oven temperatures and cooking times. Also, the cheesiest garlic bread ever would consist of garlic breadcrumbs sprinkled on a block of cheese. That would be the cheesiest, nothing less. The softest sugar cookies ever are not yet baked.
Tasty also often fails to take into account variations in size, which can skew wildly either way. I have grapefruit-sized red onions and lemon-sized Spanish onions in my crisper, for example. That's a full onion's worth of variation, which could easily ruin a quickly cooked dish like falafel or dumplings, also known as the most onion-y falafel or dumplings ever. Two tablespoons of garlic powder plus two garlic cloves for four servings of chicken marsala? What are you, warding off vampires? Ruining your blind date in advance? Is your hand in the garlic industry's pocket? The public has a right to know.
I'm with the one-star reviewers. Perhaps Tasty should stick to static overhead shots of a spotless Dutch oven on an induction burner and leave the cookbook writing to the cooks.