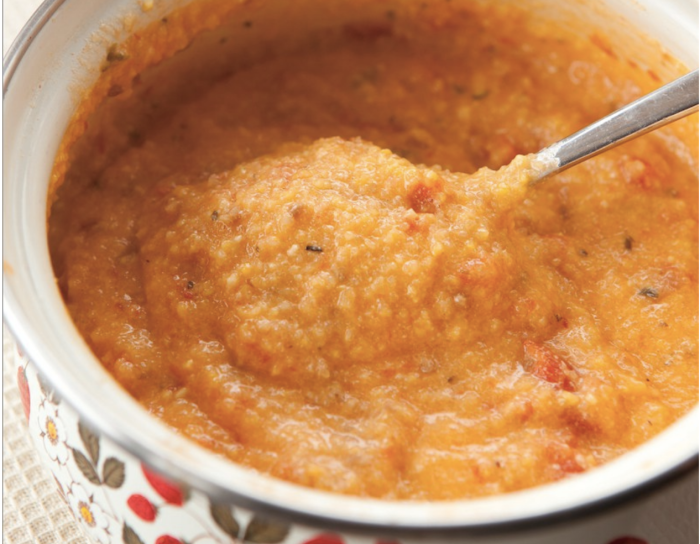 What are we fed while growing up in major cities? A whole lot of information about the number of restaurants opening every year, the constant availability of pretty much any type of food at any time of day, and eye-rolling promises that our food is more local than ever. Accompanying these privileges are (un)healthy doses of big city-dweller stereotypes, causing us to accept certain dining customs as the "norm." Why, of course the going rate for a cold-pressed juice is $12 and adding avocado to any item is $5.50. Ventures outside the big-city bubble are often met with amazement when it comes to the world of food and drink.
A recent weeklong trip to the small, charmingly sleepy town of Rock Hill, South Carolina highlighted a few concepts largely foreign to the big-city palate. While it'd be easy to point out the differences in prices across the board (we realize restaurateurs have to maintain already razor-thin profit margins) or easier access to fresher produce, we tried to focus on a few aspects from which we believe cities and their diners could stand to learn a thing or two.
1. Thoughtful sides
You're telling me that I can have this wonderfully creamy, buttery concoction — "grits," you say, as a side for any entrée? Or a beautifully flaky homemade biscuit? Southerners take serious pride in making homemade sides, which are assembled with just as much — if not more — care as the main dish. Forget settling for soggy fries as an afterthought or being forced to pay an extra dollar for wilted greens.
2. Increased portion size
I'm a chronic over-orderer, known for roping my seat-mate into "sharing everything" so that we can order five plates between the two of us and I can eat three-and-a-half of them. Imagine my pleasant surprise at being completely full after appetizers and doggy bagging no fewer than three entire dishes to enjoy at a later time. (A "bonus" difference that would be easier to realistically employ in larger cities: DIY to-go bags. I very much enjoyed being able to control the exact contents of the take-home loot.)
3. A More Useful Yelp
In a town with no more than 10 total restaurants, there is no single authority tasked with rating them. Knowing full well the inherent evils of sites like Yelp and TripAdvisor and the troubles that they have incited for businesses in major cities over the years, I was hesitant to plan my dining for Rock Hill through these services. To the contrary, the "reviews" on Yelp for Rock Hill restaurants were not only overwhelmingly positive, but also exceptionally detailed, allowing me to choose my dining options appropriately based on the occasion.
Need proof that people enjoy leaving negative feedback up north? One of my favorite routines involves looking up cheesesteak shops in Philadelphia. Yelp users are visibly more inclined to write one-star "reviews" trashing places that they dislike than they are to praise their favorite place. It's quite amusing. And quite Philly. Fly, Eagles Fly!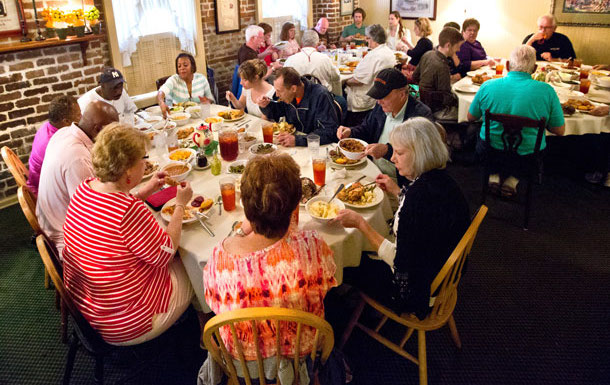 4. Communal dining
Many establishments in major cities have been quick to tout "communal dining" as a feature. You might even call it a fad — a large table in the middle of the restaurant, with little function other than seating as many diners as possible at once. You're likely to see a bunch of parties of two packed in here next to each other, many of them on their phones, scheduling their next Soul Cycle class.
I visited two restaurants during my trip to Rock Hill in which the concept of communal dining was integral to the experience. Diners interacted with one another as they passed around shared plates of food, conversing with the table as a whole. Many a laugh was shared and many a business card exchanged at the end of the meal. No Soul Cycle classes were scheduled. Imagine bonding with strangers over the shared interest of food, your phone stashed away and no clock in sight. Doesn't that sound gratifying?
5. Southern hospitality
Okay, so I have a soft spot (if that's the right word) for scarily hot peppers. But I'm chalking up the selection of four — four — different hot sauces at two separate restaurants to good ol' Southern hospitality. It's the perfect example of a little touch that goes a long way in pleasing customers while not breaking the bank from a restaurant owner's perspective. For shame, watery Tabasco found at every NYC corner spot!