Portland Band Dana Buoy Is Into Synth-Driven Beats, Tasty Eats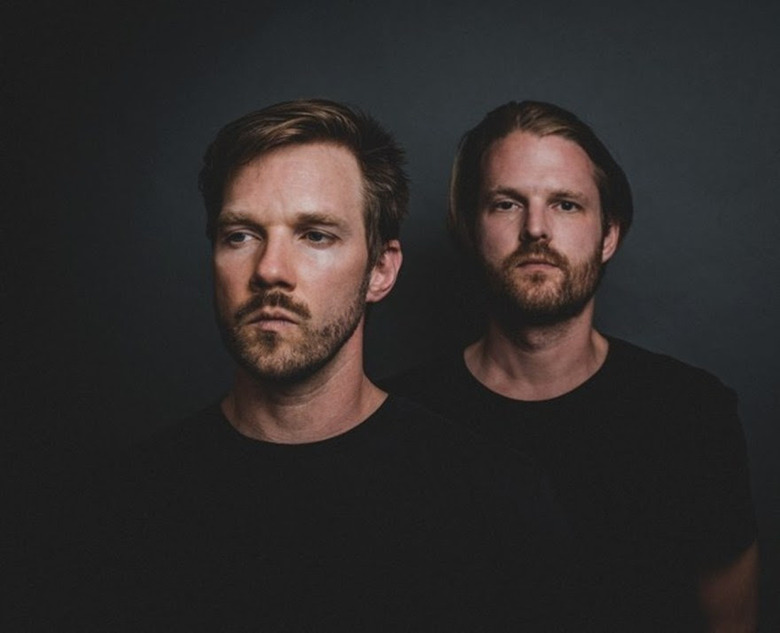 Musician Dana Janssen was once like about 100,000 other New Yorkers, wondering if a more meaningful, less stressful existence awaited him elsewhere. The multi-instrumentalist and singer didn't have a terrible life: home was Brooklyn, he played in a Pitchfork-approved band (Akron/Family) and waited tables at Keith McNally's beloved and now-closed Meatpacking restaurant Pastis.
Fast-forward seven years and Janssen and his longtime collaborator Justin Miller live in the indie paradise of Portland, Oregon, and releases an album as Dana Buoy, Ice Glitter Gold, on February 23rd. (For those of you in NYC, they play tonight at the East Village club Berlin.) It's a by turns melodic, atmospheric and revved-up showcase of Janssen's songwriting skills, with pop sensibilities that bring to mind French and British acts from Phoenix to Orchestral Maneuvers In The Dark. Aside from a few heavier moments, it's a sound perhaps reflective of the duo's decision to embrace a more laid-back lifestyle.
For his part, Janssen admits that he's entrenched now, and has high praise for everything from the access to vintage synthesizers to the food scene to the music community. Here's an edited, condensed phone interview with Janssen, along with a few Portland dining recommendations from this fast-emerging artist.
What have you been doing since the last Akron/Family album came out?
We went on hiatus around 2013. Since then, I've been trying to find some creative outlets. I play with other people. I've been performing with my friend Dave Depper—the name of his record is Emotional Freedom Techniques. He plays guitar in Death Cab For Cutie, too. We performed some shows for his record, and I also perform drums with the Bob's Burgers Band. It's a lot of fun. So that's been occupying my time. But I had a lot of downtime so I just write my own music. Dana Buoy was a project that I started to get my pop songs out of my head. I started in 2012 and I kind of softly released an album around then. I wrote this batch of songs and I decided to take my time with it and that led to Ice Glitter Gold. (Check out the title track below.)
One of the first things to strike me about the album is the array of synthesizer sounds.
I'm a huge synthesizer nerd. The gear infatuation is a bug that I have. You can make any sound you want with a synthesizer. It's incredible. If you've got a modular synth it's easier to find specifically what you want. That to me is exciting to explore. With guitars you can have all different types of pedals and you can go down that road too and I've done that before, but with synths being relatively new to me, I wanted to explore the sonic potential of the synths I had on hand. That was definitely a focus of this record.
What are some of the synthesizers you used?
A lot of different Moogs. The Sub Phatty. The Sub 37. Roland recently came out with this boutique line of synth modules that are replicas digital of old analog synths like the Jupiter. That's been exciting and on this record we definitely went down that hole.
Dana Buoy is you and Justin Miller. Does he still live in New York?
No, he's in Portland. We were both in New York for many years. But I moved out here to Portland back in 2010 because I was searching for quality of life and I wanted to try the West Coast and on a whim tried Portland and just fell in love with it. I convinced Justin to come out and hang out with me.
What attracted you to Portland?
When I first went west I wanted to do Los Angeles and I love Los Angeles and it's nice for me to visit there, but I realized that maybe it was too much of a shock for me to go from public transportation to being isolated in a car and be on my own and not know anybody. The whole driving aspect was too much for me to handle and I had a negative reaction to it. I was with Seth [Olinsky] from Akron because he was doing the same thing, moving out west, so we were like, sure let's give it a go. I had been on tour before in Portland and always enjoyed it. We got here and honestly for the first six months I was in a kind of freakout mode, like I left my apartment in New York and I'll never be able to get back in at that price! But then after six months I calmed down and I was like, This is awesome.
That's a common reaction from New Yorkers who move to Portland, I think. It's a laid-back vibe.
Oh yeah. Everything is so much slower. And I think it's mandatory that you smoke a bowl before you get behind the wheel of a car here because everybody drives like they're super high.
So you lived in Brooklyn and now for a long time in Portland? Which city is better for food?
I worked at Pastis as a waiter. I loved that place. When I moved out west the immediate thing that I noticed was the freshness of vegetables here compared to New York City. The food in the city was more an interesting combination of flavors rather than, say, the freshness of a tomato. I realized that restaurants have access to much fresher ingredients, which was a huge difference to me. So I think I prefer the food in Portland. I'm going with Portland!
What about being on the road as a musician. How is it to eat?
In America, it's hard. Because rest stops here are not — there's no thought given to quality. It's all fast food or gas station food. It's pretty gnarly. My go-to trick on the road is to find a Whole Foods or a market like that and go to the deli and get a pre-made chicken breast and get an allotment of foods to have for the day, because I'm pretty big into nutrition and I like to see numbers and do it like that when I'm on the road, because I can easily just let myself go, eat a bunch of junk and feel like garbage, which is not the most ideal situation.
What about the cities where you're playing?
Most of the time the places we're playing have at least one decent restaurant in the neighborhood. But traveling on the road is hard. And it's weird because in Europe there are places like the auto-marts that have fresh-made food there at the gas stations. I don't know if Europe just cares more about the health of its people but it's easier to eat there.
Europeans never really embraced processed food the way we did.
It's a simple difference in mentality. Here, we eat to live and there, they live to eat.
How was it working at Pastis? Did you know Keith McNally and what his restaurants meant to New York?
When I first started I wasn't the most familiar with him, because I got the job through a friend of mine who was working there. But then I went to Lucky Strike and Balthazar and I was like, he seems to be a pretty important restaurateur. And I realized how lucky I was to be working there. My knowledge of wine skyrocketed. I was working at Acqua Santa in Williamsburg before that. Is that still there?
Yeah.
OK, good, because these days every time I go back to New York, every place I knew is gone.
What about in Portland. When people come visit, where do you take them?
I live right around the corner from Tasty and Sons. I used to go there a lot. But it's changed. My neighborhood has changed a lot. The entire Williams corridor of 20 blocks or so has been completely reinvented with dozens of condos, and every first floor of the condo has either a boutique or a restaurant. I love sushi and one of my favorite spots is Bamboo. One of my favorite brunch spots on Mississippi is a place called Radar. Another go-to is a place called Sweedeedee.
The thing about Portland is that anywhere you go, you're like 98% guaranteed you're gonna have a great meal. Even at a bar. If you serve alcohol, you have to serve food in Portland, so every bar has food and most bars' food programs are actually pretty decent. I think it's because of the quality of the ingredients. A lot of things are just simple snacks but they're really tasty because of the ingredients.
Are you into beer as well, another thing Portland does well?
I'm not as much of a beer drinker; I'm more of a wine drinker. And Oregon wines are pretty good. I heard a lot about Oregon pinot noir and I love pinot—Bourgogne is my favorite region for wine in France. Whenever we'd play Dijon [with Akron/Family] I'd have the promoter get pinot for our rider. Every single one I had, I was floored.
What's the story with your Bob's Burgers gig you mentioned earlier?
A good friend of mine of mine, Brent Knopf, played in Menomena. He heard that some of Akron/Family had moved to town so he reached out. He invited Seth and I over to his house for hot cocoa and I was like, what? Definitely, I have to meet this guy. So we went over and Brent is a chocolate fiend, and he broke out a chocolate bar with the hot cocoa and he divvied it up into the perfect portion squares, and put them in front of everybody, and I was like, I gottta become friends with this guy. A couple of years ago, he did this project with Matt Berninger from the National, El Vy, and Matt and the National were good friends with the Bob's crew, and they eventually wanted to put out a record of favorite songs from the show. Sub Pop released it, and then they wanted to do a live performance last June, so they asked Matt if the National could do it and he was like, we can't but El Vy would love to. So Brent asked me if I was interested, and we went to LA and did two nights at the Orpheum and it was so much fun. The cast was out singing the songs and they had giant puppets onstage dancing with us. After that, they wanted to do more, so from there it was a recording for the Christmas episode. We went down for a week and put together six songs for that episode and we're gonna do more in the future.