Super Bowl Savvy: Make Your Own Ranch Dressing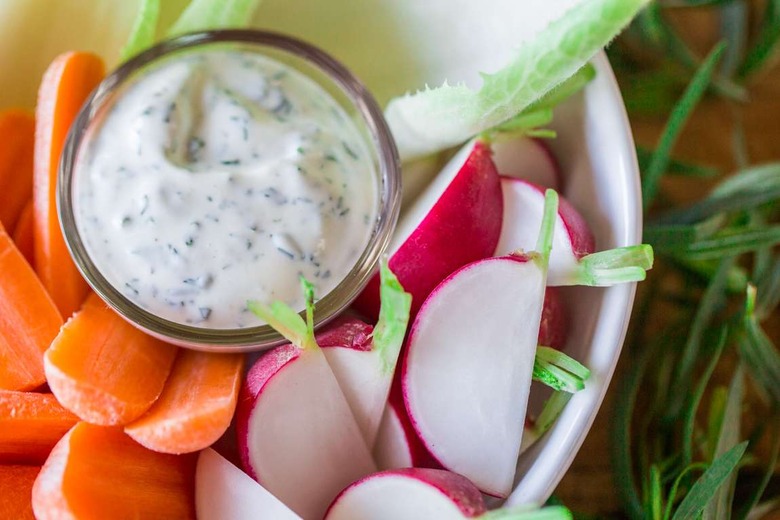 Whether you're dipping wings, veggies or even pizza while watching this Sunday's Super Bowl, you'll need a classic herby ranch dressing. Our friends at ChefSteps provided us this handy recipe for all our ranch needs without the bottled up preservatives. Now, pick your herbs, get mincing and dip away.
Homemade Hidden Valley-Style Ranch Dressing
30 minutes; makes 250 gramsIngredients
Follow this recipe for Japanese (Kewpie-style) mayo, or 25 grams store bought
200 grams sour cream
5 grams chives, fresh, minced
5 grams parsley, fresh, minced
4 grams dill, fresh, minced
3.5 grams salt
3 grams onion powder
2 grams tarragon, fresh, minced
2 grams lemon juice
1.5 grams garlic powder
0.2 grams black pepper, or to taste
Equipment
Blender (optional)
Fine-tipped squeeze bottles (optional)
Whisk (optional)
Directions
If making your own Japanese mayo, start now.
Add all ingredients to a bowl, and mix together with a whisk or spoon until fully incorporated.
Transfer dressing to a squeeze bottle or other sealable container, and store in the fridge until you're ready to serve.
ChefSteps comprises a team of award-winning chefs, filmmakers, scientists, designers and engineers focused on revolutionizing the way people cook by inspiring creativity and encouraging expertise in the kitchen. You can also get access to all of ChefSteps' Premium content — including paid classes and dozens of recipes available only to Premium members for a onetime fee of $39. Classes include Sous Vide: Beyond the Basics, Fluid Gels, French Macarons and more!