Bring These Impressive Snacks To A Super Bowl Party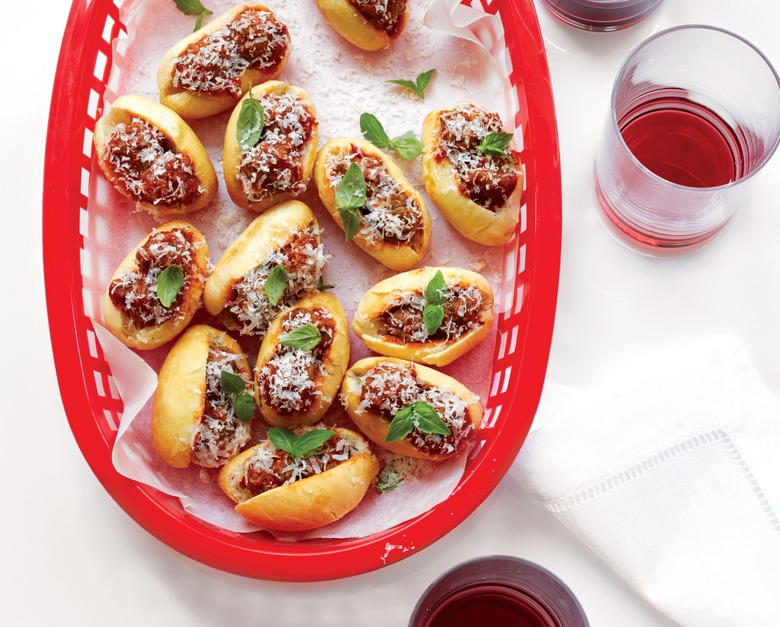 Consider this situation: Super Bowl Sunday is upon us. You ask what you can bring and your host says "I don't know, chips?" That's how you get a party with 15 bags of chips and no mini meatball subs. Don't let that be your party. Check out ten of our favorite snacks to bring to a Super Bowl party, and watch the Chiefs take on the Eagles with a nice full stomach. And hey, if you decide to bring dessert — this party goes late! — you might just be awarded MVP.
Mini Meatball Subs
A meatball sub is the classic example of something that, at full size, could never be done at a party. It's traditionally a very heavy meal, but if you shrink it way, way down — we shrink it to about an inch and a half — it might be called adorable and cute and make the guys happy as well. People enjoy sub shop fare in the smaller scale. We shave a little bit of Parmesan over the top and add a baby basil sprig (picking tiny leaves from the very center of the basil stem).
Toasted Marshmallow Brownie Krinkles
Who wants to spend hours at the stove on their day off, right? These toasted marshmallow brownie krinkles cut the middleman out of the s'more. Everyone knows the graham cracker is the least-delicious part.
Artichoke "Hot Wings"
The kitchen at Golden Road makes its own marinated artichoke hearts in-house, and they leave the stems on long. Once the hearts are quartered, battered, fried, and doused with hot sauce, they really do look like chicken wings. Store-bought marinated quartered artichoke hearts will wind up looking more like artichoke poppers. But in any case, this recipe proves that vegan cuisine is more than just hippie health food—it's delicious, mainstream, and on-trend.
Chorizo Rolls
These little breads, freshly baked each day and stuffed with slices of chouriço (chorizo) are a common sight at outdoor food markets.
Mini Charcuterie Boards
Charcuterie has become very popular — it seems that everyone loves a good selection of preserved meats. We often do a large charcuterie station at events, but this is another example of taking one of our favorite foods and making it mini.
Federal Donuts' Salted Tehina Donut
Presenting the sesame bagel in donut form. The savory quality of tehina (or tahini, pure sesame paste) enhanced with a bit of salt is a great foil for the donuts' sweetness. Use the best-quality tehina — we use Soom, an artisanal producer and our neighbor in the City of Brotherly Love.
Fresh Sesame Soba Spring Rolls
Fresh spring rolls are Vietnamese. Soba noodles are Japanese. I'm sure I'm upsetting someone by mixing the two cuisines, but they go so well together! Rice noodles are common spring roll fillings, but I opted for soba noodles instead, which are made with buckwheat flour. They add some nutritious, nutty flavor to the rolls.
Gail Simmons' Latke Reubens
I came up with this little nosh for a holiday episode of The Feed, my show with chef Marcus Samuelsson and comedian Max Silverstri, in 2014. Combining my family's cherished latke recipe with the fillings of a classic Reuben sandwich, I created the ultimate Hanukkah deli delight. A perfect way to celebrate the Festival of Lights, it's also a killer Super Bowl party snack or fun accompaniment to cocktail any time of year.