UK's Fortnum & Mason Unveils The Art Of The Tea Sandwich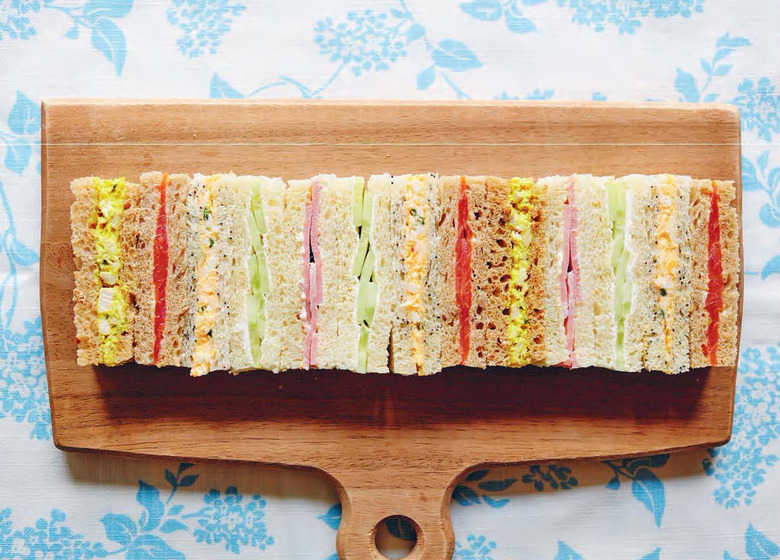 We may receive a commission on purchases made from links.
The iconic Fortnum & Mason is truly a house of fine foods. This extra high-end London grocer is home to a world of produce, cheese, meats, fish, desserts and prepared dishes like no market you've been to. And their new cookbook, by food critic and writer Tom Parker Bowles, is filled with recipes, stories and how-to guides to some of their most famous wares, like the simple perfection of their tea sandwiches.  
Reprinted with permission from The Cook Book: Fortum & Mason
I've never entirely bought the official history of the sandwich. You know, the one about the Earl of Sandwich being so deep into his game of cards that he demanded meat be brought to him between two slabs of bread. Just so the lazy sod didn't have to shift his pampered backside from the table. Surely, in a country that venerates both beef and bread, someone might have chanced upon this combination before.
Still, at Fortnum & Mason, the sandwich is no mere belly-stuffer, to be eaten dead-eyed behind your desk. Rather an art all unto itself, and one taken every bit as seriously as any eclair, scone or terrine. Quite rightly too. For those whose tastes veer towards the savory (like me), it's the highlight of Afternoon Tea in The Diamond Jubilee Tea Salon. On a busy day, the Fortnum's kitchen can chum out over 1,000 rounds of four different varieties of sandwich. That's 4,000 immaculately sliced, identically-sized fingers, soft, pliant and gloriously fresh. I say 'churn', but that's to do the chefs a disservice, because the sandwich at Fortnum & Mason has its own section of the kitchen, a cool, quiet comer far removed from the usual steam, clatter and hiss.
And it's here, from dawn until dusk, that a chef (two at the weekend) sits, building cucumber on white bread, smoked salmon on brown, egg mayonnaise in poppy seed and Coronation chicken within granary for an endless stream of hungry punters. The process is as strict as it is unbending. Fresh bread, obviously. Fillings mixed fresh every few hours. Not too soggy or wet, as this would stain and sully the bread. And just the right amount of filling, about a quarter to half of the sandwich. Then they lose their crusts, and are sliced into soldiers of exactly the same proportions before being gently pressed, for 30 minutes, beneath a light wooden tray. Nothing is left to chance. If they have to sit around for more than a few minutes (rare, admittedly), they're stored under a damp cloth to preserve their elegantly soft charms.
As to the fillings. The classic cucumber is peeled and cut into thin slices. The cream cheese has a little salt added, before it's spread, gently, over the cut cucumber. Smoked salmon uses just the classic house cure (no cheap, greasy offcuts here), while egg mayonnaise and Coronation chicken are always made fresh. The true art, though, lies in that eternal consistency, making each round look exactly the same. This may sound easy, but it ain't – it takes experience, concentration and a very steady hand. So no workaday plate of sandwiches, rather the obsessive end result of many years' experience. Really, we wouldn't expect anything less.