Super Bowl Recipe Face-Off: Philly Vs. New England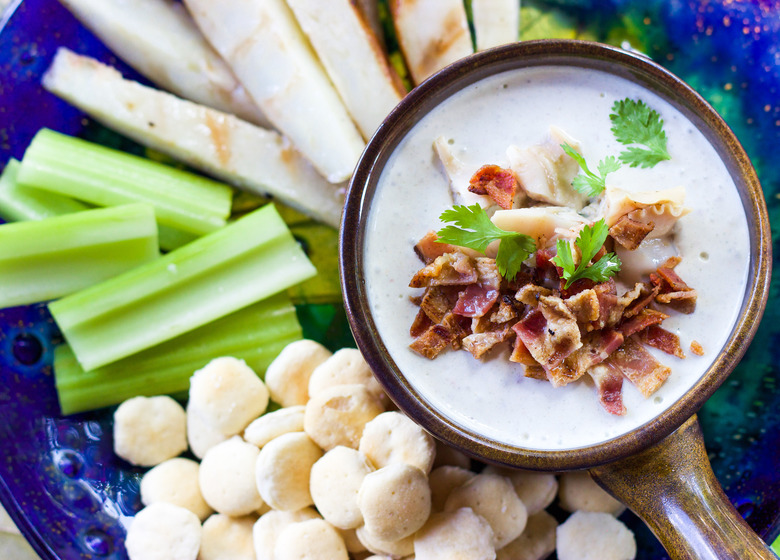 Photo: Katie Chudy
It's nearly that time of year again, where wings are king and deep-fryers come out of hiding (but no avocado is safe). We love a good Super Bowl recipe roundup, particularly when the contending teams represent such delicious cities. Whether you're rooting for the Eagles or the Patriots, you're bound to be chowing down on something delicious during the most action-packed sporting event of the year. Check out some of our favorite recipes from each town, and hey if the Pats win, that's cool.
Recipe: Grilled New England Clam Chowder Dip
Sorry Manhattan, there is but one clam chowder in our books and it hails from New England. Rich and creamy and always studded with bacon, we don't feel guilty slurping every last drop. In dip form, this quintessential recipe is a cinch to pull together, and grilling both the clams (until they just open) and bacon will make for one very happy grill. As the bacon cooks on the grill, drops of fat will permeate under the hood and make all your neighbors jealous, so don't skip that step. Best chilled, this dip can easily be made a day ahead of time.
Recipe: Boston Maple-Whiskey Steak Tips
Steak tips come from the thin but fatty-rich sirloin flap, typically a chewy, second-rate cut of meat. So the beef is cut into chunks, marinated to flavor and tenderize the beef, then grilled over a hot fire. Sometimes the tips are skewered, but more often than not they're just piled onto a plate, maybe doused with barbecue sauce, and served with French fries. Meat was something you ate back in Lebanon only on special occasions. Here in America, you could walk into a little takeout joint like my buddy Billy's family pizza shop and walk out with a pile of grilled marinated beef for just a few dollars. I was amazed by it all.
Recipe: Stuffies
It's time to learn how to make stuffies, a Rhode Island staple. This recipe is perfect for anyone who's ever lived in New England, loved a clam or itched to plate a bivalve in its own shell.
Recipe: Cider Doughnuts With A Cider Glaze
Doughnuts are all about comfort. I think it's safe to say that we all keep a special place in our hearts for fried dough — with extra points if it's still warm and fresh out of the fryer. These cider doughnuts are extra comforting: They're rich, dense and spiced with cinnamon, nutmeg and ginger. They evoke brisk fall days and remind me of going to the local apple orchard to get cider doughnuts when I was a kid.
Recipe: Braised Pork Shanks With Spinach Dumplings
Pork shanks are an underrated cut of meat, but they have a fantastic porky flavor, and they're actually pretty lean — the best of both worlds. After hours of braising, the pork is tender and warmly flavored by the apples, ginger, star anise and cinnamon. Their Flintstones-approved size makes them immediately impressive, so they're perfect for entertaining. If you happen to have any leftovers, just pick the pork off the bone and put it back into the glaze; you'll have a great sauce for pasta or polenta.
Recipe: Federal Donuts' Master Fried Chicken
Fried chicken waits for no one, so have your spice blends and glazes ready before you start frying. Season the chicken immediately after it's fried. Our process begins with curing the chicken overnight, or at least 4 hours ahead, and then frying it twice for an extra-crispy crust. Only then do we toss the hot fried chicken into a spice blend or brush on a tasty glaze.
Recipe: Philly Cheesesteak Jalapeño Poppers
Classic cream cheese-filled jalapeño poppers can be found all over the place, so when I planned our last Test Kitchen menu I made sure to include three different spins.
Recipe: Dinosaur Kale Pizza With Pickled Red Onions
It makes me laugh that people are impressed by pickling. You can pickle something in 30 minutes, no practice or prior knowledge necessary. The pickled element really balances out the flavor and richness with the acid.
Recipe: Philly Portobello Steak Sandwich
Moosewood's Wynnie Stein grew up in Philly, home of the famous Pat's Steaks. Her dad, Milt, has been eating steak sandwiches at Pat's for at least seventy-five years and he still loves to go there. He remembers in his youth playing cards until the wee hours and then heading over to Pat's so he could end the night eating his favorite sandwich. It cost fifteen cents. He would always eat two.
Recipe: Jerk-Spiced Cashews
We like to lean toward simplicity and clean flavors. So every time we start a jerk dish with a blank canvas, it's always a riot how long the list of ingredients grows. The point is that jerk is a very complex blend of spices that must work in a perfect harmony of herbal, sweet, spicy and sour. It takes many parts to complete the whole, and nothing can be out of sync. They are terrific on top of a salad or just for snacking.