Sugary Nutrient Drinks In Hospitals Aren't Helping Anyone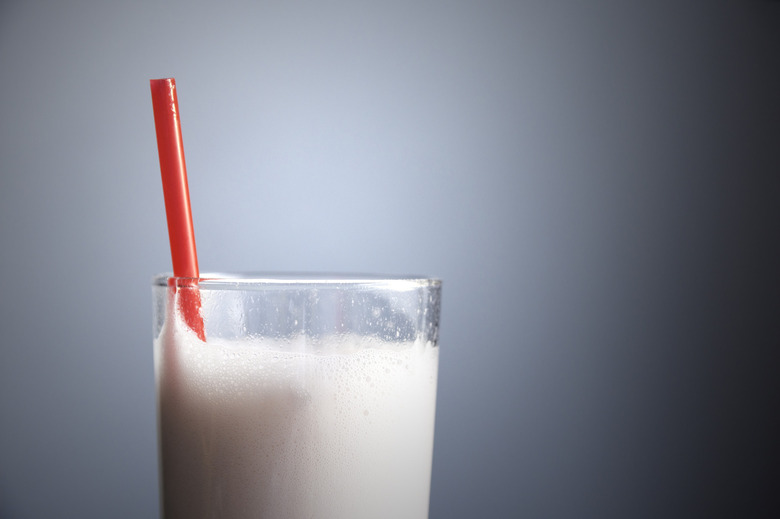 (infinity_studio/Flickr
(infinity_studio/Flickr)Laid-up in the hospital?
In hospital food news: hospital food is still terrible and often lacking in nutrition. When a patient has trouble eating it, nutrient drinks and meal replacement beverages like Ensure and and Boost may seem like a logical way to take in enough calories. But one doctor took to The New York Times to point out the clear deficiencies in these products — and not for the first time. He also offers a proactive solution: actual smoothies.
Dr. Dave Lieberman is a resident in internal medicine-primary care at the Hospital of the University of Pennsylvania, and the co-author of a book on medical nutrition. He recounts his experience of inspecting the nutrition facts on the labels of his patients' meal replacement drinks. This genre of beverage, made by companies like Nestlé and Abbott, became popular in the early 1980s. This was largely before the probiotic, immunity-boosting and protein-rich nature of yogurt caused its steady rise in popularity as a health food. Armed with with robust advertising campaigns and little in the way of competition, nutrient drinks quickly dominated the protein supplement market.
While Ensure and Boost do contain dozens of vitamins and minerals crucial to peak body performance, take a gander at their top six ingredients: water, corn maltodextrin, sugar, milk protein concentrate, canola oil and soy protein isolate. That's a lot of corn and soy, which the Times brought to light in 1997. Abbott Laboratories, which makes Ensure, was subsequently charged with making false and unsubstantiated claims about doctors' recommendations for their product — particularly in suggesting that otherwise healthy people consume them for extra nutrients. The Washington-based Center for Science in the Public Interest even declared Ensure's false claims "the most misleading food ad" of the year.
Worse still for these drinks' reputations: what goes into the force-feeding tubes of prisoners on hunger strikes? Is that the caliber of calorie that hospital patients, especially the elderly and frail, should depend on to heal their bodies and improve their quality of life? "Food has the potential to be some of the best medicine. But not food like this," says Lieberman.
His suggestion is simple, viable and smart: customized smoothies, fresh from the kitchen. In an ideal world, he says, "...hospital food services would use yogurt or nut milks as the base for freshly made smoothies and add nutrient-dense items like avocado, berries, spinach or peanut butter."
Wouldn't that be expensive, restricted to "luxury and boutique health care facilities?" Not necessarily: hospitals are one of many places where rescued "ugly" produce can find a new home. A simple chart could inform kitchen staff which vitamins and other crucial micronutrients like selenium, magnesium, folate and beta-carotene are good for boosting a particular patient's condition. And unlike Boost and Ensure, which taste like flavored milk mixed with ...well, gritty canola oil, berry-avocado-peanut butter smoothies are delicious by nature.