How To Make Foolproof Parisian Gnocchi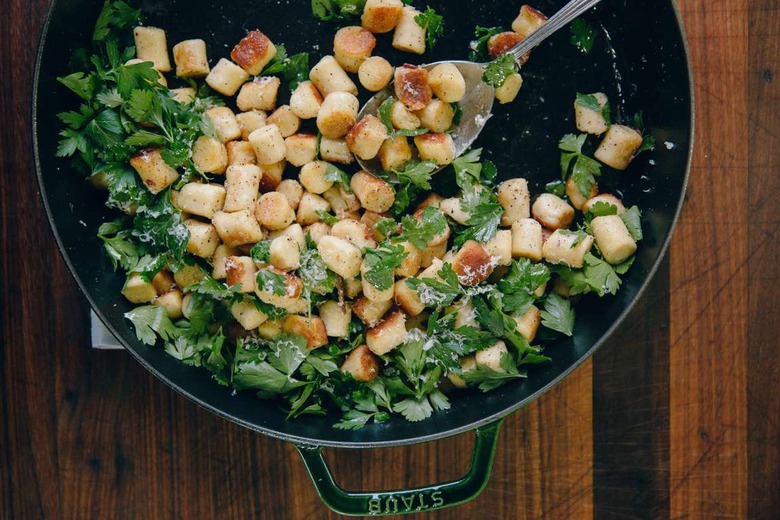 Brown your butter and pick your herb (we suggest sage or parsley), because it's time to make pillowy gnocchi! Our friends at ChefSteps wrote in this week with this French twist on gnocchi. Instead of employing the traditional potato, this recipe calls for a pâte à choux — the same dough used to make éclairs and gougères — and a handy trick with butcher's twine. Get your water boiling and start piping!
Foolproof Parisian Gnocchi
1 hour; serves 8Ingredients
300 grams bread flour
450 grams whole milk
100 grams butter, plus more for searing
9 grams kosher salt
1 gram black pepper
1/2 gram nutmeg, grated, optional
300 grams eggs, about 6 medium
300 grams parmesan, grated
Oil, as needed
Equipment
Fine-mesh sieve
Stand mixer with paddle attachment
Disposable piping bag
Piping tip #12 (round)
Butcher's twine (optional)
Directions
Sift flour.
In a pot over medium heat, combine the butter and milk and heat until just boiling, making sure to fully melt the butter.
Add the sifted flour to the milk mixture, and stir vigorously with a wooden spoon. The mixture will start to ball up and pull cleanly away from the sides of the pot. Reduce heat and cook for an additional four minutes to cook the starch in the flour.
Transfer the heated mixture to a stand mixer fitted with the paddle attachment. Add salt, pepper, and nutmeg. Set the mixer to medium speed, and slowly add in the eggs, completely incorporating them into the dough. Once eggs are mixed in, add the parmesan cheese and continue mixing until homogenous.
Transfer the entire mixture to a piping bag fitted with a large, round tip—we use a #12 or #13 tip.
If you have someone to help, have that person cut the gnocchi as you pipe it out. However, if you're on your own, try this method: Find a pot with two handles, and oil up a baking sheet. Tie a piece of butcher's twine taut between the pot handles—you will use the string to cut the gnocchi. Bring water to a boil in the pot. Working in batches, pipe gnocchi into the boiling water a few at a time, using the butcher's twine to cut pieces about 3 cm long. Cook for two minutes, or until gnocchi start to float to the top of the water. Then remove and place on the oiled sheet tray. Transfer the tray to the refrigerator to cool.
To finish, heat a skillet with a small amount of butter or olive oil, and let it get rippin' hot. Add a layer of gnocchi to the pan and let them cook for 30–40 seconds, completely untouched. When the time's up, check to see how they are browning—once you see the color you want, they are ready to go. Complete this dish with any sauce you'd like—we prefer a simple finishing sauce: just squeeze in some fresh lemon juice and dress those suckers up with French herbs and some extra salt and pepper. Voilà: gnocchi à la parisienne!
ChefSteps comprises a team of award-winning chefs, filmmakers, scientists, designers and engineers focused on revolutionizing the way people cook by inspiring creativity and encouraging expertise in the kitchen. You can also get access to all of ChefSteps' Premium content — including paid classes and dozens of recipes available only to Premium members for a onetime fee of $39. Classes include Sous Vide: Beyond the Basics, Fluid Gels, French Macarons and more!