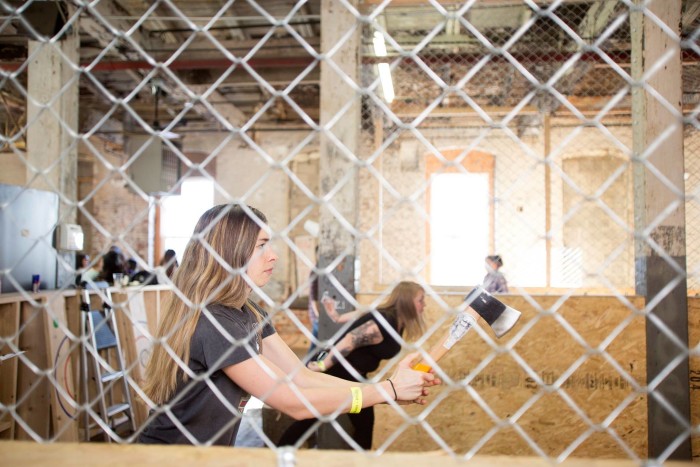 It may sound like a popular pastime in the world of Game of Thrones or an attraction at your local Renaissance Faire, but nevertheless, throwing axes is looking to be a bit of a trend. Case in point? Two axe bars are coming to the Boston area this year. They're exactly what they sound like: a space where beer and wine is served also serves as an arena for throwing sharp implements at targets.
According to The Boston Globe, Revolution Axe will open in Everett, MA in April. Urban Axes, a chain based out of Philadelphia, is scheduled for a summer opening in Somerville.
Throwing areas at both locations are set up like a batting cages or shooting ranges, with fenced barriers separating participants from imbibers. While Revolution Axe has yet to get its liquor license and will open solely as an axe-throwing venue, the new Boston Urban Axes will focus more on axe-throwing than drinking. The venue will house three to four arenas, holding four targets each.
Throwers at Urban Axes are trained and accompanied by "axeperts" to make sure nobody loses a toe or is too inebriated to toss an axe. Cheers to that!