Roasting Agave & Eating Tacos: A Oaxacan Adventure With Mezcal Unión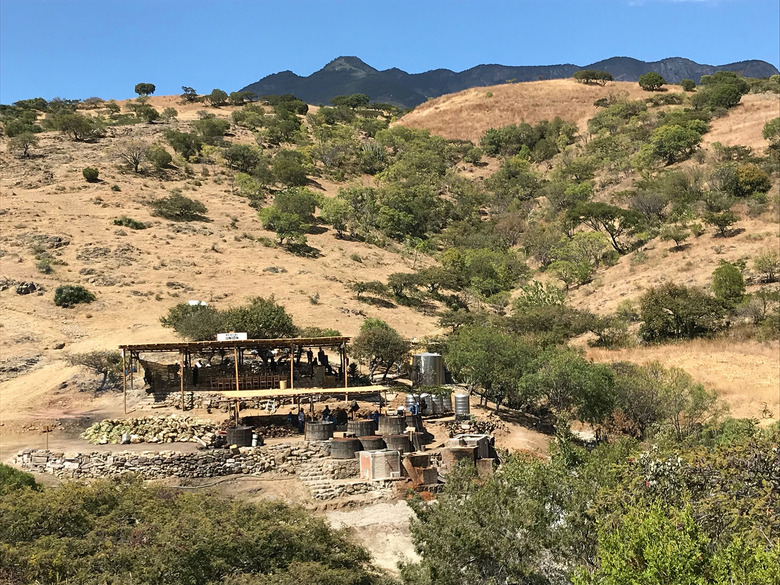 People talk about Oaxaca like it's a mystical place. Like on your first night there you'll experience some hint of magic and it'll guide your journey and you'll go home feeling not so much refreshed but changed. Maybe the world will be a little clearer. Maybe you'll see in the Technicolor of the craft-made spirit animals you see street vendors selling in the square outside the Templo de Santo Domingo. Or maybe you actually haven't managed to leave Oaxaca yet.
Me, I went for the mezcal and to check out the peeling-paint pastel décor and to warm up a bit after a few chilly Brooklyn weeks. I wouldn't say I had some religious enlightenment due to the trip, but I will say that my limited time in Oaxaca just totally blew me away. (Scroll down for recommendations based on my visit and research.)
The hospitality of my hosts, Mezcal Unión, and their extended family of farmers and like-minded colleagues, made me even more ashamed of my home country's offhanded dismissal of the Mexican people than I had been before. Led by Alejandro Champion Gutierrez, who everybody just calls Champ, Mezcal Unión is a sort of collective that stretches from Mexico City to palenques (mezcal distilleries) out in the foothills 70 or so kilometers in some direction I didn't catch, with stops in an around Oaxaca City. It encompasses restaurateurs, agave farmers, DJs, mezcaleria owners, an 8-piece teenaged marching band from out in the desert, chefs, urban farmers, a real estate genius or two, conceptual artists, photographers, human rights attorneys and liquor company executives on resiliency missions, American bartenders, marketing gurus and events experts.
Champ is a late-30s guy with a laconic yet charismatic delivery and a knack for addressing a crowd, for explaining the appeal, the mystique of mezcal. One morning, Champ appears in the courtyard of my hotel, Casa Vertiz, sidling in amidst the actual trees and tropical plants and that eerily real-looking fake parrot hanging from a branch in the corner. He leads us to a couple of shuttle vans, the brand's logo stenciled on the exteriors.
A friend of Champ's Mexico City crew, who resides in Guadalajara himself, plows through the aisle to the back row and pops the top on a Tecate with clamato juice, a morning pick-me-up to offset the opening night of our trip—a mezcal-drenched affair in the courtyard of Enrique Olvera's entry into Oaxaca, Criollo, that includes probably the best carnitas tacos I've ever tasted. Back in the van, An Austin barman takes a liking to the Tecate concoction, and our new friend dubs it "Baby Jesus."
An hour later we are still in that van, driving down suitably dusty roads, passing villages whose buildings are made of adobe brick and corrugated metal. It feels more and more remote, until we pass a town, San Baltazar Guelavila, and maneuver through a few more challenging turns—during which I'm lamenting my decision to stare out the window, which involves noticing our proximity to the edge of the precipitous road—and park gently along the bank of a ravine. We're a group of about 25 or 30 this day, visiting the first farm that Mezcal Unión contracted to start making the spirit.
We wander out of the vans and collectively marvel at the setting: There's an open-air structure a few hundred feet away, perched on a cropping, with two long tables set for us. There's a pit with harvested agave plants around it. Off to the side is a winding stream with a rocky bank perfect for sitting and hanging out and smoking cigarettes and talking about Mexico City and Paris and Brooklyn and Chicago and Oakland. All while sipping mezcal or Pacifico beers. In other words, life doesn't suck.
And it's about to get even better. We sit for a convivial lunch of croquettes and mezcal. I'm down on one end with three of the owners of Williamsburg's Loosie Rouge and the guy from Austin, whose mezcaleria is called Clyde, and the girlfriend of one of the Loosie guys. It's totally casual. Time starts to blur. Champ encourages us to head down to the agave pit. Eventually, he props himself above us, with Don Pedro, the palenque owner, and a longtime farmer by his side. Soon, Champ is telling us the Mezcal Unión story, how he and three friends from various creative fields decided that applying what they'd learned about hospitality and craftsmanship and marketing could allow them to make a great product while helping create viable businesses for farmers in formerly forlorn places.
Listen to Champ talk about Mezcal Unión's sustainability efforts and more on the Food Republic Today podcast:
It's the only message-y moment of our journey but nobody minds the sincerity, especially when Champ turns the proverbial mic over to Don Pedro, who talks about how he harvests the agave on the land around us to make his own mezcal, as well as Unión's, and how the partnership has helped him thrive. Then one of his farmers thanks everyone for coming, and talks, in Spanish, for several minutes. My Spanish-speaking skills are shaky at best, but from what I can make out, he's meandering around his tale of gushing gratitude; it's utterly charming.
Then, the gathered crowd is instructed in picking up chunks of agave and throwing them on the smoldering fire. (But first there's a warning about not touching a certain part of the agave, which can cause skin rashes.) One of the workers arranges the harvested plants, and after a raucous 15 minutes, most of the agave is in the pit; the workers arrange and stack it, then began to stuff the kindling-like cereal in crevices and around the agave before shoveling dirt over the entire production, creating a smoldering mound. It's a lot more thrilling watching all this than it is to take part in a wine harvest or to blink your way through your 23rd craft brewery tour.
The next item on our itinerary is a hike, and before we begin the uphill journey, we're encouraged to refill our mezcal vessels. It seems like dubious advice but I oblige. The hike lasts all of 10 minutes, and while it is rather steep, it's gloriously short. Soon, we're led to a clearing on the other side of the hill overlooking a valley. The Union folks had clandestinely arranged for coolers filled with mezcal and beer to be delivered here, along with a dozen or so oversized mats. We take our seats—a few people lie down, and at least one member of our entourage seizes on the rugged beauty, fresh air and intense silence of the setting to doze off.
Soon Champ is orating again, albeit with a solemnity that befits the current mood. He pauses and tells us to appreciate how quiet it is, and we all sit motionless, still and even breathing in a whisper for what seems like 10 minutes. It's disconcerting for me, so used to the thrum of the city, and I'm guessing it is for most of the 20 or so people around me, as there's a group meditation going on.
We've been together nearly 24 hours as a group, but now, sitting on the hillside, we individually introduce ourselves to the group and talk about what we're doing there. The speeches last between 2 and 10 minutes, and vary from first-person accounts of how a bar manager first had Champ walk into their establishment and encourage them to take a chance on Mezcal Unión to inspiring tales of setting up makeshift cafeterias to serve victims after the earthquakes hit Oaxaca and Mexico City to an artist who detailed the founding of an art fair with the assistance of the mezcal brand's owner.
Even the guy taking a nap was called upon, and he somehow roused himself, spoke surprisingly eloquently about his introduction to Unión Mezcal, and promptly laid back down on the mat to resume his slumber.
It was all very moving, at times inspiring, and it made me think that if I were inadvertently being indoctrinated into a cult and that this would be my new home, it wouldn't be such a bad way to live. Unless of course they didn't let us drink the mezcal anymore.
Soon enough though, we were being led back down the dirt trail for more food, more mezcal, and a night of dancing, stargazing, dreaming. As dinner ended and darkness descended, Tonio, one of Mezcal Unión's founders, showed off his skills in the DJ booth. The tables got pushed aside and at least half of the group, along with a few of the farmers, hit the dance floor. A few songs in, the lights began to dim and the music cut out; maybe getting a reliable generator out in the Oaxacan desert is too much to ask, even for folks who are clearly geniuses when it comes to planning and entertaining.
Not to worry, however! A fix is found and soon the music grows louder as the stars in the sky become brighter and the dancing becomes more frenetic and, well, when you find yourself to be lucky enough to be faux-moonwalking to a Michael Jackson song on a Mexican palenque with a couple dozen newfound friends, you find yourself reflecting on what correct decisions in life led you to this place in time.
But wait! We're not done with the evening yet. Down at the bonfire, people are starting to gather. Soon, a marching band and two of the giant puppets known as mojigangas are approaching our group from the path we'd parked on about 12 hours earlier. The mojigangas are about 10 feet tall and made of papier-mache; they're depicting a man and a woman, and there's also a celebratory ball made of the same material being twirled around by a third puppeteer. Meanwhile, the group of young musicians, who I find out come from the nearest town, play festive songs on their trumpets and trombones, a fitting accompaniment for the long-armed puppets who turn and sway to the music.
At this point, the night is becoming a blur, literally and figuratively, but I've learned a lot about mezcal production, as well as seeing firsthand how a responsible, apparently profitable and socially ambitious business could be run by a few friends and a supporting cast.
This wouldn't even be my last day in Oaxaca, but it was surely the most soul-enriching experience for all of us on the trip. Some of us would stay another day, then another, then even another. Thanks to Aeromexico's seemingly lax attitude about honoring flight plans and schedules, it's not an entirely easy thing to get to Oaxaca, and more than a few people I've spoken to find it an even harder place to leave. I get that now, and while I can't guarantee that you'll have an experience that'll lead to an all-night dance party in the desert, I can point you in a few directions to make your Oaxaca journey a mezcal-fueled success. See below for more.
---
Oaxaca Dining & Drinking Tips
You probably won't find a tour along the lines of what I describe above, but the Mezcalistas website has some advice about trying to get out into the palenques. As for other things to do in and around Oaxaca, there is way more than I can list here, but I've assembled a few recommendations for where to eat and drink. Some are places I went to during my four-day stay; others were recommended by Oaxaca regulars I contacted through friends in the food and drinks biz.
Criollo: The first restaurant in Oaxaca by Enrique Olvera, whose Mexico City restaurants are amongst the country's best-known. He's also behind New York City's Cosme and Atla.
La Popular: A conveniently located corner bar with decent small bites, a block or so up from the Templo de Santo Domingo.
Zandunga and Biznaga: Two Oaxacan restaurants also conveniently located in the city and recommended by friends.
Mezcaloteca: A mezcal tasting bar where you can learn a lot about this special spirit, from the different plants used in distilling to the regional distinctions and more. Reach out in advance and plan for two or three hours of tasting. 
Boulenc: A stylish bakery and café that doubles as a showcase for Oaxacan design. It's a beautiful place to sit and have coffee and a delicious sandwich.
Itanoni: An all-heirloom corn restaurant. Because the world needs more heirloom corn.
Mezcalogia: Depends on who you ask, but some people say this is the best mezcal bar in Oaxaca, if not the world.