While you're dining at the hottest vegan restaurant and shopping for your Whole 30 diet, are you watching what your cat eats with the same level of care? One company wants to reinvent cat food for the better. And as the proud human of two felines, I couldn't wait to try it out.
Delivered right to your doorstep, Smalls is like the Blue Apron of cat food. Packs of frozen chicken, beef and turkey dinners come with supplementary packets of chicken liver powder and bonito flakes which can be used to encourage kitties to feast. When thawed, the meals look, smell and feel like Real Food — food that I'd feed my cats purely out of respect — and not the goopy chunks of maybe-chicken out of cans. Ingredients include familiar-sounding things like ground beef, beef liver, peas, green beans, spinach, chicken and turkey breast, chicken hearts, eggs, kale (yes, you can now share your love for the trendy green with your cat!), parsley and more.
Smalls was founded by Matt Michaelson and Calvin Bohn in November 2016. The team developed recipes in Michaelson's East Village apartment in New York and still taste-tests every batch.
"Our food is made with 100% human-grade ingredients so there's really not an 'ick factor,'" Michaelson says. "Although it is a little more liver-y than you might want, but I think Calvin's taste buds have adapted."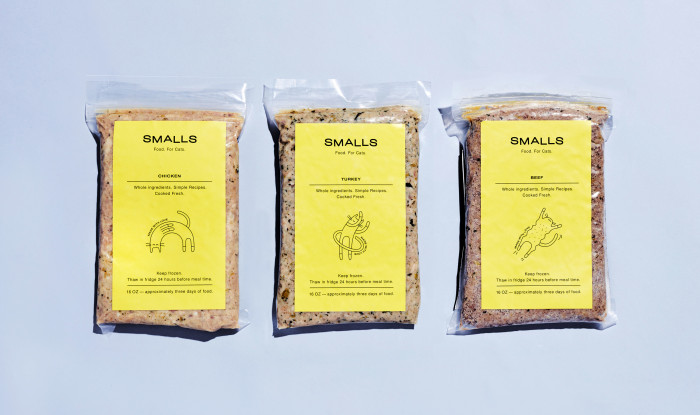 But why go to the trouble of feeding Fluffy a whole-food diet? According to Michaelson, mass market pet food is sometimes made with ingredients that are so foul that they're not even named.
"A huge percentage of pet food contains ingredients that aren't listed on the label," Michaelson says. "Euthanized pet carcasses are legally allowed in pet food and most pet food is made with 4d meats (meat from dying, disabled, diseased and dead livestock unsafe for human consumption). We always had intuitions about the value of real food but when we started having cats who had diagnosed illnesses be cured just from eating better food, it really crystalized for us that real food could make a huge difference."
I decided to test Smalls on a focus group of two: Lucy and Fro. Meaning I forced my cats into a diet change they never asked for. Sorry guys.
Any pet owner will know that changing diets can be tricky business. Prior to Smalls, my cats were fed a steady diet of grain-free dry food, making the switch a trying one for both human and feline alike. While Lucy — a bigger cat who will eat anything — warmed up to her dishes, Fro proved to be pickier and often sniffed at his food, glared at me and walked away only to nibble at it throughout the day (if Lucy hadn't already gotten to it).
About a week after introducing Smalls to their diet, Lucy was friendlier, more active and seemed like a genuinely happier cat. Fro, on the other hand, exhibited signs of what I can only assume was hanger. Fights had to be broken up on several occasions. For another two weeks, Fro continued to sulk and pick fights with Lucy to the point where another diet change was needed to keep both cats happy.
The idea of a cat food made of completely whole ingredients is every pet owner's dream. If you're eating a healthy paleo dinner of a kale salad and roast chicken, why can't your cat? Smalls delivers on its promise of making meals that won't weigh cats down and providing them with healthy proteins and nutrients. While some cats may not take to the food immediately, it's worth a try to promote a healthier lifestyle, possibly extend your cat's lifespan and simply for the sake of feeling good about what you're putting in front of your furry friend. Cat diabetes is no joke!