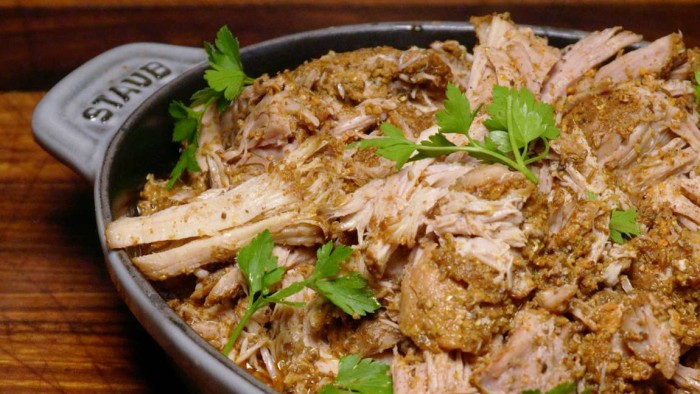 Ready for the easiest weekend cooking project ever? This recipe for super-tender pulled pork shoulder takes a whole 24 hours, start to finish, which gives you plenty of time to pick up Hawaiian rolls for sliders, tortillas for tacos and all other fixin's you might need for a feast like this. Our friends at ChefSteps wrote in with this simple ditty that's the perfect blank slate for your pulled pork dreams. Make it your own with your choice of seasoning and how your choose to devour.
Wicked Good Pulled Pork Shoulder
Serves 4-6; 24 hours inactive, 1 hour active
Ingredients
907 grams pork shoulder
28 grams your favorite BBQ spice rub, or any spice rub of your choosing
Lemon, optional, as needed
Parsley leaves, optional, as needed
Equipment
Sous vide setup
Ziplock-style bag (1 gallon)
High-quality plastic wrap
Directions
Preheat sous vide or Joule to 154°F /68°C. Cooking the meat at this temperature gives you a structured pork that's easy to pull. That's exactly how we like it, but if you prefer some other degree of doneness, check out the Joule app for other options.
You want to cut the pork into nice little 2.5-inch cubes before you cook. Just slice the pork down the middle lengthwise, then cut across to create cubes.
Add your pork shoulder to the bag, pour in the spice rub, and mix it up.
Cover your pot with high-quality plastic wrap to prevent evaporation over the 24 hours of sweet, tender cooking.
This is our favorite way to "pull" our pork. Just use your hands and separate pork without taking it out of the bag. If you prefer something a little more traditional, feel free to remove the meat from the bag and use a couple of forks to pull the pork apart.
You've waited 24 hours for this meat—get to it! Garnish with lemon and fresh parsley leaves if you'd like—we sure do!
ChefSteps comprises a team of award-winning chefs, filmmakers, scientists, designers and engineers focused on revolutionizing the way people cook by inspiring creativity and encouraging expertise in the kitchen. You can also get access to all of ChefSteps' Premium content — including paid classes and dozens of recipes available only to Premium members for a onetime fee of $39. Classes include Sous Vide: Beyond the Basics, Fluid Gels, French Macarons and more!