Cedella Marley Says Moderation Is Key When Cooking With Cannabis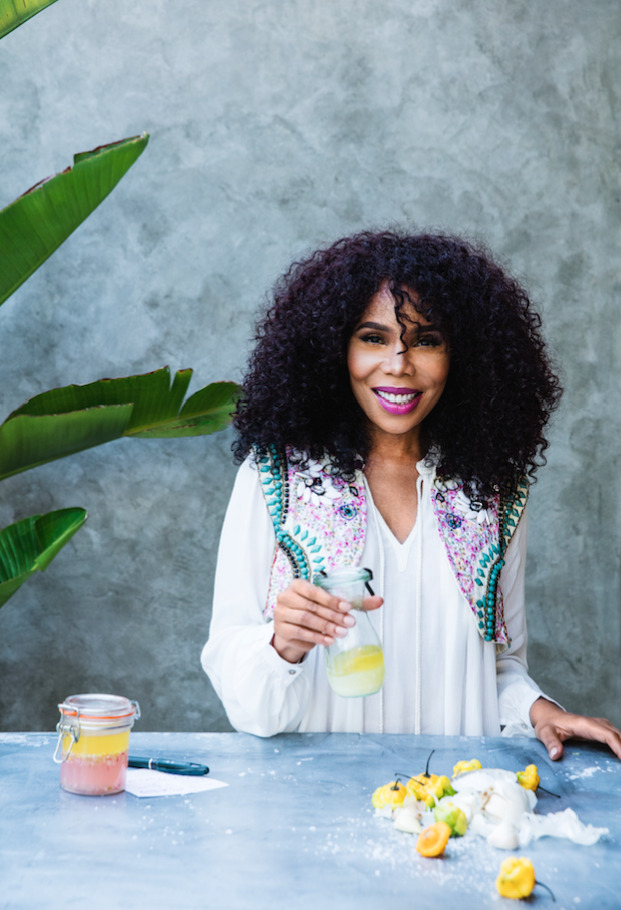 We may receive a commission on purchases made from links.
Cedella Marley is the first-born child of Bob and Rita Marley, the reggae legends who helped turned Jamaica's indigenous music into a worldwide sensation. Cedella has a serious musical background herself, having sung alongside her brothers Ziggy and Stephen and sister Sharon in the chart-topping Melody Makers for two decades. These days, she's more of an entrepreneur than entertainer, continuing to manage her father's legacy while building new businesses related to music, fashion, cannabis and cooking.
On that latter front, Cedella Marley is the author of Cooking With Herb: 75 Recipes for the Marley Natural Lifestyle, a cookbook that offers healthy recipes with the option to power up the dishes with cannabis. We caught up with Cedella from her home in Miami over the phone to talk about the book and what the Marley Natural lifestyle encompasses.
Could you tell us a bit about Marley Natural?
Marley Natural is our lifestyle brand. It's our brand of cannabis and accessories, body lotions, potions and lip balms. It's something that I'm very passionate about. We believe that herb is a healing of the nation. We're trying to spread the positive use of the herb. 
And one of the ways you're doing that is through the book Cooking With Herb: 75 Recipes for the Marley Natural Lifestyle. Can you tell me about the inspiration behind the cookbook and who you're trying to reach with that?
I'm trying to reach everybody. [laughs] There are many uses for the herb. The recipes you can enhance or you don't have to. It'll be delicious anyways. I get pressured all the time for recipes and just felt like the timing was right.
You've also been described as a wellness guru. How do wellness and cannabis fit together?
Wellness and cannabis is almost like the same thing. First of all, moderation is the key to everything we do: exercise, smoking, edibles. It's not for everyone. To me, when I'm having my own experience, I'm just clearer. For everyone it's a different thing. I can't tell you what your experience is going to be, but I know what it's done for me.
You have so much going on in your life. You have three sons, a family, you've launched different kinds of brands. What keeps you going?
Ambition. [laughs] I think there's a misconception that we were born with silver spoons in our mouths. That's the biggest misconception of my family. We've actually worked hard. I've been working since I was 3 years old. It was something that was ingrained in us. Both parents are perfectionists. I think that's something we've inherited. In order to build an empire, you can't stop working. You have to keep at it. We've kept it in the family.
Your career has been incredible. One thing I didn't know about you is that you were part of the Melody Makers with Ziggy and Stephen. What was that like for you and how do you look back at that part of your life?
Oh my gosh. I did that from 1975 until maybe 1999. So that's been part of my life like waking up, putting on clothes, taking a shower, whichever one you want to do first, I guess. [laughs] Daddy wrote our first two songs, produced our first two songs. That was just how I grew up. I grew up traveling, singing, dancing, touring. When I had my children, I kind of wanted to step back and be like a stay-at-home mom and then I realized I could run businesses from staying at home. So I did both. It's a blessing.
Can you talk a little about the state of reggae today? I was curious what your perspective of it is. Your family is so responsible for this entire genre of music. How do you feel about where reggae is in 2017?
Reggae's growing. It's in the four corners of the earth. I think it's great to watch the growth of it. It's great to see how many people are embracing reggae music. It's great to see people from different parts of the world doing reggae music. I feel very proud to have been a part of everything and anything reggae. I'm happy to see the growth of reggae music, that it has reached places that Daddy would be proud to know it has gone to.
Your company continues to operate in some pretty exciting sectors now. You have the cannabis being legal in a lot of states in America, you have the opportunity to grow that business. Reggae is still growing. Is there any one business that's most rewarding for you? How do you separate these things?
You can't really separate them because they're so personal to you. Every business is like a newborn child and you just have to nurture it and watch it grow and make sure it grows in the right direction. That's what I feel comfortable doing.
Right now, where can you buy Marley Natural products?
Wherever it's legal.
How is it as a business right now? Do you feel like it's in its infancy and it's going to grow to be this huge part of the Marley empire?
Well, we don't know what's going to happen. We're putting in the work, and from putting in the work we hope to get great results.
For the novice, for people who haven't cooked with cannabis before, what are some recipes in the book that they should go to after buying it to get acclimated?
You can try any of the recipes. What I would suggest is that you follow the exact measurements and obviously enjoy the dishes slowly to allow you body to respond in its own way. Like with any recipe, moderation is key. For me, the flavor is crucial. We've started to experiment with adding turmeric, canna oil and annatto seeds. There are different ways to approach it, but moderation is always going to be my first thing to say to anybody who wants to experiment with these recipes.