Where To Eat Vegan Food In New York City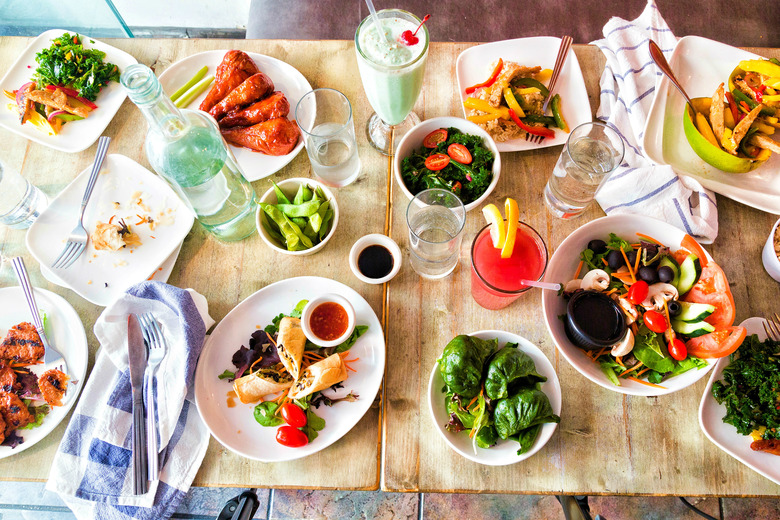 In recent years, even the most ardent meat-lovers would find it hard to ignore the rise of veganism. The most recent research estimates that six percent of Americans now follow a vegan diet — a staggering increase of 600% in just three years.
While the idea that vegans just eat salad prevails among some, the notion that you can eat healthfully and deliciously without animal products is catching on. The Big Apple is a great place to discover how versatile a vegan diet can be. Where should you eat vegan food in New York City? Just about anywhere! From the lingering long lines outside the excellent vegan restaurant By Chloe to the prevalence of vegan options on traditional menus, it's clear that NYC has opened its arms to fully plant-based dining.
From exclusively plant-based menus to mock-meat meals that will astound, here are a few of the best vegan restaurants in NYC.
JAJAJA PLANTAS MEXICANAS
If you're of the belief that tacos without meat — or at the very least copious amounts of cheese — sound rather sad, you need to visit Jajaja Plantas Mexicanas. Perched just above a subway entrance in Chinatown, the food at this 100% vegan Mexican restaurant is genuinely mind-blowing, and eating here is just as fun as the name suggests (Jajaja is the Spanish version of hahaha).
While there's undeniably a trend these days for faux meats, the menu at Jajaja steers away from that, instead focusing on plant-based dishes and fresh, natural ingredients. The menu is as colorful as it is innovative, and if you're wavering over what to choose, the friendly staff will point you in the right direction. The enchiladas mole, stuffed with tender jackfruit, guajillo chillies, chipotle peppers and smothered in a rich, earthy mole sauce with vegan sour cream, was a sublime fiesta of flavor.
The dinosaur kale with mango, avocado, red quinoa, shallots, jalapeño and chia is a satisfying mix of tastes and textures. It crunches and pops enjoyably in your mouth, and the chili adds a bracing jolt to the sweet and savory flavors. Best of all are the "chorizo" tacos, served on turmeric tortillas and stuffed with crisp radishes, red pepper, onion, vegan sour cream and seitan chorizo, which looks and tastes just like spicy ground pork. Seriously divine.
Also exceptional are the palm carnitas tacos (blueberry and flaxseed tortillas packed with hearts of palm, pulled jackfruit, salsa verde and greens); the mezcal mushroom tacos (tomato and beet tortillas filled with portobello and beech mushroom, cashew cotija, bell pepper, red cabbage, pico de gallo and sour cream); and chipotle sweet potato (turmeric tortilla with fermented beans, serrano, scallions and pickled red pepper).
Go with a group of friends so you can order them all and share, but make sure you leave room for the heavenly banana creme pie. Jajaja looks set to become one of the hottest new food spots in the city. Go now, before it's impossible to get a table.
MODERN LOVE BROOKLYN
Across the East River there are just as many excellent vegan eateries as in Manhattan (head to Paulie Gee's for the best vegan pizza you've ever tasted). The place that impressed me most was Modern Love Brooklyn in Williamsburg, a 100% vegan restaurant that's the brainchild of award-winning chef Isa Chandra Moskowitz and the owners of cruelty-free boutique Mooshoes.
As its name suggests, Modern Love serves up classic food with a modern, innovative twist, and the high-ceilinged dining room is packed out almost every evening (it was at capacity when I visited on a Wednesday). The menu is the perfect balance of light, 'pure' vegetable-based dishes and creamy, stodgier treats; if you think vegan food can't be decadent, you just haven't visited Modern Love.
Try the five-spice BBQ cauliflower wings, with homemade kimchi, spicy mayo, scallions and black sesame adding a harmonizing kick of flavor to the warm, toasty cauliflower. We agonized over the entrées, and ended up ordering four: the modern burrito bowl, seitan chops and applesauce, mac and "shews," and fresh tomato basil gnocchi. If you're wondering, we definitely over-ordered, something I didn't regret when I tucked into the leftovers the next day.
If you've never tried seitan, the protein-packed wheat-meat vegans love, go for the chops and applesauce. Cooked til crisp, there's a satisfying crunch when you bite into the rosemary breaded chops. It's complemented by pink applesauce, seared Brussels sprouts and sweet potato mash. The creamy red pepper cashew macaroni is perfectly offset by blackened cauliflower, sautéed kale, and crusted tofu; rich, velvety and piquant, it's incredibly moreish.
For something lighter, go for the modern burrito bowl: refried black beans, nacho-spiced tofu, red rice, kale corn salad, guacamole and micro-cilantro will definitely hit the spot without feeling too heavy.
At this point we were almost uncomfortably full, but I'd heard incredible things about the desserts, so we loosed our belts yet again. The pumpkin praline cheesecake, with a graham cracker crust, dense-yet-light pumpkin filling and thick coconut whip, was divine; the coconut cream pie, with candied lime, toasted coconut and a liberal helping of caramel sauce, was even better.
AVANT GARDEN
Vegan restaurants can be split into roughly two camps; those that use imitation meats, and those that don't. Avant Garden in the East Village is firmly in the latter camp, and has carved out a name for itself as an upmarket vegan restaurant that eschews mock meats and celebrates vegetables in their most pure and natural form. If you think this might get monotonous, think again.
Every dish is a master class in creative simplicity, and every plate is an illustration of how food presentation should be done. The menu is split into three sections: toast, cold and hot – and you should try something from each. We began with the toasts, although the simple name belies just how delectable these dishes are. Thick slabs of fresh bread from Balthazar bakery in SoHo are perfectly toasted and smothered with vegetables in all different forms – whipped, puréed, chopped, spread...
Choose from the romesco toast, where carrot, piquillo, marona almond and garlic purée are spread atop a doorstep-thick slice; the artichoke toast, which is topped with creamy-yet-zingy spinach and artichoke purée, cashews, jicama and black truffle vinaigrette; or the cremini mushroom with sweet onion marmalade, toasted walnuts, grapes and herbs de Provence. The flavors are perfectly balanced, and you can taste every note and nuance.
The cold menu features dishes put together with painstaking detail; I especially loved the avocado with carrot ginger dressing, crispy rice, miso glaze and blistered shishito, and the kale with baby arugula, herb vinaigrette, candied almond and harissa croutons. The hot plates are the most substantial, and vary from pure vegetable dishes to housemade pappardelle pasta with a sweet pomodoro sauce and a zesty herbed gremolata.
The scorched cauliflower, with toasted garlic, fried capers and cauliflower purée, had an enticing nutty taste, but best of all was the broccoli in a sticky General Tso sauce with cashews, sweet potato, bok choy and snow peas. Never again will I doubt the power of pure vegetables.
RED BAMBOO
On the other end of the vegan spectrum is Red Bamboo, a restaurant in the West Village that I visit every time I'm in the city. It never disappoints. Serving up a mouthwatering range of vegan comfort food since its opening in 2002, it's the place to take people who assume a vegan diet is all about salads and healthy eating. If you think you don't like mock meats, Red Bamboo will change your mind; the soy protein here is made in-house, and it's easily the best I've ever tried.
The small setting means you may have to wait for a table, but it's worth it. Grab one of the extensive menus and use the time to decide what you're going to order, because deciding will be a serious challenge. The eclectic menu serves up a whole range of global cuisine, though it's best described as Asian fusion with a classic American twist.
Some of the best starters include the succulent Caribbean jerk-spiced seitan – grilled seitan skewers marinated in a spiced lime-citrus dressing – and the Creole soul chicken – soy "chicken nuggets" panko-breaded with Cajun and rosemary seasoning, then fried and served with smoky hickory dressing.
Best of all are the barbecue buffalo wings: tantalizingly tender soy wings marinated in a spiced citrus BBQ sauce, served with vegan sesame ranch dressing and celery sticks. My non-veggie guest was genuinely dumbfounded by the buffalo wings ("This cannot be vegan!"), and even though I'd eaten them before, the almost unnervingly-meaty qualities still surprised me. People can be sniffy about mock meats, but I don't know anyone who stopped eating meat because they didn't like the taste. At Red Bamboo vegans can indulge with a clear conscience.
Other standouts on the mock meat side of things are the Bamburger – a juicy soy "beef" burger topped with lettuce, tomato, pickles, caramelized red onions and vegan mayo on a sesame seed bun – and the Philly cheesesteak tender – roasted soy beef-style slices layered over caramelized onions, BBQ sauce and melted vegan cheese, served on toasted hero bread.
There are many vegetable-based dishes for people who aren't keen on mock meat. The dumplings are exceptional — chewy, squidgy and stuffed with tasty vegetables — and the crisp, golden spring rolls will leave you wanting more. For mains, the vegetable stir-fries, salads, and tofu and vegetable curries are all excellent. Still, Red Bamboo is most famous for its faux fare, and for good reason.
As a relatively new convert to the vegan movement, I was blown away by the quality and variety of vegan food available in NYC. A vegetarian for over a decade, the idea that I put off going vegan because I thought the food would be too restrictive now seems absurd. Whether you're vegan or just want to cut back on your meat, dairy and eggs, these four restaurants are a great place to start. NYC, I'll be back...but next time I'm definitely bringing doggy bags.