These Are The New York Times' Top NYC Restaurants Of 2017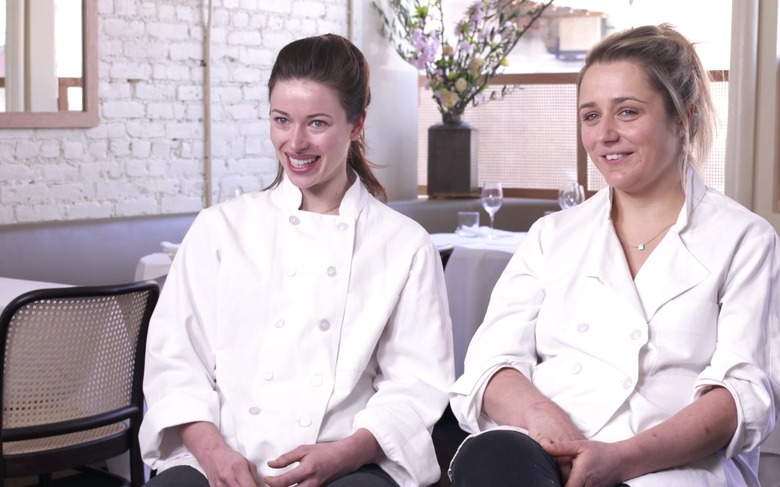 New York Times' food critic Pete Wells has released his top 10 restaurants in the city this year. Familiar names and places like King, Empellón, Atla and others made the list. If you haven't crossed these restaurants off your list yet, learn all about Daniela Soto-Innes' project before Atla, how Clare de Boer and Jess Shadbolt met before opening King, and Alex Stupak's inspiration for extraordinary tacos in some of our previous videos and stories below.
Meet The Queens Of King, NYC's Elegant Corner Restaurant: New Chefs Rising, Episode 13
Three young women in London decide to move to New York City and start their own restaurant — what could go wrong? Everything! But last fall, chefs Clare de Boer and Jess Shadbolt (who are British) and general manager Annie Shi (an American from New York) somehow managed to open their restaurant, King, on a quaint corner of western SoHo, seemingly without any drama. Now, if you peer in most nights, you'll see a perfectly lit, always full dining room of well-heeled diners enjoying de Boer and Shadbolt's take on northern Italian and southern French food, such as the roast guinea hen with capers, olives, bay leaves and lentils that de Boer cooks up in our latest episode of New Chefs Rising. Watch as de Boer and Shadbolt, who met at cooking school in Ireland and went on to work together at London's famed River Café, explain their brave move to become NYC restaurateurs.
How Alex Stupak Created The Jewel Of His Empellón Empire
When Alex Stupak left his job as pastry chef at the renowned WD~50 to open a taco restaurant in 2011, NYC's food industry insiders watched with a mix of curiosity and bemusement. Then word got out that the upstart Empellón Tacqueria was actually good, and the West Village restaurant became one of the early stops on the foodie "it's new so I must check it out" bandwagons. In The New York Times, Sam Sifton called it "one of the more captivating restaurants to open in recent months."
Daniela Soto-Innes' Cosme Convergence: New Chefs Rising, Episode 11
Soft shell crab isn't the first thing you expect to find on a Mexican restaurant's menu, but Cosme is where tacos and guacamole clichés come to die. The New York City restaurant's young chef Daniela Soto-Innes was working at Enrique Olvera's famed Mexico City restaurant Pujol a few years back and was planning to move to New York to look for work when the famed chef suggested she take on the task of opening his U.S. debut. She was all of 24 when Cosme debuted to rave reviews, and now, just two years later, it's looked at as one of the leading restaurants in the city not only for inventive Mexican cuisine but for envelope-pushing cooking of any kind. That's a tribute to the ever-moving, always smiling Soto-Innes, who first learned to appreciate food as a child growing up in Mexico City and who would serve two key stints in Texas — first as a culinary student in Austin, then as a chef at Chris Shephard's Underbelly in Houston — before her career path went full throttle. It was in Houston that she developed her appreciation for soft shell crab, which swims into the latest episode of New Chefs Rising on a lake of tantalizing mole. Watch as Soto-Innes channels her multicultural background to create another of her signature dishes.