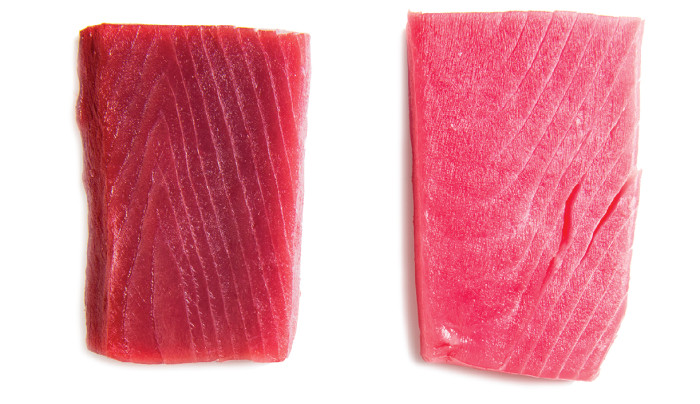 In the photo above, observe two shades of tuna: rosy red on the left and carnation pink on the right. But do you know which of the two indicates a fresher fish?
According to Ty Mahler, co-founder of Sushirrito, fresh, premium-grade tuna will show a deeper red color and often have a softer, more buttery texture. What makes frozen tuna turn that bright pink you see at supermarkets and beyond? Treatment with carbon monoxide that's used to help preserve the fish and prevent unappetizing brown oxidation. Mahler also tells us that the fish used at all San Francisco and New York locations of Sushirrito is delivered daily to ensure freshness.
We recently headed out to Sushirrito's outpost in New York's Flatiron District to learn how to roll our own sushi burritos, plus the secrets to managing and cutting fish. Check out the video, which first appeared on our Instagram Live feed, below.