Hot! What You Missed At Sicily's Fuoco Food Festival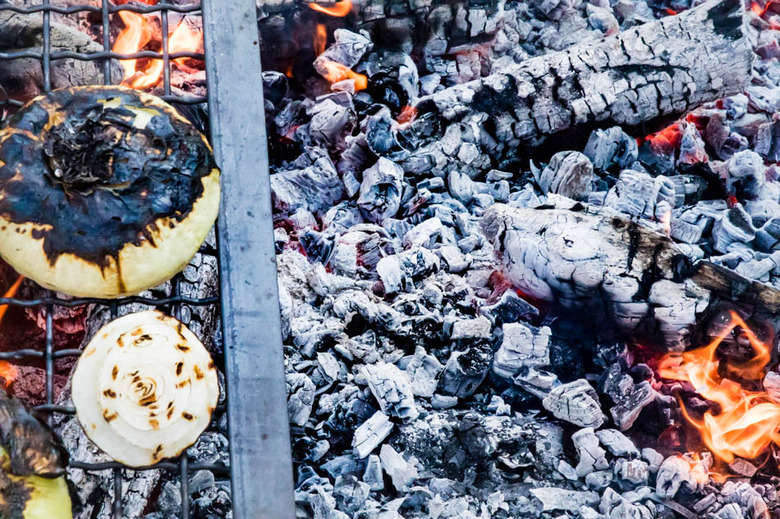 (Photos: Jackie DeGiorgio.
Jaclyn DeGiorgio is a Milan-based storyteller, traveler, eater and beach bum who suffers from a chronic case of farsickness and an insatiable sweet tooth. Follow her latest at A Signorina In Milan.Warning: The following story contains some graphic images.
It took me four and a half years of living in Italy to finally make it to Sicily. It seems ludicrous, I know. But Italy is big, and Europe is even bigger, so I kept putting off Sicily  because I had always thought of the eclectic island as "one big trip" instead of somewhere I could conquer over the course of several sojourns.
My first time in Sicily, I didn't walk along the crater of Mount Etna, eat my way around Palermo's Ballarò market or indulge my inner beach bum on the turquoise shores of Favignana. Instead, I visited the towns of Buccheri, Palazzolo Acreide and Sortino in Syracuse's Iblei Mountains, about an 80-minute drive from Catania, for the Fuoco! Food Festival.
During the ascent, our van zigzagged up a serpentine two-lane road etched into a rugged hillside where taupe and ivory cows grazed inconspicuously, camouflaged by the similarly shaded surroundings. Each languorous step prompted their bells to chime a jangled melody that faded into the wind like a muffled ringtone. As the van twisted and turned uphill, the scenery evolved into a lush and verdant landscape that seemingly reaped every type of citrus and nut tree imaginable.
Steep, overlapping hills towered above us like colossal cake slices. A massive slab of muted olive-tree green rose from the base to meet a layer of fir trees that climbed the hillside and gently tickled a sky as azure as the Mediterranean. The occasional batch of white stones from the muretto a secco (ancient dry wall remains typical in Sicily) clung to the hillsides like arbitrarily placed dragée garnishes. With prickly pears protruding from cacti on the left, garlic bulbs sprouting on the right and a plentitude of fruit–bearing trees within reach, I would have believed anyone who told me I was in the Garden of Eden.
Twigs, grass and soil crunched beneath my feet as I entered Buccheri's enchanting Bosco della Contessa. As I walked deeper into the forest, I honestly wouldn't have been surprised if Hansel and Gretel's breadcrumb trail intersected my path at some point. At the clearing, Sleepy, Happy and their five fellow "Hi-Ho" chanting miners were nowhere within earshot. Instead, a three-man boogie band was playing Can't Take My Eyes Off You. The culinary wizardry was in full force.
Italian for "fire," Fuoco did not have an electric stovetop or gas burner in sight, nor was there a massive prep kitchen "in the back." Rather, there were flames and lots of them. The alluring aromas of burning wood and roasted meat immediately elicited a growl from my empty stomach, and I felt simultaneously relieved and annoyed that I had skipped breakfast. Thirty-five chefs from all around Italy were there to cook over open flames, preparing dishes that would showcase ingredients from artisans whose products reflect the local terrain, a particular soil characterized by limestone, karst and volcanic rock.
Prior to Italy, I had nearly a decade-long career in New York City's restaurant scene, so believe me when I say I know food festivals. I had attended countless. As awesome as they were (and I'm not trying to diminish all the hard work that went into them!), at the end of the day, they were all the same. Yet Fuoco was unlike any I had ever been to, requiring the chefs to not only cook over an open fire, but to use only primordial objects like spits, terra cotta pots, cast-iron caldrons and lava stones.
The clever concept was the brainchild of Daniele Miccione, the food and wine editor for Italy's La Gazzetta dello Sport newspaper. He founded Fuoco to highlight the small artisan producers whom he felt had been overshadowed by the chef-driven mania that dominates the contemporary food scene. With Fuoco, Miccione aimed to emphasize how cooking simply with quality raw materials could result in food that was just as thoughtful and complex as dishes that showcased polished techniques. An olive oil producer as well, Miccione makes his award-winning La Tonda in Buccheri, so the town and its surroundings were the natural choice for Fuoco.
As one should expect from a fire-centric festival, meat was plentiful! Giuseppe Zen, known for working alchemy on lesser noble meat cuts at his Milan street food joint Mangiare di Strada, suspended bovine pieces from Sicilian purveyor Giuseppe Grasso over an open flame. His provocative Testa e Minchia panini, stuffed with calf head and genitalia meat, were just as crowd-pleasing as they were shocking. Chef Mattia Angius brought a taste of his native Sardinia in the form of piglets, which he rubbed in sumac then roasted on vertical spits, while Diego Rossi of Milan's Trippa roasted sheep shoulder from Buccheri butcher Giangravè, and accompanied the meat with a medley of brains, pepperoncino, garlic, wild fennel and femminello lemon, an ancient local variety.
To make his famed succulent porchetta, Giuseppe Oriti from Il Vecchio Carro agriturismo in Abruzzo roasted Nebrodi piglets, a black breed indigenous to Sicily. Chef Ninni Radicini of Casa Ciomond in nearby Modica made a pork belly paninetto stuffed with meat so luscious it practically melted in my mouth. The dish that kept on giving belonged to Takeshi Iwai of Ristorante Ada e Augusto. He roasted black piglets from Palazzolo Acreide, which he served alongside pears cooked in an olive oil confit, beaten onions, raw olives, hazelnuts, tomato jam, honey and chili peppers, all of which came together like a glorious crescendo that lingered on the palate long after the final bite.
Yet, the flames weren't solely for roasting. Chef Sebastiano Formica from Buccheri's Osteria U Locale fried pancakes made of russello flour (a Sicilan wheat grain) with calamint, fennel and oregano. Crispy on the outside and soft and herbacious on the inside, Formica's fritelle were a compact homage to the territory. The chef also whipped up Sicilian autumn by the bowlful. Each bite of his cavati pasta with sausage, chard, pumpkin and ricotta was bursting with tastes-like-home comfort. Roberto di Pinto, former chef of the lauded restaurant at Milan's Bulgari Hotel, juxtaposed the rustic local flavors with a refined presentation of smoked snails from the Noto-based snail farm Lumacheria Sicilia, goat robiola, wild herb pesto and crispy turmeric chips. Pastry chef Simone Masuzzo put a playful spin on macallè, a traditional ricotta-filled Sicilian dessert. He grilled carob flour dough and topped the ricotta filling with a honeyed-prickly-pear-leaf garnish, resulting in a splendid balance of sweet and savory. The team from Palazzolo Acreide's 150-year-old Antica Pasticceria Corsino was on hand to fry some pignolata al miele, sticky little honey balls typical of Sicily.
Cesare Battisti of Ratanà in Milan prepared sumptuous crostini with goat milk ricotta and le cipolle di Giarratana, a large and exceptionally sweet Sicilian onion variety that's protected by Slow Food Presidium. But he didn't stop there, also concocting a hearty pasta e fagioli made from a red-eye white Sicilian bean that added a buttery texture along with some sweetness.
Sicily's celebrated seafood gets lots of love, yet trout abound in the island's inland waterways. For his trout panzanella, Battisti smoked the fish on tiles over burning coal and roasted Sicilian-grain bread from Vezzoli bakery in his native Lombardia. To complete the dish, he added Giarratana onions, Pachino cherry tomatoes and grape must​. Cinzia Mancini of Bottega Culinaria Biologica in Abruzzo boiled a trout broth that she ladled over a bed of trout crudo, goat ricotta and potato gnocchi.
Every time I looked down, something was cooking beside my feet. Trout baked inside terracotta pots that had been placed inside the earth while round, amethyst Sicilian eggplants shone like jewels from the hole in which they roasted.
To complement the provisions, Sicilian wineries such as Alessandro di Camporeale and Tasca d'Almerita were on hand to pour Etna Bianco, Etna Rosso, Catarotto and more. However, the Sicilian craft beers stood out strong, represented by intricate brews from Bruno Ribadi (Palermo), Dea Mater (Palazzolo Acreide) and Paul Bricius (Ragusa). All tasted outstanding, however the Giacchè from Tarì (Modica), named after the grape must added to the brew, took home the gold.
In addition to the samplings of local cheeses, jams, sweets, salume, sauces and more, a program of labs and workshops also shared insight into the Sicilian terrain and its bounty. A foraging seminar with Valeria Mosca of Wood*ing Lab, a Moak coffee demonstration and tuna butchering 101 from chef Virgilio Valenti rounded out the fun.
Only in its second year, Fuoco! Food Festival was open to the public for the first time, and I can't wait to see how it evolves. Here's to 2018!