In Hungry Concierge, we travel the world to spot hotels that operate with their guests' food and drink needs squarely in mind — hotels, both big and small, that are located in neighborhoods rich with bar and restaurant options. Because there's nothing worse than having your trip derailed by crummy room service. The Andaz in Delhi, India, is a very worthy candidate.
Traveling to India will prove unpredictable in a thousand different ways. But the Andaz Delhi, located in the capital city's Aerocity neighborhood, will get you centered, relaxed, fed like royalty and off to bed like you never left home.
The Andaz, a Hyatt luxury concept hotel, stands alone in its unique approach to aesthetics. At every juncture, from the lobby to the bar; guest rooms to event and co-working spaces; yoga lawn to pool, you simply must stop to look at the art. And not that snobbish "you simply must, darling." The fact of the matter is that you're destined to find a beautiful surprise worth your admiration around every corner, circle, or oval. The hotel's own book, 401 Reasons To Fall In Love With Delhi, is a testament to the sheer variety of decorative delights to be discovered.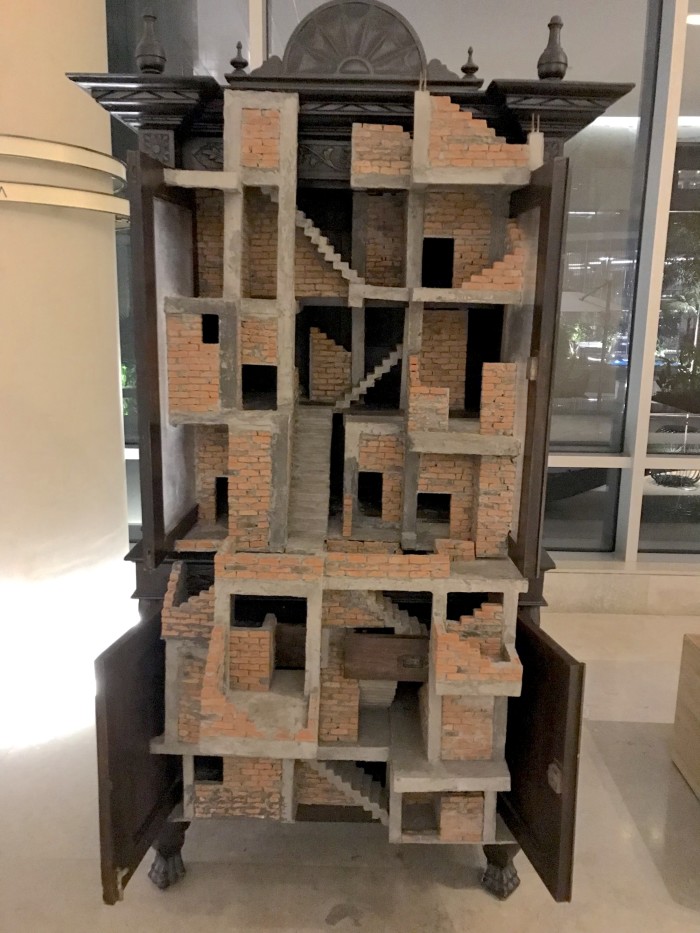 Heddo Siebs, originally from Berlin, is the hotel's general manager. He's lived and worked all over the world during his 25 years as a chef, but he's particularly enthusiastic about his job in Delhi as captain of this ship. There are no uniforms at the hotel; instead, Siebs encourages an "employee fashion code" that can skew partially or completely Indian or entirely Western. The result is relaxed but professional.
"They choose what they want to wear, so they feel very comfortable," says Siebs of the employees he hired in an unconventional way. "We booked a social club in Hauz Khas Village, an area where a lot of young people hang out. We invited people, through radio and newspapers, to meet and socialize with us because we wanted colleagues who could carry on a really good, friendly conversation. We socialized with 2,000 people in two days, and didn't look at any resumes."
The result is an incredibly homey environment where the smiles are natural, the aesthetic is warm and the inherently affable hospitality keeps guests coming back.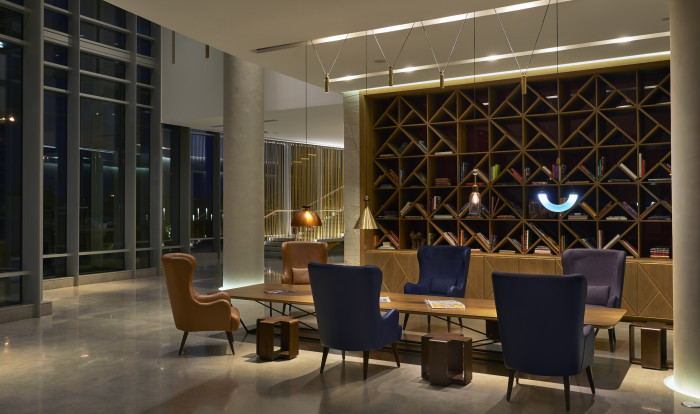 The Look
The hotel's overall look is a compilation of artful mismatching, tasteful balance of Indian accents and slim, clean lines of pale marble, wood and brass. No matter where on the property you are, you'll find something that was commissioned specially for the Andaz. Dozens of local Delhi artists contributed pieces inspired by India's multitude of different regions, religions and cultures — Kashmiri, Buddhist, Hindu, Muslim, Christian and Parsi are all represented.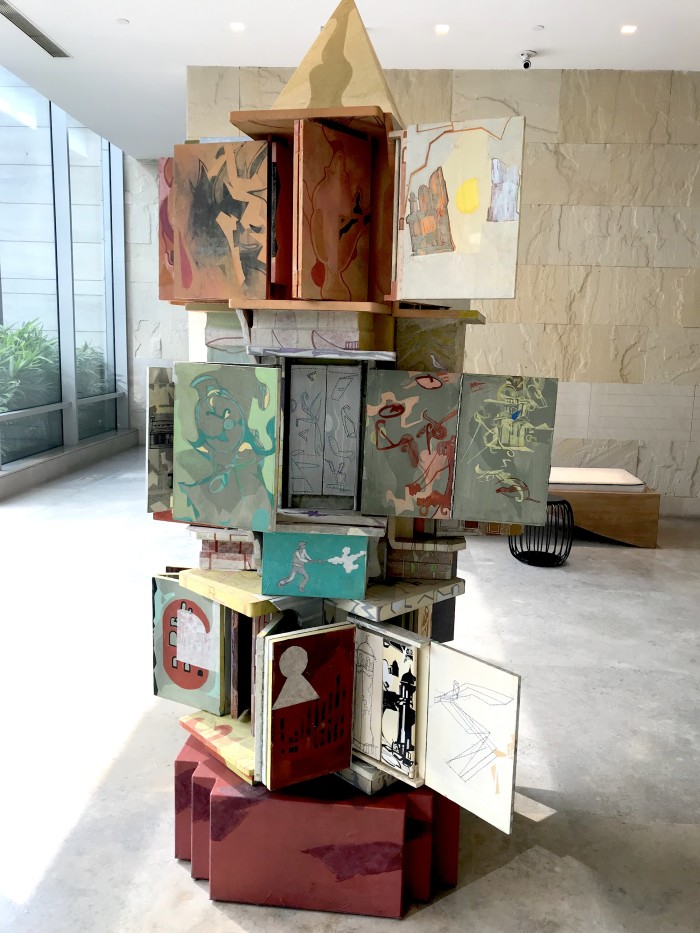 The onsite spa, in its own separate building, is a silent wood-paneled oasis that features individually blended Ayurvedic oils to soothe a long list of ailments. The outdoor "quad" features a pool, yoga lawn and event space as well as an exceptionally unique piece of art that's a favorite of Heddo Siebs.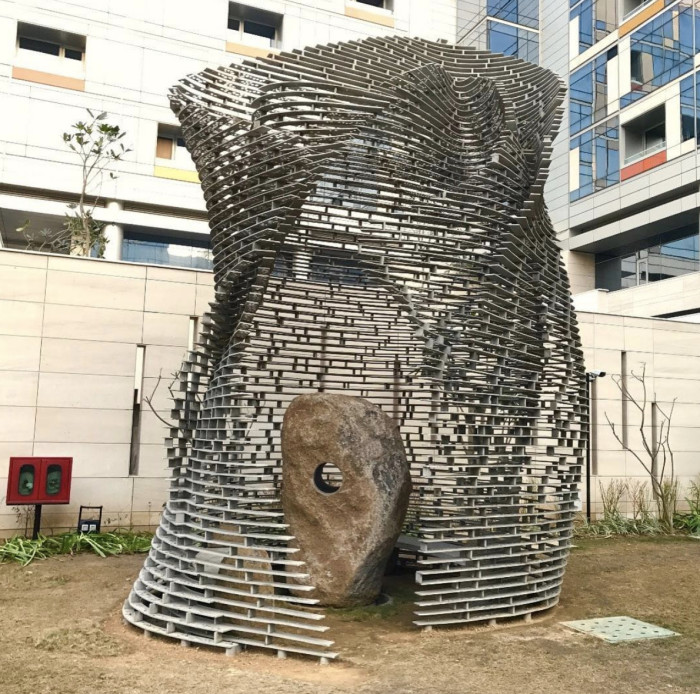 "I like our stone shrine very much," he says. "We're not just a corporate conference and creative hotel, we're also a social and event space. You have so many different cultures in India, we wanted to create something everybody could relate to. The piece is a metal sculpture that creates a shrine effect and then the stone inside has male and female sides with a big hole where men and women can talk through it. It causes the sound to resonate as one. Nobody else has something like that."
The hotel's indoor-outdoor event space is large enough to accommodate a moderately sized Indian wedding of 1,500…including elephants.
"I saw weddings before, traveling around India," says Siebs. "Where I live in Delhi as well, I see elephants sometimes in the morning when I go running. I thought, 'How fantastic would it be? We're the size where we can do a really true Indian wedding and even have elephants.' So we built this 'elephant pass' because our doors really — from the pre-function area to the ballroom — are big enough to have elephants walking in."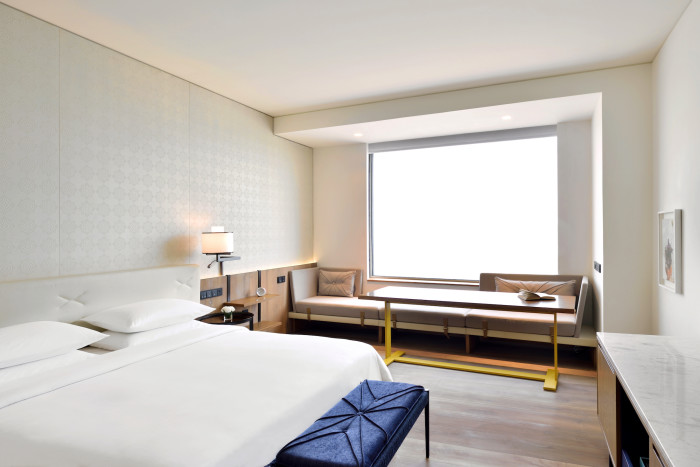 The Rooms
The clean, bright guest rooms feature extra-crisp white linens, bold jewel and stone-toned accents, oversized flat-panel TVs (from which you can order room service) and large windows outfitted with automated blackout shades to ensure your best possible chance at getting past jet lag. In each room you'll find beautiful leather-rimmed trunk-style wardrobes as well as locally produced luxury toiletries, loose-leaf Darjeeling tea and one of the large unique pieces of art featured in the hotel's 401 Reasons To Fall In Love With Delhi.
"We actually do have 401 individual art pieces," Siebs attests. "Usually you buy 20 or 30 and repeat them in the rooms. I would say each piece is more of an artifact — not just a drawing, photograph or painting. There's always something more behind it." Every detail, from the banana leaf wastebaskets and woven jute toiletry packets to the enamel tea trays was designed by a native Delhi artist or artisan.
The bathrooms are spacious and well-lit, with dark stone accents, rainfall shower heads, waterfall faucets and a flat-panel TV mounted at the foot of each soaking tub.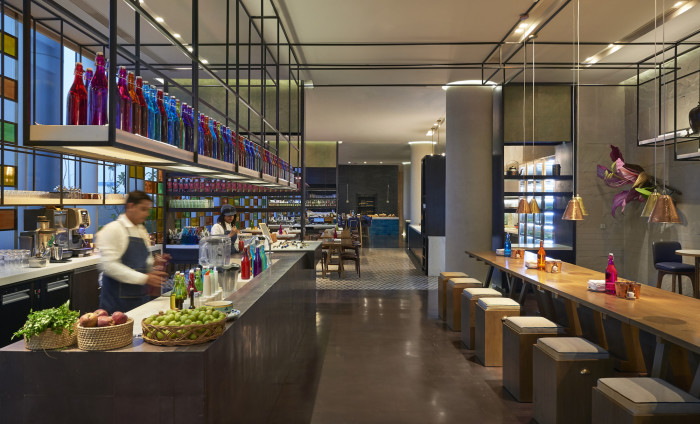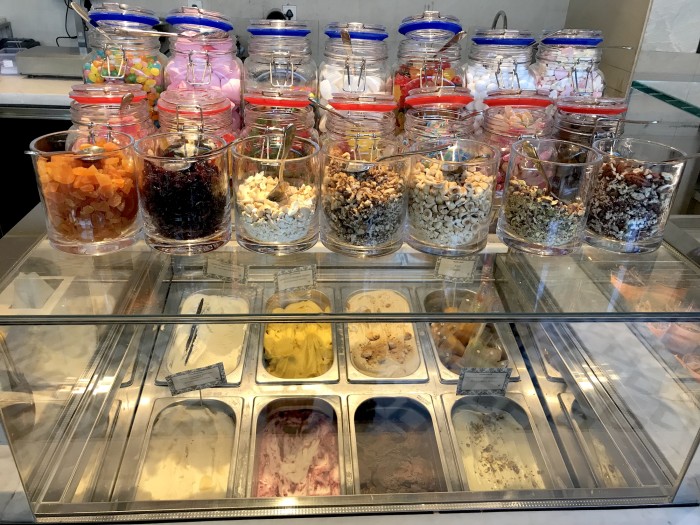 Dining and Drinking
From Delhi's popular (and aptly named) Foodhall to the lower-key but no less delicious Haldiram, food court-style dining has never been more popular in the city. Enter: AnnaMaya, the Andaz's award-winning kitchen-of-all-trades named for the Hindu goddess of food. Enter just past the enormous wooden pomegranate and saunter through the dessert bar to the modern European counters ahead. Oh, and it's all open 24/7, so AnnaMaya is just as good for an upscale dinner as it is for late-night eats.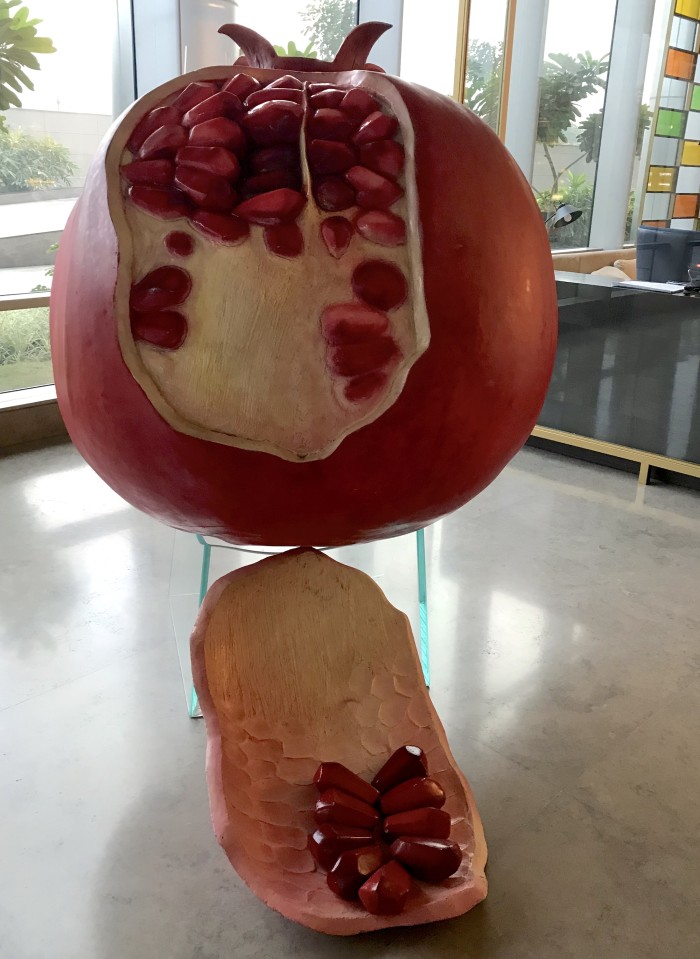 The dessert bar features eight flavors of gelato inspired by Indian ingredients like saffron, pistachios, black pepper, sweet limes and figs. You'll find toppings galore and other delights like black cardamom brownies and fluffy, dinner plate-sized meringues. AnnaMaya also hosts cooking classes for guests and parties and provides the catering for room service.
Breakfast is not to be missed: a thoroughly international spread with north and south Indian regional fare, European breads and pastries, American and British-style egg fry-ups and a glittering bar of freshly pressed juices in glass pitchers that will make you wonder where the flavor in your local produce is hiding. Order a pot of strong masala chai and ride the delicious buzz all the way to lunch.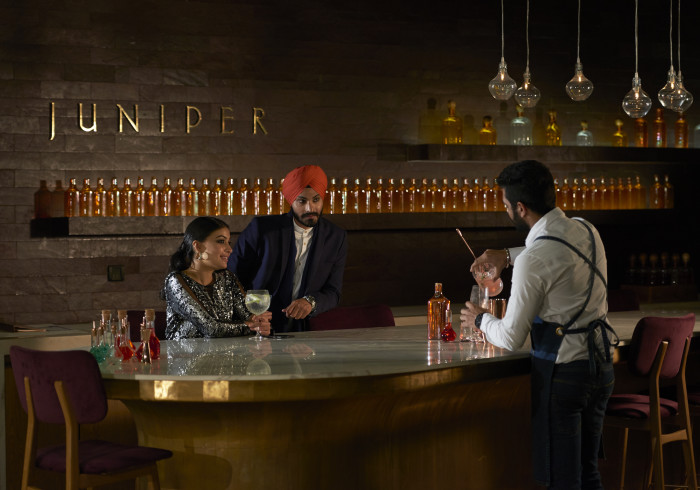 Find resident "gin doctor" Peeyush Bhushan at Juniper, a hotel lobby bar the likes of which you've never seen. There you'll experience Bhushan's masterful infusions — all 40 of them. That's right, there are 40 meticulously infused gins in flavors like "oak barrel smoke," "salt and pepper" and his signature lavender-forward blend. Splashed lightly with Fever Tree tonic or shaken into delicious concoctions, Juniper's gin can also be served neat in tiny tulip glasses for a vertical tasting that will leave you not only sauced, but more in love with the aromatic spirit than you ever thought possible.
The Neighborhood
The Andaz is situated a quick 15-minute drive from Indira Gandhi Airport in Delhi's Aerocity neighborhood, an easy drive to the business hubs of Delhi proper and neighboring Gurgaon. Historic attractions Qutb Minar, Red Fort and the Garden of Five Senses are all 20-30 minutes away by car. You can also book licensed sightseeing tours on foot or on bike rickshaw through the hotel's concierges and shop at Khan Market, eat street food at the Chandni Chowk bazaar and marvel at the gold-leafed Sikh temple Gurudwara Bangla Sahib with a native guide.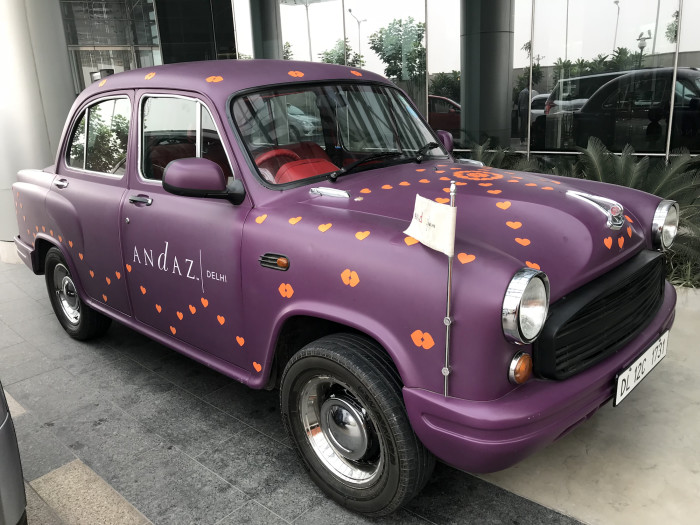 When at last you head back to the airport, book a ride in the Purple Lady, the Andaz's beloved violet-hued "ambassador" and zip over in style and comfort.
The Andaz Delhi
Asset No.1, Aerocity
New Delhi, Delhi 110037, India
+91 11 4903 1234
Rooms from $142/night