In Hungry Concierge, we travel the world to spot hotels that operate with their guests' food and drink needs squarely in mind — hotels, both big and small, that are located in neighborhoods rich with bar and restaurant options. Because there's nothing worse than having your trip derailed by crummy room service. Here's our latest distpatch, where beach life meets luxury: The Slate in Phuket, Thailand.
As the story goes, Phuket has transformed over the years from a sleepy backwater with a smattering of backpackers into an island overrun with the kind of package tourists most discerning travelers would rather avoid. And it's easy to see why — its vastness and diversity meant that it's become a microcosm of Thai beach life, so whatever it is that you're looking for, chances are that you'll be able to find it on Phuket.
That said, the last few years have seen the island undergo something of a revival. Phuket Town, formerly a trading hub in the region, has always been popular for its picturesque Sino-Portuguese architecture and buildings, but has recently become a hub for traveling artists, designers and chefs who've given the town a creative edge. Likewise, while the island has become a byword for mainstream to the average traveler, the kind of luxury escapes that most folks can only gawp at on Instagram have begun popping up along the coast, making it attractive to high end travelers looking for luxury and convenience in an exotic location. Though at the high end, the options are myriad, the recently revamped Slate hotel makes an excellent case for being one of the best of these on the island.
The hotel has a long history, almost as long as that of high-end hospitality on the island itself. What started as a modest resort (and Phuket's first) was recast as the Indigo Pearl in 2006, then an exemplar of what a luxe resort on the island could and should be. Recently, it was given an extensive refurbishment and reopened in its current iteration as The Slate, a nod to the area's tin mining past, and evidenced by the brooding industrial motifs referenced throughout the resort.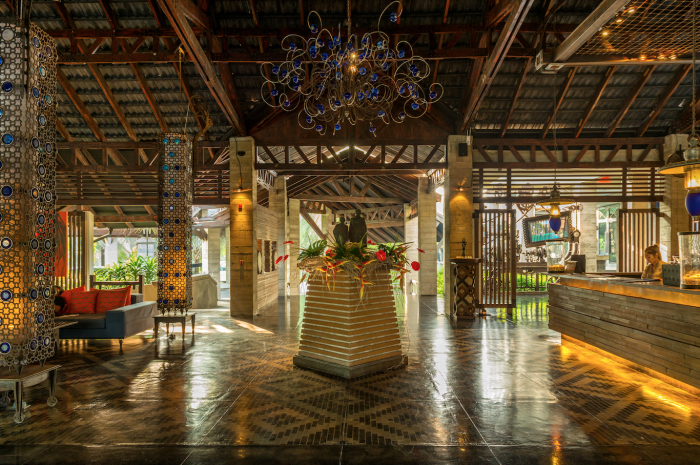 The Look
Credited with producing a host of jaw-dropping luxury resorts throughout Asia, The Slate's Bangkok-based architect and designer Bill Bensley has name checked the property as one of his favorites. "This was the rebirth of the first resort in Phuket, formerly Pearl Village," he wrote in his book Escapism earlier this year. "It's still a work in progress, as resorts have to be. A really good resort goes through major facelifts every five years."
The result is a sprawling resort with industrial elements from the island's past and historically inspired architecture, juxtaposed to lush tropical elements. Black steel furnishings and shimmering concrete floors are offset with traditional Thai flourishes and cutting-edge art. While the lobby is an assault on the senses consciously designed to leave an impression, each knowingly maximalist element becomes gentler as you move through the complex, and become almost tongue-in-cheek — we noted the nut-and-bolt toilet paper holders in each suite, or the old-fashioned outdoor metal showers that use bamboo water tanks.
Staff are very professional and friendly, and as with the best properties, are uncanny at anticipating your needs. One Swiss team member called to remind us of a dinner reservation we had made at one of the resort's eight restaurants and, realizing we were running typically late, picked us up in a golf cart and personally drove us to dinner. That we even needed to be driven within the resort is a reminder of the resort's deceptive size — as well as all those suites and restaurants, there's also a luxury spa, three swimming pools, a lawn, tennis courts, and an outdoor amphitheatre for the odd evening performance. The grounds are vast, but the resort's exterior architecture and clever landscaping give it a surprisingly intimate feel.
As for restaurants, though you'll pay for the convenience (as with any upscale resort), the options are impressive. Black Ginger is the Slate's destination restaurant, a high-end affair accessible only via a short lagoon crossing within the resort, in which you'll be flanked by flaming torches. It's a dramatic entrance befitting an establishment with uncompromising but beautifully prepared Isaan-style dishes to accompany an impressive wine list. Weekend brunch is a fixture that's worth the price tag, and there's an exceptional smorgasbord of Thai, Asian and European dishes that you'll eat alongside a crowd of stylish locals and expats.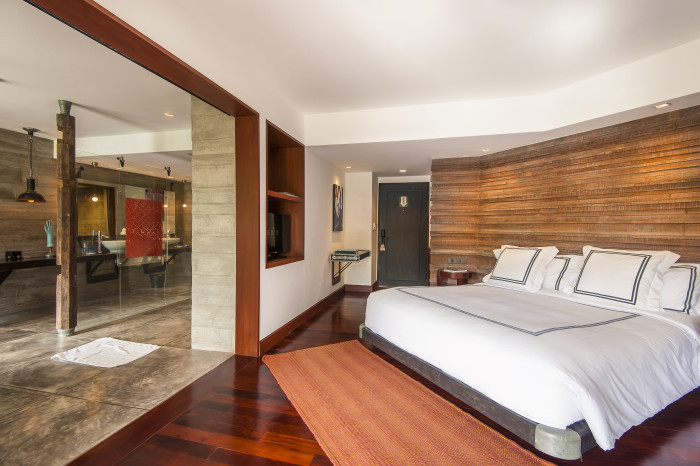 The Rooms
The pros to staying at an all-suite resort are many, and obvious — each room features plenty of space to sprawl, with your own outdoor patio, king-size bed, freestanding tub, and enough square footage to host a small game of soccer. As for downsides, there aren't really any aside from the cost — the hotel is a little slice of egalitarian utopia, albeit yours at the price of $160 per person, per night. Still, you get what you pay for — the most basic of The Slate's 177 suites and villas start at 56 square meters, rising to 1,000 square meters for a private villa with 24-hour butler service, a private sauna and spa treatment room, and the opportunity to meet the chef and have a bespoke menu drawn up for the duration of your stay.
As you'd expect, each suite is exceptionally comfortable, with the aforementioned plush king-sized bed taking up more room than the hostel room you rented as a teenager, with views to the canopy of palms strewn across the inner sanctum of the hotel's many courtyards. Even the wardrobe in the basic D-Buk suite approaches the dimensions of the average budget room, and it's all tastefully appointed with a softer version of the same industrial chic that is the resort's visual signature.
The Neighborhood
First-time visitors to Phuket often head to accommodations close to the island's main hubs of Patong and Phuket town, which makes The Slate's coordinates on the northwest of the island somewhat off-kilter. Its location — five minutes away from the airport — isn't exactly "happening," but it is incredibly convenient, and any worries of air traffic noise are a non-factor — we didn't hear a single plane during our entire stay.
Convenience aside, the resort happens to be on the doorstep of Nai Yang beach, a long, white stretch of sand that's relatively quiet in comparison to the carnage at most of Phuket's more well-known beaches. To the north, there's an even quieter beach housing a marine turtle sanctuary, and the promenade has a small array of shops and beachside cafes selling Thai cafe-style dishes, seafood and noodles, and in addition to the hotel's strong restaurant offerings, it's extremely tempting to indulge your inner sloth and stay within the immediate neighborhood/your bed.
That said, it'd be a shame not to make the odd excursion, if only to check out Phuket's impressive food offerings. The island's geography and status as a former trading hub lends a diverse array of elements to the local cuisine, a melting pot of flavours that includes Chinese, Malay, Southern Thai, and Peranakan. Notably, it was granted UNESCO status in 2015 for its gastronomy, which you'll find mostly concentrated in Phuket Town on the Southeast coast, about an hour's cab ride from the hotel.
Head to Lock Tien, a 1950s-era hawker centre, for a range of Phuket-style dishes — many of the families have been serving local dishes for decades, and it's a good way to sample the sweeter soups and noodles that are characteristic of Phuket cuisine. A delicious bowl of Hokkien mee noodles is popular with locals, and unique for Thailand — you can sample excellent ones at Mee Ton Poe, where a bowl comes with a perfectly runny egg yolk, crispy shallots, and a deep, smoky-sweet broth. Go to Thaew Nam Roti for Muslim-style roti nam gaeng, flaky flatbreads served with curries, and Mee Hoon Pah Chang, an old-school establishment that serves restorative pork bone soups with fried noodles. If it's the beloved breakfast staple kanom jeen you're after, a classic dish of rice noodles served with a variety of curry broths and accoutrements, hit up Po Lamai first thing when you arrive. At the higher end, Raya Thai and Blue Elephant are both legendary.
From $160 per night, excluding taxes
Nai Yang Beach, 116 Moo 1, Shakhu, Thalang
Phuket 83110, Thailand
theslatephuket.com