According to food-centric think tank Food Tank, pasta is a great way to fight food waste at home. Granted, a lot of the information is courtesy of Barilla, the world's number one-selling pasta brand.  It's hard to argue with the facts, however. 80% of millennials (the hottest currency in statistical surveys) surveyed keep dried pasta in their pantries, and only one in 10 had thrown the famously long-lasting staple away due to an expiration date. That sounds like a formula for food waste reduction if we've ever heard it.
With that in mind, here are 15 ways to fight food waste with pasta no matter what you have or don't have in your larder. With recipes by pasta masters Missy Robbins, Yotam Ottolenghi, Jacques Pepin and plenty of others, you can't lose. Don't have eggplant? Use zucchini. No Parmesan? No problem — use any hard cheese in the fridge (bonus points for using up the nubs). Got beets? Bet you never thought you could use them to make the most delectable sauce you've never had. Any way you slice it, you're in for a delicious meal you had the ingredients for all along.
One of the best parts of taking time off from work was getting to attend holiday functions with family and friends. I came up with this dish for a Yom Kippur breakfast; it takes my Jewish heritage and love for Italian food and combines them in a traditional kugel (essentially a noodle casserole) with the flavors of cacio e pepe, a traditional Roman spaghetti dish. The result is a super simple dish packed with tons of pepper and the creaminess of Pecorino, creating an indulgent comfort food from two cultures meeting in the middle.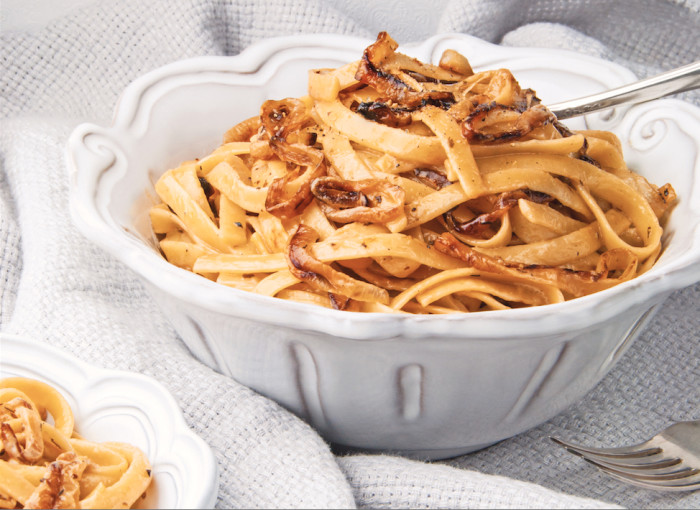 Get ready for your kitchen to smell heavenly! The secret to this pasta is cooking the onions until they're a deep golden brown, intense with flavor to balance the minimal ingredients. They should be mostly broken down, almost melting into the hot pasta to create a simple sauce. To prevent them from becoming mushy, stir only occasionally.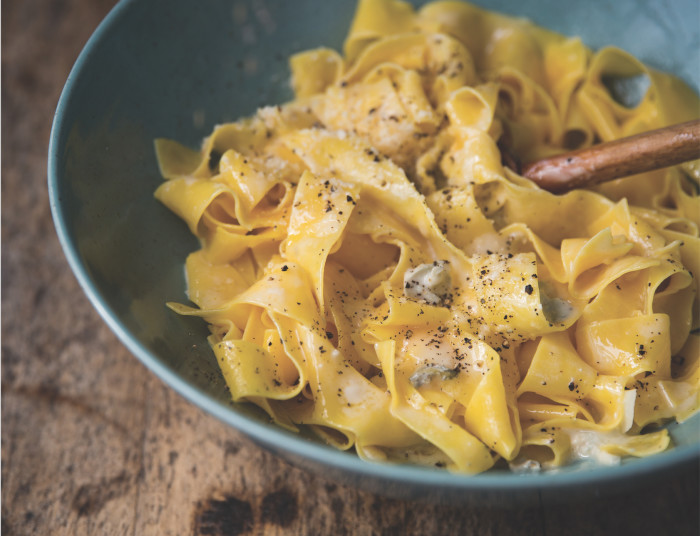 This dish was originally in The Savory Way, which I wrote after returning from a year in Rome and moving to, of all places, Flagstaff, Arizona. At that time, I had to bring back the cheese (along with olive oil and good pasta) when making emergency food trips to the Bay Area. Now you can probably find those ingredients not only in Flagstaff, but pretty much anywhere.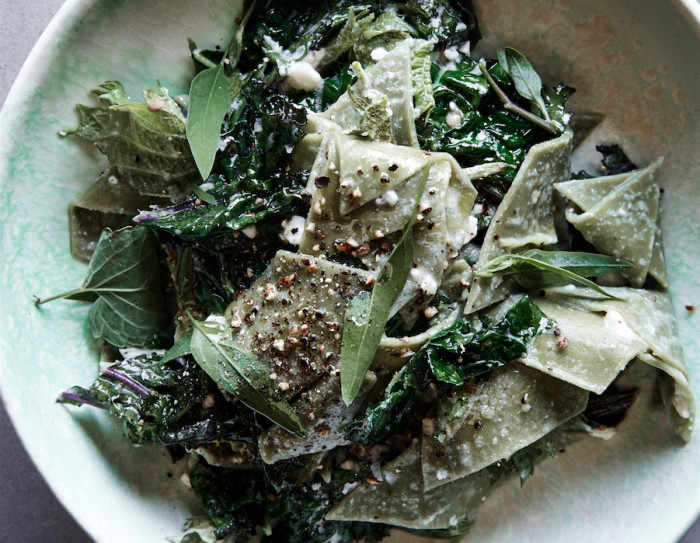 Kale is part of the same family of large brassica-related plants as cabbage, broccoli, and cauliflower. While cauliflower is known as "stalk cabbage," kale is known as "leaf cabbage." Indeed, the leaves of the kale plant have long been used as a hardy cold-weather vegetable in winter dishes when nothing else was available. Today there is something of a renaissance of kale, with many leafy varieties available, such as baby kale, curly kale, and lacinato or dinosaur kale, all of which hold up well in cold weather, in the refrigerator, and in the freezer. In the center of some mature kale leaves runs a rib, which is often dismissed as tough and stringy. But these ribs are perfectly fine to eat; they simply need to be cooked longer give them time to soften.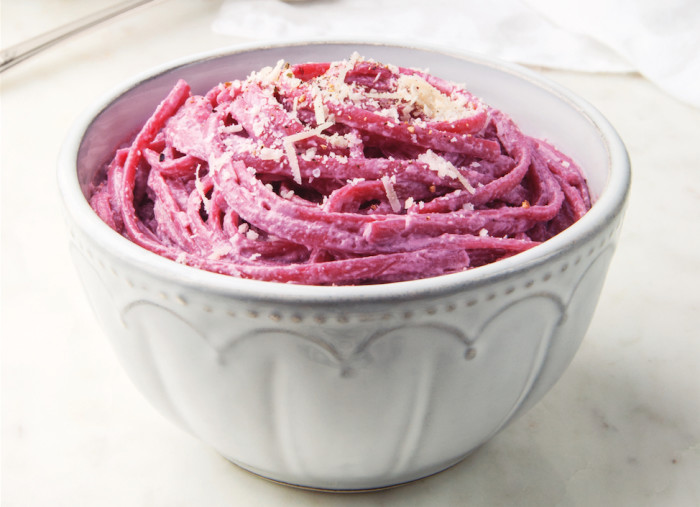 Roasted beets are pureed with goat cheese and hazelnuts to create a thick, creamy paste that melts into hot pasta. After cooking the pasta, make sure to reserve the remaining pasta water to add to the linguine and beet puree. The pasta water contains excess starches that help the sauce cling to the noodles, coating every strand. For a beautiful appetizer, try this beet butter puree on toasted crostini.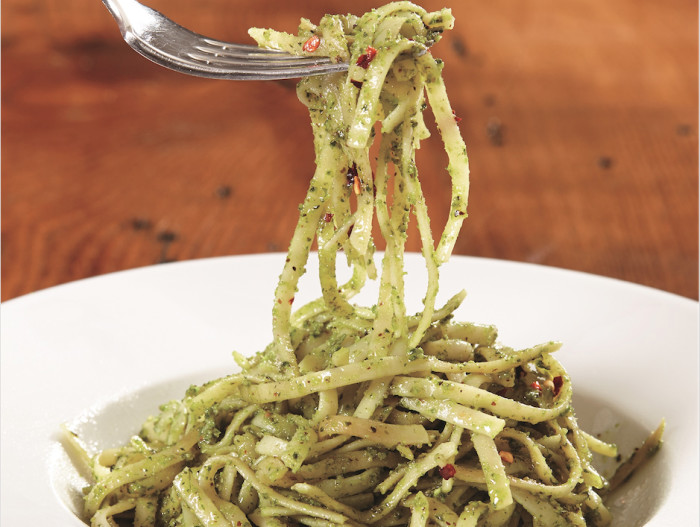 While vacationing with Gloria and her mother, Julia, in Puerto Rico, where Julia was born, I spotted a small restaurant that looked inviting. A young woman who was the chef came out to talk to me, and we went there for dinner. She had cilantro pesto on her menu. Gloria and I loved it, and I have since made my version of the dish many times when cilantro and chives come up in my garden.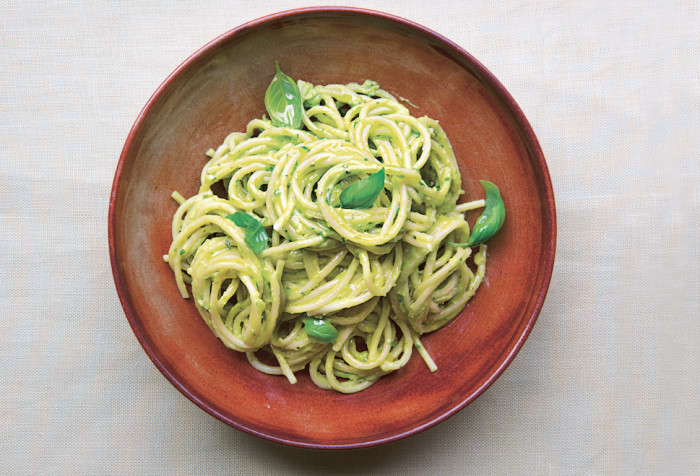 This sauce sounds unusual, but the creamy avocado and fragrant basil make for an indulgent pasta dish without adding meat or dairy. This works best with spaghetti but is great with short pasta, too.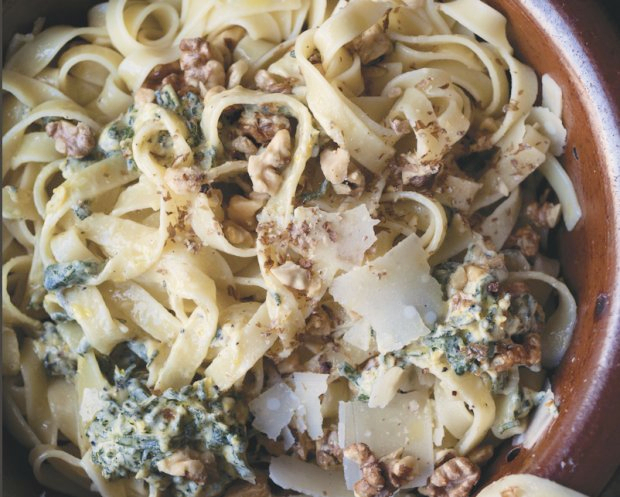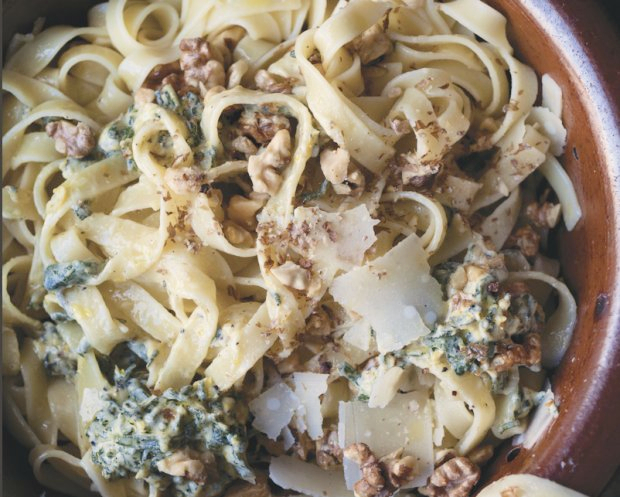 On a more serious note, this recipe is pretty simple and quick to prepare yet delivers an unexpected richness of flavors. Make sure you use fresh walnuts, without any bitterness in them.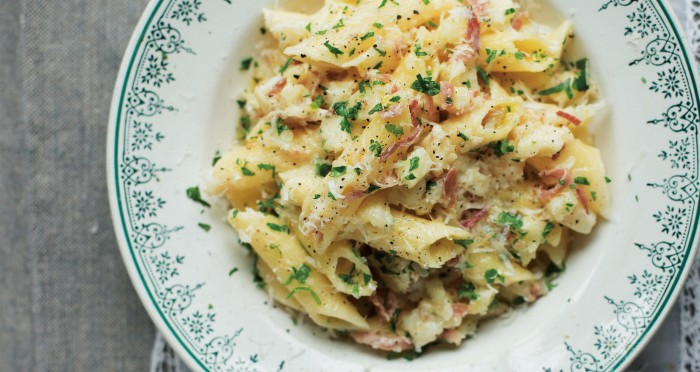 This is a new recipe. I have used celery root, which I like very much, reduced to a pulp to form the basis of the sauce. The addition of ham in small strips (or smoked ham) lifts the sauce and makes it very appetizing, though for a vegetarian version this can simply be omitted.
This quick spaghetti dish reminds me of spaghetti carbonara — noodles coated in a creamy sauce studded with salty pancetta pieces. But carbonara isn't exactly a healthy dish — and the challenge with all pasta dishes is keeping them light and the portion sizes reasonable. So for this recipe, I cut down the amount of pasta and bulked up the dish with roasted Brussels sprouts. The simple pancetta cream sauce is made with full-fat, full-flavor ingredients, so I kept the amount low — just enough for a really delicious meal.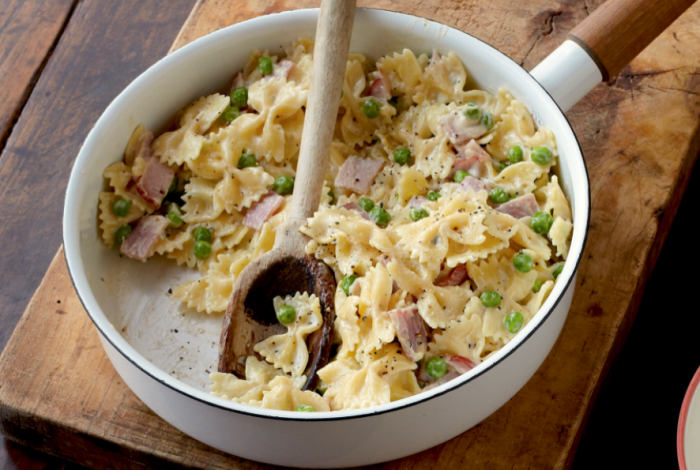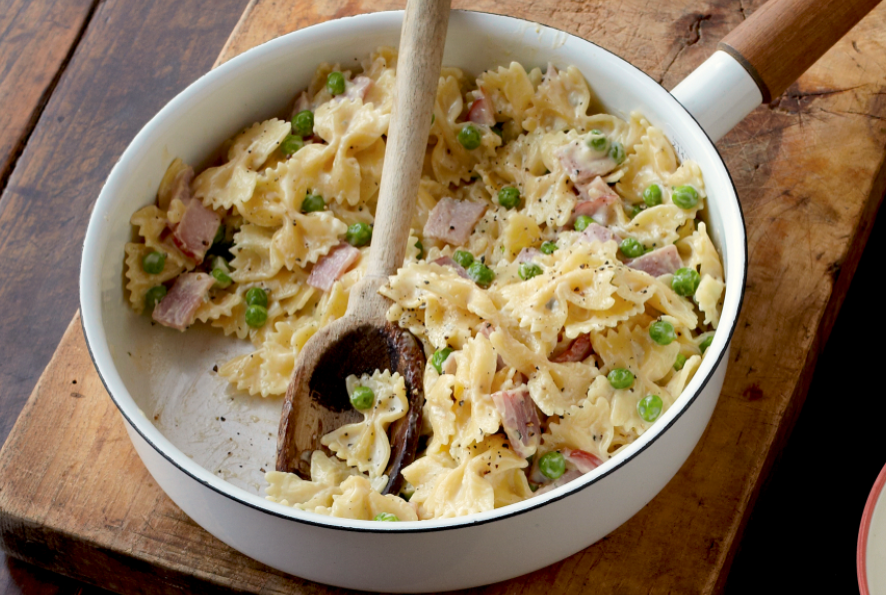 If you've had a rough week, something a little decadent for dinner can be a mood-changer. But while this dish is unquestionably luxurious, it is actually one of the simplest pasta preparations we know. If you're not a blue cheese person, rest assured the flavor of the gorgonzola mellows once it's combined with the cream. And if you're serving vegetarians, you can offer the ham on the side for anyone who wants it.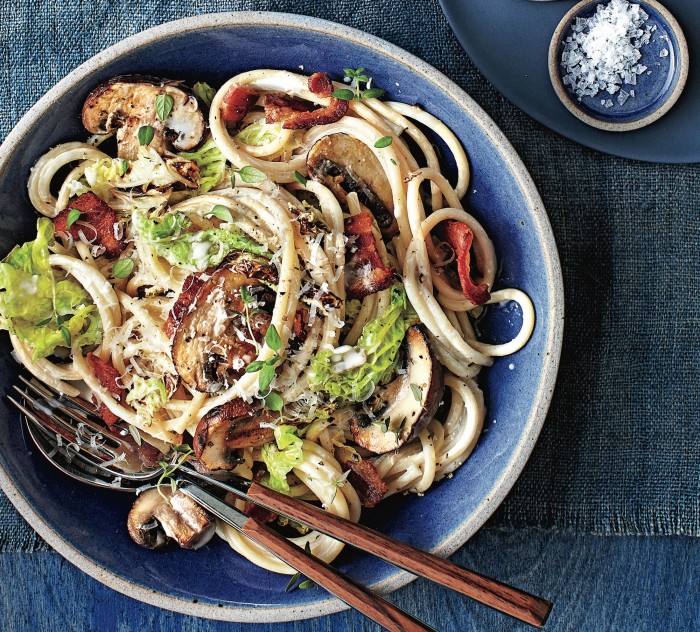 Want to know the secret to creamy pasta dishes? Reserve some of the pasta water before you drain the pasta. When blended into the cheese and the other recipe ingredients, the starchy water helps create a smooth and creamy sauce.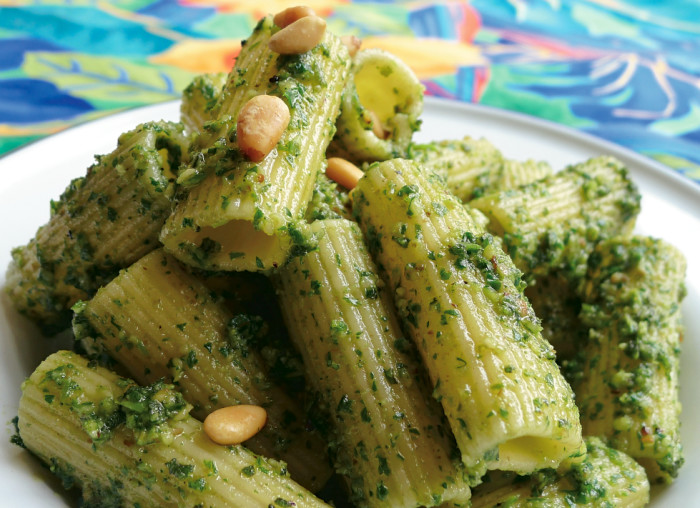 The flavors here are pretty assertive, but this pesto is great on boiled small whole potatoes or tossed with whole-wheat pasta. Use it as a sauce with pork, grilled steaks or seafood.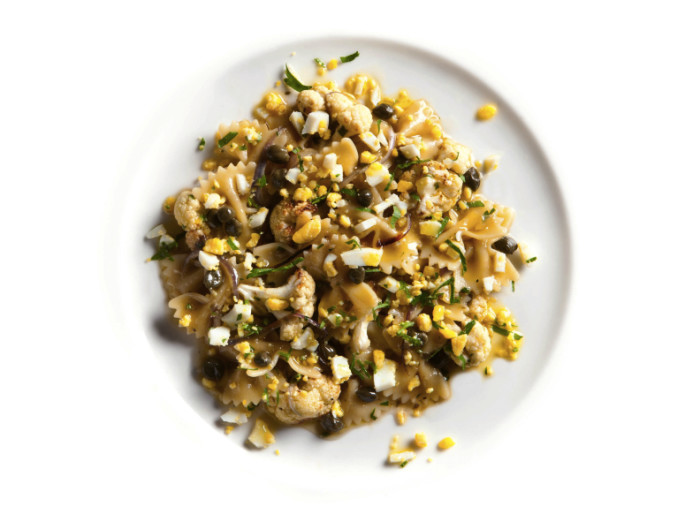 A pinch of fresh marjoram or lemon zest combines well with the other flavors in the dish. We like coarsely chopped eggs as a garnish for their great flavor and color.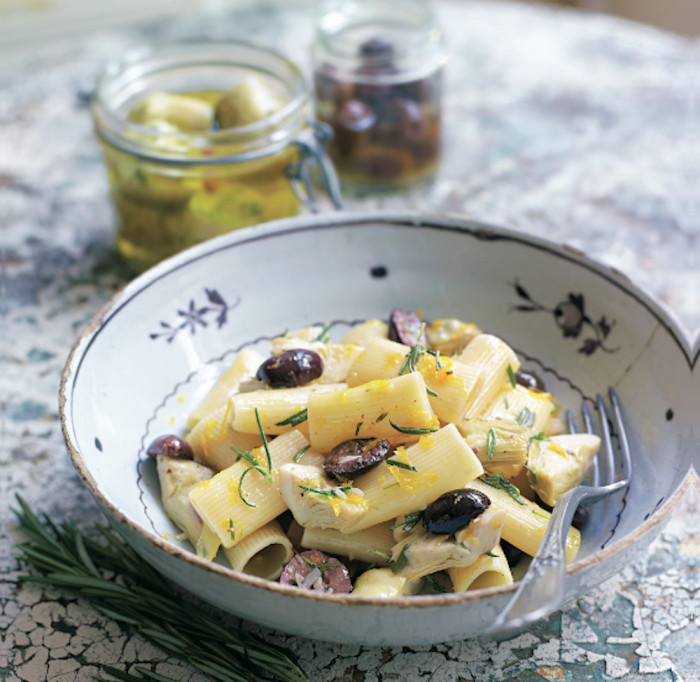 I have always found artichokes a little bit like Marmite — you love them or you hate them! In my case, I absolutely adore them. If you have never tried them, please have a go at this rigatoni al Carciofe recipe — you won't be disappointed. Never ever buy artichokes that are preserved in brine because they aren't worth eating.