How To Make Individual Pumpkin Pies For Thanksgiving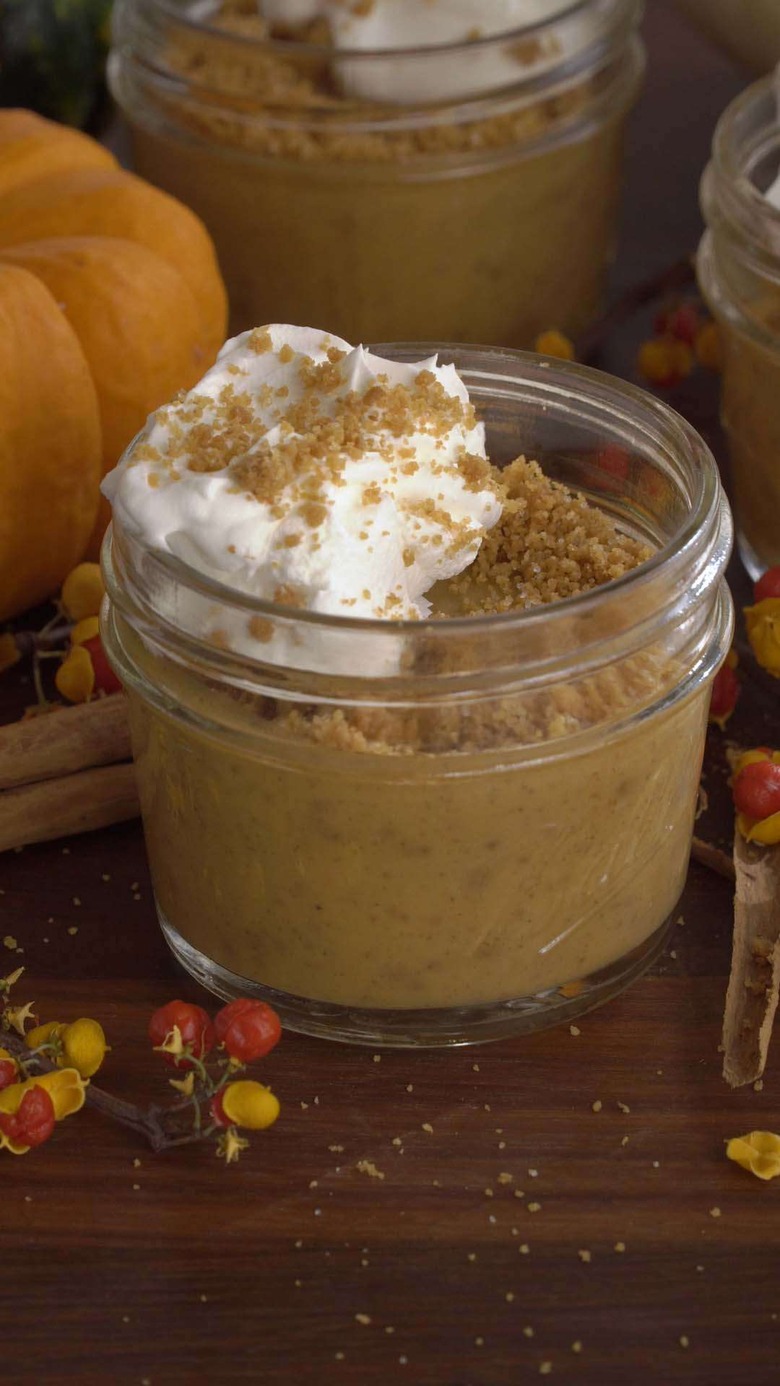 Thanksgiving's less than a week away and if you haven't started planning yet, now's the time. Our friends at ChefSteps wrote in this week with a recipe that'll help you save time,  effort and oven space. Instead of baking your pumpkin pie, try making individual, jarred pies ahead of time! All you need is a sous vide setup and some fridge space. Plus, they fit in goody bags if you're trying to win the title of "Host(ess) with the most(est)."
Pumpkin Pie In A Jar
1 hour 20 minutes; serves 10Ingredients:
425 grams pumpkin puree
165 grams granulated sugar
2.5 grams ground cinnamon
1/2 gram nutmeg
1 gram ground ginger
1/2 gram ground cloves
1/2 gram ground allspice
2 grams kosher salt
2 eggs
1 12-ounce can evaporated milk
Equipment:
Sous vide setup
Food processor or blender
Strainer (optional)
10 4-ounce mason jars
Jar lifter or tongs
Directions:
Preheat Joule or sous vide to 185°F/85°C for a slightly firmer filling that's more like a classic pumpkin pie.
In the bowl of a food processor, combine pumpkin puree, sugar, spices (cinnamon, nutmeg, ginger, cloves, and allspice), and salt. Blend ingredients, stopping to scrape down the sides of the bowl as necessary. Continue until the mixture is smooth and all of the ingredients are well-incorporated.
Crack eggs into a bowl or pitcher. Remove the lid from the food processor bowl, and add eggs to the mix. Blend until eggs are incorporated.
Remove the lid from the food processor bowl. Add the evaporated milk, and blend again. You can stop when the milk is fully incorporated.
To achieve the smoothest texture in all of PumpkinPieLand, pass the mixture through a strainer. Arrange your strainer on top of another container to catch the mixture, and strain, using a spatula to ensure all the good stuff passes through. No strainer? Don't stress—your pies will still be great.
Divide the mixture among the jars, ensuring you leave enough room for toppings. To be exact about it, use 2.65 oz (75 g) of mixture per jar. Seal jars "fingertip tight." What's fingertip tight? Until they're closed, but it's still possible to open with your fingertips. This allows air to escape from the jars when they're submerged in water. If the jars are closed too tightly, the trapped air will press against the glass and could crack or break the jars.
Using tongs or a jar lifter, lower the jars into the water with Joule. Don't forget to make some Crunchy Graham Cracker Streusel to top your treats.
Once your pies have cooked, carefully remove from water with a jar lifter or tongs and transfer them to the fridge to chill for at least two hours. They can hang out there until you are ready to serve.
Serve with Crunchy Graham Cracker Streusel or another favorite crumble, plus some whipped cream.
ChefSteps comprises a team of award-winning chefs, filmmakers, scientists, designers and engineers focused on revolutionizing the way people cook by inspiring creativity and encouraging expertise in the kitchen. You can also get access to all of ChefSteps' Premium content — including paid classes and dozens of recipes available only to Premium members for a onetime fee of $39. Classes include Sous Vide: Beyond the Basics, Fluid Gels, French Macarons and more!