Short is the new long (when it comes to recipes that is). Use a combination of good old-fashioned intuitive know-how and delightfully brief suggestions from Supper Love, a new kind of no recipes required cookbook from blogger and designer David Bez. Follow your instincts and just enough of Bez's advice, and enjoy a quick, simple dinner you made almost entirely on the fly! 
Reprinted with permission from Supper Love
When composing my soups, I divide it into different layers: a base, vegetables, proteins, toppings and some kind of broth or cream. These are the main ingredients, but as you will see, I often mess around with the formula. It's really up to you what you choose to put in it and to enjoy what you are eating. I like my bowl to be 20% base, 50% veggies, 25% protein, 5% toppings and herbs, plus the broth or the soup.
Base
The base can be variable, from noodles or quinoa, but also filling veggies like cauliflower, courgettes [zucchini] and squash, to name a few.
Vegetables
The biggest part of my dinner is always the veggies. At least two vegetable portions are included in my supper bowl – either cooked or raw. This is a big change from conventional dinners based mainly on starch, fish or meat.
Protein
Proteins are a very important part of my dinner; I like to add a handful of the protein I crave the most, but not just ham, beef, chicken, eggs or fish — it can be also yogurt, cheese, tofu, lentils, quinoa, nuts or seeds depending on your own dietary requirements and your tastes.
Toppings
Toppings are what will boost the flavours and colours of your dinner bowl and add a special kick to it. I love to add fermented or pickled veggies like sauerkraut or olives, but toasted nuts and seeds are also great.
Fresh Herbs
I try to add a handful of fresh herbs like basil, chives or coriander [cilantro] – or even spring onions [scallions] – which give an amazing flavour boost.
Broth or Cream
This is the element that flavours and binds together your soup. I make a distinction between two types: broths and creamy soups.
Ricotta, Mushroom, Kale & Truffle Cream
Vegetarian
Ingredients
1 portobello mushroom, sliced and fried
Handful of purple kale, steamed then fried
50 grams [2 oz] cooked spaghetti
1 tablespoon ricotta
Handful of fresh chives
Handful of pumpkin seeds, toasted
Cream
Heat up together:
200 ml [3/4 cup] single [light] cream
Sprinkle of chilli [red pepper] flakes
Drizzle of balsamic glaze
Drizzle of truffle oil
Salt and black pepper
Vegan Alternative
Replace the single cream with soy or oat cream, and replace the ricotta with cashew cheese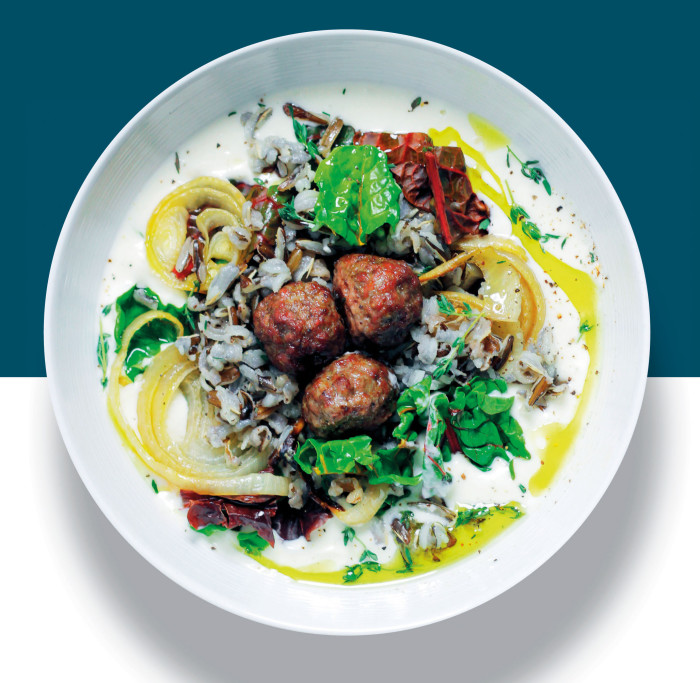 Meatballs, Onion, Chard, Wild Rice & Yogurt
Omnivore
Ingredients
1 roasted onion, sliced
Handful of steamed baby rainbow chard
3 meatballs, roasted
3 1/2 ounces cooked wild rice
Sprinkle of fresh thyme
Cream
3/4 cup warm plain yogurt
Drizzle of olive oil
Salt and black pepper
Vegetarian Alternative
Replace the meatballs with 2 ounces scamorza cheese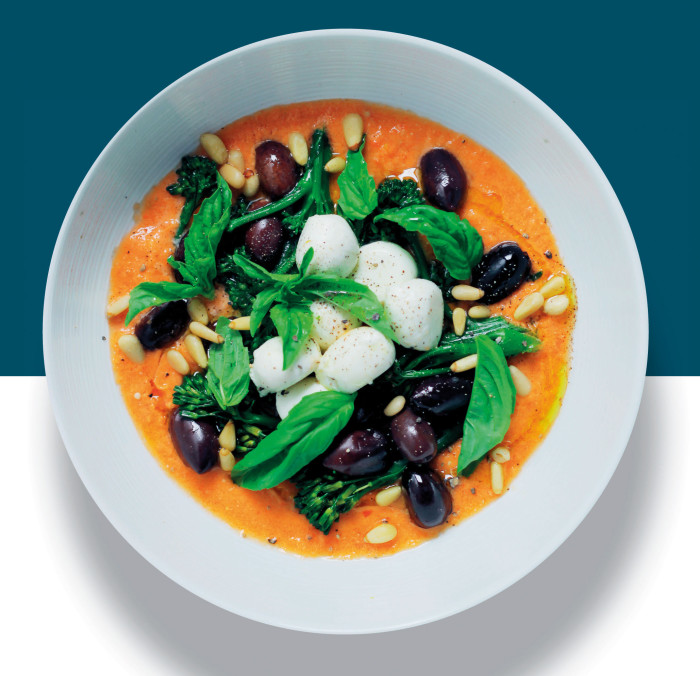 Mozzarella, Broccoli, Basil, Olives & Tomato Cream
Vegetarian
Ingredients
Handful of mini mozzarella balls
Handful of long-stem broccoli, steamed
Handful of fresh basil
Handful of black olives
Handful of pine nuts
Cream
Blend together:
1 1/2 cups cherry tomatoes
1 tablespoon extra virgin olive oil
Salt and black pepper
Pescatarian Alternative
Replace the mozzarella with 2 ounces poached cod