Build The Best Swiss Cheese Board With These Pairings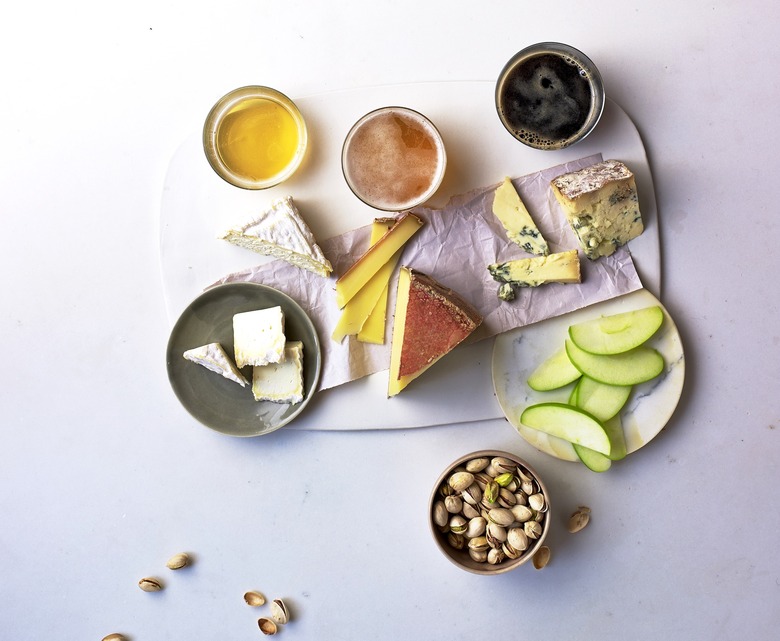 We may receive a commission on purchases made from links.
Cheese expert and Murray's Cheese alum Liz Thorpe is the queen of the stuff. In The Book of Cheese, she maps out all the a brand new way of understanding cheese: Gateways. Instead of categorizing by region or milk type, Thorpe groups like-minded cheeses. Are you a fan of taleggio? Try the Red Hawk. Read it and go beyond bries and cheddars. Into Swiss? Find out below how best to pair your holey cheeses.
Pickled Fruits And Veggies
Pickled things are ideal with washed rinds, and many Swiss types are brine washed during their aging. Crunch balances dense, smooth paste while acidity cuts meaty savor and salt. These days there are countless options in a jar, as well as super-quick pickles you can make at home in less than twenty minutes. Pickled fruits, such as raisins, figs, cherries, or apricots (Boat Street Pickles is my favorite brand), are softer and sweeter, whereas pickled vegetables ranging from red onion to okra to the ubiquitous cuke often introduce smoke or heat and do better at the extreme end of the washed-rind flavor spectrum.
Flavor Spectrum (Pickled Fruits): 1–5
Flavor Spectrum (Pickled Veggies): 6–10
Bitter Foods
High-cacao chocolate, espresso, and broccoli rabe all stand in here for high, persistent bitter flavor. The natural sweetness of Swiss types, plus salt and chewy or melted texture, offer a soothing blanket atop bitterness.
Flavor Spectrum: 1–10
Belgian Ale
With sweetish and toasty malt overtones, yeasty character and, often, natural spice notes anchored in bright acidity Belgian Ales emphasize the natural flavor profile of medium to intense Swiss types. Their similarities push forward the delicate hop and fruit profiles of the ale.
Flavor Spectrum: 3–10
Confit-Style Jams
Raw and pickled onions are a traditional pairing with Taleggio types and they work here for the same flavor reasons. Other (spreadable) options are slightly sweetened confits and jams made from onions or shallots. On the more intense end of the Swiss spectrum, caramelized and roasted onion flavors prevail. Play them up with a savory smear.
Flavor Spectrum: 6–10
Pairing Overview:
Scaled Milk
Toasted Nuts
Fermented (Cured) Meat
Beef Bouillon
Bear In Mind
These cheeses exist on a spectrum of sweet rather than sharp. Meaning: these are lower acid than most firm cheeses (not that these are sugary cheeses).
Tartness and acidity balance dense, sweet paste.
Because of that dense texture and low acidity, these cheeses are well suited to bitter pairings: bitter chocolate, bitter greens.
Classic Pairings
(Whole flavor spectrum) with spice and sour: Ham and Swiss with mustard on rye bread
(Scalded milk/toasted nuts/ cured meat) with acidic, nutty wines such as Jura Vin Jaune or Sherry