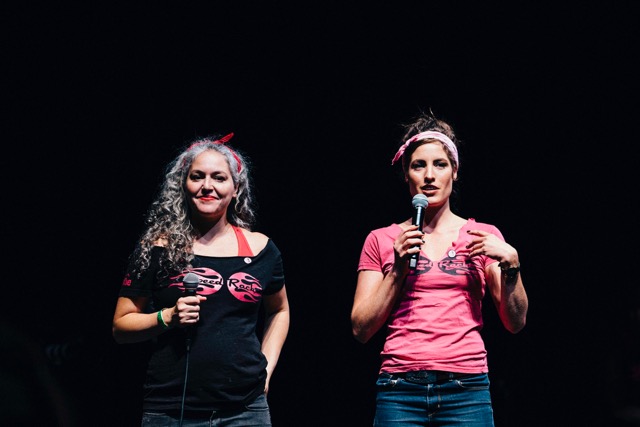 It's National Sandwich Day and what's better than grabbing a sandwich that can help people? At New York's The Press Shop, proceeds from today's sales will benefit Edible Schoolyard NYC while Num Pang is serving up a special sandwich that'll benefit the Food Bank of Puerto Rico. Find out how else you can help the efforts towards hurricane and wildfire relief.
The Wine RayZyn Company, which makes raisins out of wine grapes, partnered with Food Recovery Network to save grapes from vineyards that were unharmed by the recent wildfires in Northern California. The grapes will be made into Wine RayZyns for victims of the fires and the hurricanes in Puerto Rico. Wine RayZyn's own vineyards were destroyed in the fires.
It's National Sandwich Day today and in its honor, The Press Shop is dedicating 100% of today's proceeds to Edible Schoolyard NYC. The Press Shop's founder and owner, Oliver Ressler, will match the shop's donations.
Num Pang Kitchen is collaborating with Mario Batali and Action Bronson to create the Puerto Rico Pang (sandwich) and rice bowl to benefit the Food Bank of Puerto Rico. The sandwich and bowl launches today and will end on November 17. All proceeds from the sandwich and bowl will be donated to the food bank.
Starting tonight, Blue Ribbon Brasserie is celebrating its 25th anniversary with Champagne Armand de Brignac's by releasing two dishes until November 17. The Late Night Fried Chicken takes the restaurant's classic dish and tosses it in foie gras fat, crispy chiles and herbs. It's paired with a flute of Armand de Brignac's Gold Brut. The restaurant is also featuring a seafood tower served with the bottle of the stuff.
In celebration of the 20th anniversary of The Lion King on Broadway, Black Tap is serving a special the Lion King CrazyShake milkshake at all New York locations every Saturday of November. The caramel shake features a vanilla frosted rim coated with red, orange and yellow sprinkles and topped with yellow cotton candy and a chocolate lion lollipop.
Speed Rack, the all-female bartending competition that raises money for breast cancer research, is setting up shop in San Francisco on Sunday. Ticket sales go to benefit charities that support this research.
Dan Kluger's Loring Place in New York will be hosting a childhood-inspired dinner where Kluger and his team recreate childhood favorites on Monday, November 6 to support Cookies for Kids' Cancer. Tickets are $400 per seat, $750 for two with all proceeds from tickets will benefit the organization. Email emily@beagoodcookie.org to reserve your seat.
Believe it or not, Home Alone 2: Lost in New York turns 25 this year! To celebrate, Todd English Food Hall and the Plaza Hotel are partnering to create the ultimate "Kevin McCallister experience," complete with a '90s throwback menu, trivia, music and more.
Chefs Amanda Freitag, Floyd Cardoz, Ariane Duarte and Carmen Quagliata are partnering with Newman, Cares, Inc. to raise awareness and funds for the American Foundation for Suicide Prevention. The chefs will be cooking for the Dine 4 A Difference charity dinner at Ariane Kitchen & Bar in Verona, New Jersey on November 9. Tickets can be found here.
Tickets for Root & Bone's Puerto Rican relief charity dinner are now available. On Sunday, November 12, the restaurant is partnering with Don Q Rum are putting together a dinner featuring Puerto Rican fried chicken, amarillo mofongo and rum cocktails.
The Family Coppola winery is partnering with BottleRock Presents to put on a benefit concert at Sonoma State University. Counting Crows and Brett Dennen will perform on November 18. All ticket proceeds will benefit the North Bay Fire Relief Fund and Noma Gives.
Tickets for this year's ChefsGiving in San Francisco are also now available. The Ferry Building will play host for the evening filled with wine and food on November 19. All the proceeds will go to benefit victims of the Northern California fires through Tipping Point Emergency Relief Fund and Restaurants Care.