Seattle Seahawks Serve Potatoes Grown From Food Waste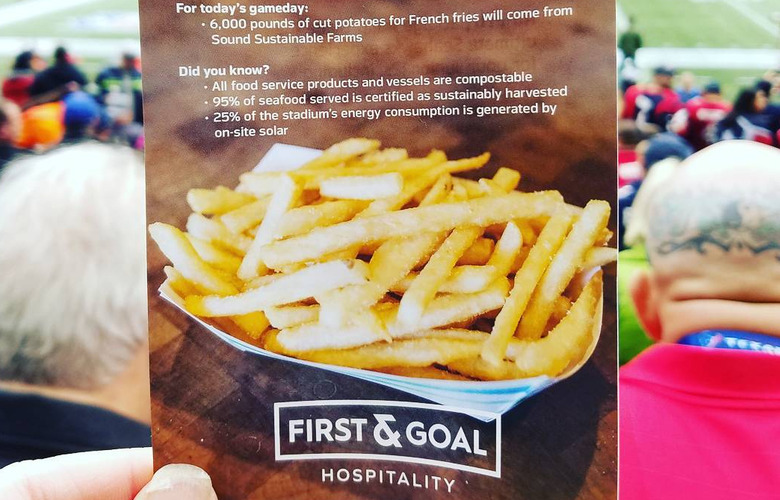 (@seahawks/Instagram) Seattle's CenturyLink Field served up extra-responsible fr
Seattle's CenturyLink Field, home of the Seahawks, is taking a stand against stadium food waste. Known for its efforts in food and energy sustainability, CenturyLink Field and First & Goal Hospitality partnered with local organizations Cedar Grove Composting and Sound Sustainable Farms. Together, they grew 6,000 lbs. of potatoes using the compost generated from the stadium's food waste and served the resulting fries during last Sunday's Seahawks/Texans game.
While the food waste news didn't generate as much publicity as the Texans' players taking a knee during the national anthem, or the game's outcome, a 41-38 victory for the home team, it represented a big step in creative composting. "Sound Sustainable Farms sheds light on the next generation of the waste industry," says J. Stephan Banchero III, co-founder and Vice-President of Redmond, WA-based Cedar Grove Composting. "We need to focus on the true meaning of diversion, which are the opportunities recycling creates on the back end after being remanufactured, not just a diversion from landfills.
In addition to the 16 tons of compost the stadium's food waste supplies after each game — bolstered in part by their compostable serving ware and utensils — CenturyLink also utilizes solar power, serves exclusively sustainable seafood and donate hundreds of pounds of leftover food to charity.
Could responsible practices be the secret to the Seahawks' impressive 5-2 record? Probably not, but when it comes to repurposing food waste, you really can't lose. Check out more stadium sustainability stats on the Seahawks' website — we're impressed!