Brahm Callahan is a Master Sommelier and Beverage Director at Himmel Hospitality Group Boston. Join him on a tour of Ribera del Duero and Rueda, a winemaking region of Spain well-worth a visit. 
Spain is one of the most popular destinations in the world for tourists, but most only think of the big cities or the beaches when planning a trip. While those certainly have their appeal, there are parts of Spain that are breathtakingly authentic and untouched. There are so many hidden treasures throughout Spain that continue the work and passion of their ancestors while also pushing to become relevant in an ever-changing winescape. Just two and a half hours northwest of Madrid, you'll find a dramatic stretch of countryside that's home to two wine regions which lie alongside the Duero River — Ribera del Duero and Rueda. 
It isn't just the wines that are important, however. Wine in a vacuum is just fermented grape juice: The people, the landscape, the culture and the food all play a part in any great wine excursion.
I have had the pleasure of visiting these regions four times. While they each have similarities – high elevation, varied soils and exposures as well as an extreme diurnal shift in temperatures — think 90ºF during the day and 50ºF at night — they each have their own unique perspective through their individual varieties. Their DNA is found in their grapes, with Tinto Fino in Ribera (a unique clone of Tempranillo) and Verdejo in Rueda. They are a perfect pair of regions for visiting, as they offer an excellent balance and counterpoint to each other.    
Ribera del Duero is certainly known for producing world-class red wines. The most historic winery in Spain, Vega Sicilia, is located here after all. For an avid wine enthusiast, Ribera is a veritable playground of drinking fun, as the wines offer the full range of expressions of Tempranillo, from lush, polished and modern in style to something more earthy and subtle. The options are endless.
Beyond great wine they have culture, history and great food in spades, and I think it is too good an experience not to share. Below is my short list of what to do, eat, see, and drink for the perfect Spanish weekend escape, starting off in Madrid, which is where you'll likely fly into if visiting Ribera del Duero: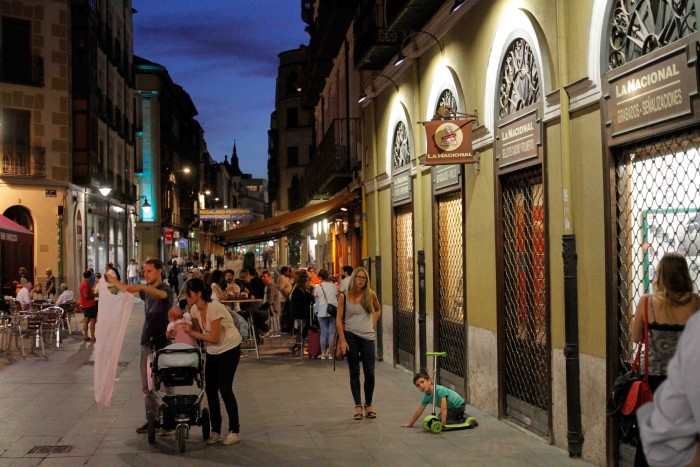 Madrid (where to eat and stay!)
Check into the iconic NH Eurobuilding Collection in the Madrid's financial district, about four kilometers from the city center and Plaza Mayor.
Hit up the Mercado de San Miguel, one of the best in markets in Spain and literally a snapshot of everything that you might want to eat, ranging from pork belly and jamon to the pickled olive combinations (sweet or spicy!)
Definitely treat yourself to opposite ends of the spectrum and enjoy benchmark fine dining at Bibo by Dani Garcia. The hand-carved Iberico ham, crunchy Robuchon king prawns wrapped in fresh basil, and the creamy ham croquettes (among other delicious tapas) are beyond incredible. The wine list is excellent as well without breaking the bank. Vina Sastre Roble, Menade Verdejo or Bodegas Tradición Oloroso Sherry are my top choices for wine.
You'll also want to check out El Doble for a truly authentic and simple tapas and late night local bar scene. Cold beer, salty food and local flavor — that's the stuff.
Next, get in your car or hop a train from Madrid to Valladollid, the city that lies in between the wine regions!
Ribera del Duero
The region of Ribera del Duero is a throwback to the old days of Spain. Much of the landscape is extremely rural and untouched, but the wines are far from harsh. They range from a more authentic, traditional style (think Tinto Pesquera) to the extremely polished and modern, like Bodega Traslascuestas.
If you want a city scene, check out Hotel Villa de Aranda in Aranda de Duero. If you're looking for something more rural and authentic,  hotel Castilla Termal Monastery of Valbuena – the first spa with 5-star status in Castilla y León – is located in one the best preserved Cistercian monastery of the 12th century in Europe. Gorgeous and in the heart of Ribera del Duero.
Plan to hit a winery before you get to your hotel; some of my favorite wineries here include:
Bodegas Neo
Run by a bunch of hip musicians, this is not your usual winery. It reminds me more of a skate park, but the wines are amazing and they are good people. Also check out their restaurant, Le Club, in Aranda del Duero for a very cool blindfolded dining experience, a really hip vibe and some awesome live music.
Dominio del Aguila
These wines are compelling, but the best part is this winery is run by a husband and wife team, and their time is precious, so plan ahead. The cellar is minimalist and their focus is on identifying a sense of place, in their 100-year-old vineyards to be exact. What I loved about these wines was their honesty and transparency. They were exactly what they were supposed to be, and the winemaker wasn't trying to influence the wines at all.
Finca Villacreces
A truly refined wine experience. Everything from the bodega to the grounds and the wines are polished, focused and beautiful.
Bodegas Arzuaga
This is a big operation, and they have an amazing restaurant (Taller Arzuaga with Victor Gutierrez), a world class spa, and also have a game preserve where they raise deer and wild pigs that are then featured on the menu of the restaurant. But they also make some compelling wines, not always within the style or restrictions of what you would expect from Ribera, but a little bit of variation isn't a bad thing.
Bodegas Traslascuestas
The perfect mix of old and new. The property has a 200-year-old press house that they have restored with the purpose of public visits, as well as sweeping views of the valley below. They are at one of the highest elevation villages in the region, and  the wines don't disappoint either – a perfect balance between Old World earthy tones with enough fruit to balance it out.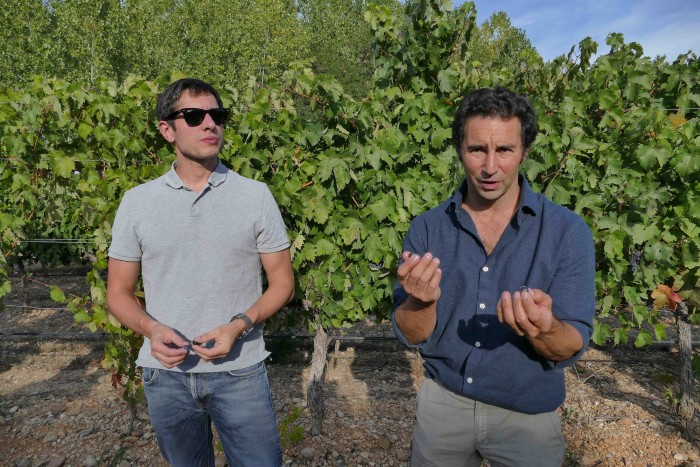 The local culture in Ribera del Duero
Definitely check out the traditional dancing of the area, where castanet dancers occasionally perform in the town squares of Valladollid as well as Aranda del Duero with stylized arms of Castilla-Leon.
Spend the afternoon enjoying a historic walking tour Valladollid. Walking is truly the best way to appreciate the heart of Valladolid City, which consists of Renaissance architecture buildings. It is a beautiful city with lots to see and you can enjoy all of the delicious tapas along the way!
Enjoy a hot air balloon ride  (try Vallaglobo) over Ribera del Duero in the early morning. This is one of the best ways to tour an area. At 500 feet up in the air  over the "golden mile" of Ribera, you are able to take in the dramatic landscape as well as see the definition of the river and the valley that it carved out all while gently floating overhead.  
When I think about all the experiences that I have had in Ribera del Duero, I realize that not only have I gained a better understanding of the region and the wines produced there, I truly walked away with a better appreciation for the people of Spain, their food, culture, and history and how these historic wines fit in that picture. It was a total experience that I wholeheartedly recommend to anyone that thinks they understand what Spanish wine is all about, as it is likely to change your perspective for the better.