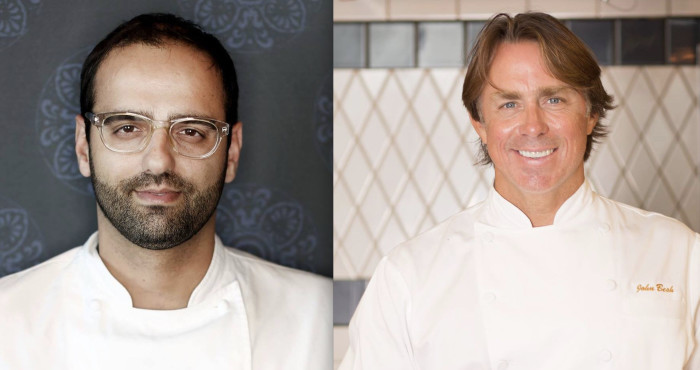 In recent months, the rumor mill has been grinding up and spitting out every possible angle and "he said, he said" story swirling around the bitter end of John Besh and Alon Shaya's culinary partnership in New Orleans. Brett Anderson, restaurant critic and food writer at NOLA.com, has been keeping the restaurant world updated on developments since first reporting the story in mid-September.
As it stands today, John Besh has stepped down as CEO of the Besh Restaurant Group amid allegations of sexual misconduct within the restaurants. Besh and Shaya are preparing for a contentious face-off in court over which party owns the rights to use the trademarked "Shaya" for their respective business. Shaya has also publicly stated that he was key in breaking the sexual assault story silence, which, he alleges, led to his unceremonious firing from his eponymous restaurant.
Here's a timeline of the five weeks that have shaken New Orleans' dining scene, with multiple James Beard-winning restaurants and chefs at the center.
September 18 – John Besh, celebrity chef and restaurateur, fires notable rising star and James Beard Award-winning chef Alon Shaya from his namesake restaurant, "Shaya" located in uptown New Orleans. Besh had fostered Shaya throughout his professional career, providing him with room to grow as well as financial backing through their partnership. They first opened Domenica Restaurant in the Roosevelt Hotel, later Pizza Domenica and finally Alon Shaya's Israeli concept, "Shaya" in 2015. Details of the original arrangement are not public, but it is touted that Shaya owned a minority stake in the restaurant with opportunity to buy out after an extended period of time. Initial reports stated that Shaya had requested to buy out the remaining term of his contract and separate from the Besh Restaurant Group (BRG) around that time, essentially souring the long-term partnership between Shaya and Besh and leading to Shaya's untimely termination from his eponymous award-winning restaurant.
September 18 – October 16  In the days following Shaya's firing, Zach Engel, Shaya's sous-chef and James Beard rising star award-winner, steps into the role of Executive Chef. Many employees at Shaya walk out or turn in their notice of separation in order to follow Alon into his newly formed Pomegranate Hospitality Company. On the same day of his firing, Alon Shaya files for a federal trademark on "Alon Shaya" and "Shaya," which is quickly contested by the BRG. Shaya maintains that he has used his name in its various forms in connection with his professional cooking career since the early 2000s, and Besh contests that the name had no commercial use until its implementation at Shaya restaurant in 2015. Shaya's trademark filing is still pending.
October 17 – Zach Engel, the recently named Executive Chef of Shaya, steps down to join Alon Shaya at Pomegranate Hospitality Group.
October 18 –  A month after his firing, Shaya sends a cease-and-desist letter to the BRG demanding that the company stop using his name on their restaurant, or using Alon Shaya, his image, or his past work there as any basis for promotion or marketing. Besh fires back two days later, filing a request with the District Court of Eastern Louisiana for an immediate Declaratory Judgment to state that the BRG has rights to continue using "Shaya" without the need for a trial, and also requesting to forbid Alon Shaya from using "Shaya" on any current or future restaurant endeavors in New Orleans or anywhere else for that matter. In response, Shaya releases this statement:
"I'm shocked and saddened that my former partners would take such an action. Shaya is not just the name on the front door. It is my culinary and family heritage and a culmination of my life's work. The recipes and experiences that make Shaya restaurant so unique come from my mother and grandmother and a deep tradition of Israeli cooking and hospitality. The idea that they would claim that history as a matter of commerce and trademark is deeply disturbing and I will fight to protect my family name and heritage."
October 21 (morning) –  NOLA.com | The Times-Picayune breaks a scathing story that cites John Besh and the BRG as culpable for fostering a culture of sexual assault, harassment, and misconduct within its restaurants. The story states that the publication embarked on an eight-month investigation into the restaurant group and its owner in which it discovered at least 25 instances of misconduct and harassment of BRG employees. The story elaborates the allegations of a number of employees who recall numerous instances of "vulgar and offensive comments… aggressive unwelcome touching, and sexual advances," by both management and co-workers. One BRG employee stated that during a 2015 work trip with John Besh to Los Angeles, she was coerced and encouraged to drink heavily at a work event, and that afterward John Besh came to her hotel room and "immediately started to kiss and fondle her." The employee stated she was barely conscious and easily overwhelmed by John Besh, who engaged in oral sex with her and then fell asleep. (NOLA.com). Subsequently, John Besh releases a statement:
"Two years ago, I deeply hurt those I love by thoughtlessly engaging in a consensual relationship with one member of my team. Since then I have been seeking to rebuild my marriage and come to terms with my reckless actions given the profound love I have for my wife, my boys and my Catholic faith. I also regret any harm this may have caused to my second family at the restaurant group, and sincerely apologize to anyone past and present who has worked for me who found my behavior as unacceptable as I do.
"I alone am entirely responsible for my moral failings. This is not the way the head of a company like ours should have acted, let alone a husband and father. But it should not taint our incredible team of more than 1,000 employees, nor undermine our unyielding commitment to treating everyone with respect and dignity, regardless of gender, race, age and sexual preference."
After the harassment claims break, a few previous employees come forward anonymously to share their stories. A pervasive sense that outing their previously lauded management would hurt any quality employee's chance of being hired at a similarly calibered restaurant has kept many previous employees quiet or tight-lipped. Although not explicit, it is clear that many previous and current employees do not feel they have the correct mechanism with which to express their concerns and experiences while at work. In a separate statement, the BRG's legal counsel Raymond Landry speaks for the BRG, saying:
"We have learned recently that a number of women in our company feel that we have not had a clear mechanism in place to allow them to voice concerns about receiving the respect they deserve on the job. I want to assure all of our employees that if even a single person feels this way, it is one person too many and that ends now.
"While we've had a complaint procedure in place that complies with all existing laws, we now recognize that, as a practical matter, we needed to do more than what the law requires and we have revamped our training, education and procedures accordingly. Now that we have learned of these concerns, we believe going forward that everyone at our company will be fully aware of the clear procedures that are now in place to safeguard against anyone feeling that his or her concerns will not be heard and addressed free from retaliation."
October 21 (evening) –  Alon Shaya comes forward with a statement taking responsibility for helping break the sexual misconduct story. Shaya posts to Facebook just after 7 p.m.:
"First, I want to acknowledge the experiences of the women quoted in the story and the realities of countless other women who experience harassment in the workplace and elsewhere. I also want to acknowledge the bravery of the women who shared their stories. No one should feel unwelcome, afraid or unsafe in their place of work. That is not acceptable and that is not how I endeavor to run my restaurants. Harassment is not just a part of "kitchen culture" – the restaurant industry does not get a pass.
As part of my efforts to ensure a professional working environment, on multiple occasions over the years I asked the owners of the Besh Restaurant Group to provide professional human resources support for their restaurants. Each overture I made was summarily rejected.
I made a decision to proactively engage with the reporter for the Times Picayune because I believed these stories must be told. For doing so, I was terminated as Executive Chef at Domenica, Pizza Domenica, and my name-sake restaurant, Shaya. I lost nearly all I had worked for, before I realized what I had gained. As a result of this experience, I have a renewed commitment to do everything I can in the future to prevent the powerful from taking advantage of those that depend on them."
On social media the same evening and into the next morning, many laud Shaya and come to his defense, praising his bravery for standing up to harassment in kitchens and publically making a statement. Other commenters on the same post deride him for waiting this long to break his silence and question the statement's curious timing, claiming that Shaya is using these allegations as leverage to fire back at Besh for his unceremonious firing and subsequent lawsuit over the use of his name. Others reflect on the tight ship Shaya ran while head of a restaurant, and how joking around was kept to a minimum and how the kitchen was strictly business when Shaya was in the kitchen.
Westley Treme, previously an employee of Domenica who cooked under Shaya for three years states that, "it was always about the food, always. But when we got off work it was a different story." It was clear that those working for the BRG from the early 2010s onward were under enormous pressure with the skyrocketing growth of the Besh brand. The restaurant group was expanding, both Besh and Shaya were receiving more accolades and notoriety, and spending less time hands-on at their restaurants. Treme recalls that there was no clear rule against intra-establishment relationships. On more than one occasion, managers were engaged in relationships with those they managed — sometimes leading to marriage. It is worth noting that since its establishment in 2005, the BRG has never had a professional human resources department with the capability to process and independently assess complaints of this sort.
October 23 – In an e-mail sent to employees, PR director Shannon White announces that, "John has decided to step down from all aspects of operations and to provide his full focus on his family," and writes that she is stepping in as CEO of the BRG. Besh decided to continue the use of his name during this transition, but the long-term future of the group, which owns and manages 14 separate properties and numerous philanthropic events in New Orleans and beyond is uncertain.
Wallace Levy McKeel is a Louisiana-based food writer and certified specialist of wine who has previously contributed to Food Republic.