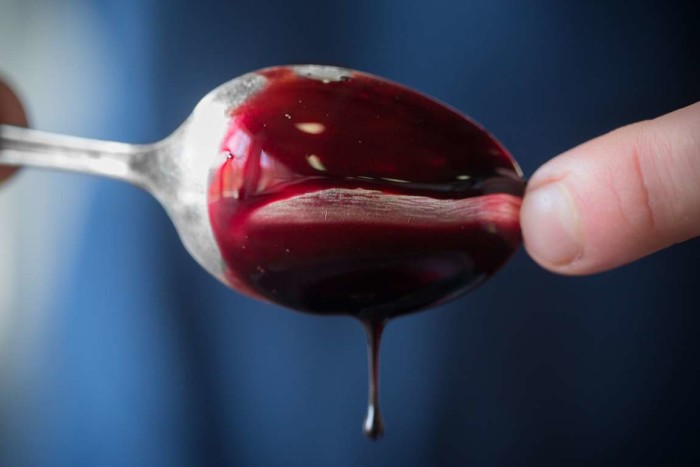 Boo! It's the spookiest time of year and no Halloween party is complete without a vat of blood. Our friends at ChefSteps wrote in this week with this recipe for a bloody good sauce that calls for actual pig's blood. Don't have a pig on hand? Head to your butcher. Blood's often used to thicken up sauces and to add flavor and color in dishes like boudin noir and black pudding. Once you've got your blood bubbling and toiling, find some suckling pig, steak, game or other meat to dress it with. But please, don't dump it on anyone. That's bullying.
Blood Sauce
1 hour; makes enough to pour over 8 servings of meat
Ingredients
500 grams pig's blood
400 grams red wine
200 grams ruby port
100 grams shallots
30 grams garlic
80 grams butter
4 grams thyme, fresh leaves
800 grams chicken stock
180 grams bing cherries, about 30
4 grams Medieval Sweet Spice
Equipment
Sous vide
Ziplock-style bag (1 gallon)
Mandoline (optional)
Blender
Fine-mesh sieve
Directions
Preheat sous video to 140°F/60°C
Transfer blood to a Ziplock-style bag. Lower into heated water and cook for 45 minutes.
Make a wine reduction. Combine the wine and port in a pan on the stove. Reduce over medium-high heat until the liquid is thick and coats the back of a spoon — you should wind up with about 50 grams of sauce.
Thinly slice the shallots and garlic. We recommend using a mandoline, but a knife will do just fine.
Melt the butter over medium heat and add the garlic, shallot, and thyme. Sweat them for about five minutes, or until the shallots are translucent.
Add the wine reduction and chicken stock to the shallot mixture. Continue cooking over medium-high heat until the sauce is reduced by half.
Transfer the contents of the pot to a blender, and add the cherries, spices, and blood. Blend the entire mixture on low for three minutes.
Pass the sauce through a fine-mesh sieve for a smooth finish. NOTE: Blending on low should keep the cherry pits intact so that you can sieve them out easily, but you can pit the cherries first if you prefer. Up to you!
Serve immediately.
ChefSteps comprises a team of award-winning chefs, filmmakers, scientists, designers and engineers focused on revolutionizing the way people cook by inspiring creativity and encouraging expertise in the kitchen. You can also get access to all of ChefSteps' Premium content — including paid classes and dozens of recipes available only to Premium members for a onetime fee of $39. Classes include Sous Vide: Beyond the Basics, Fluid Gels, French Macarons and more!