Stir Crazy Ching-He Huang's Tips For Wok Cooking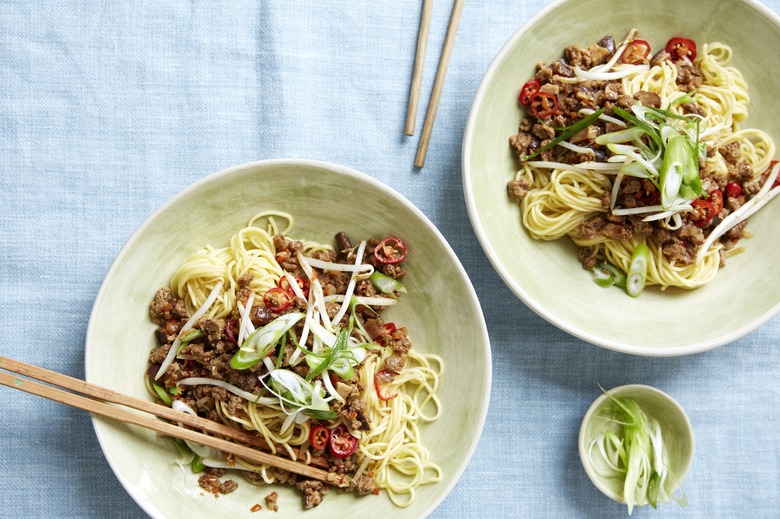 We may receive a commission on purchases made from links.
Learn the art of the stir-fry with award-winning chef and cookbook author Ching-He Huang's newest collection of recipes. You'll bulk up your general knowledge of high-heat cooking, plus tips on techniques and grocery shopping, all while focusing on making healthy food, fast. Check out her tips for wok cooking that will turn you from a small fry to a stir-fry master. Reprinted with permission from Stir Crazy
Stir-fry to health
The healthiest way to sear food at high heat, stir-frying retains the nutrients in food for maximum flavor, with minimum effort required.
Steamed, not stirred
Steam chicken, fish, or tofu together with your favorite vegetables, marinated in a healthy Chinese sauce, for a healthy one-wok supper. If it's easy to cook, you'll be likely to do it again. Consistently eat this way and you'll be beaming with health.
Rice and grains, baby
Try to mix several different kinds of rice for texture, flavor and nutrients. I often combine jasmine, brown rice, wild rice and red rice, and sometimes include lentils and chickpeas for maximum protein.
Know your oils
Use only a small amount of a good heat-stable oil such as coconut, canola or peanut oil, all of which are perfect for stir-frying over high heat. Save your virgin olive oils for delicious dressings.
Magic mushrooms
The Chinese are obsessed with dried shiitake mushrooms; not only do they have an earthy, savory umami flavor, they are also full of minerals and nutrients. So throw them into broths and soups for healthy tonics.
Berry excited
The Chinese goji berry contains essential amino acids, as well as the highest concentration of protein of any fruit. Loaded with vitamin C and carotenoids, it has 21 trace minerals and is also high in fiber. Throw some into a stir-fry or over steamed fish for a sweet pop.
Go nuts
I love to add cashews, pine nuts, walnuts, and Brazils to my stir-fries. Nuts contain healthy fats, are high in protein, and a good source of minerals and vitamin E, which promotes healthy skin. A small handful in any dish is enough. You can toast or roast your own to give an extra layer of flavor; just step away from the salted variety.
Get fruity and saucy
I like to mix naturally brewed soy sauce with different kinds of fruit juices and fresh or dried chiles for a sweet-savory spicy taste to my dishes. A great combination is soy sauce, pineapple juice, chile flakes, and honey. You can also use fresh orange juice, grape juice, mango juice and apple juice.
Spice it up
Chinese five-spice, which is made up of cloves, cinnamon, star anise, Sichuan peppercorns and fennel, adds a distinctive pungent, sweet, spicy, bitter and sour note to dishes. Use it to marinate meats — add with soy sauce and olive oil and some cornstarch to coat. The spices come with zero calories and are sealed when they hit the wok, giving hot hits of flavor.
Wok on!
Invest in a good wok. My nano-silica coated Lotus wok does not give off PFOA and PTFE (perfluorooctanoic acid and polytetrafluoroethylene fumes), toxic chemical fumes that are hazardous to the human body, and you only need a small amount of oil to cook up a great-tasting meal. It's also hydrophobic, which means it repels water, and oleophilic, which means it absorbs the right amount of oil to keep your veggies crisp and delicious.