While most people pack their shorts away and mope about summer's demise, people who love to cook are rejoicing. Sure, beach days might be gone, but so are days that are just too stinking hot to think about turning on your oven or undertaking a long, weekend-worthy cooking project. Bye-bye lobster rolls and rosé, hello big reds and slow braises.
The winemakers of D.O. Ribera del Duero and D.O. Rueda were locavore, artisanal, and sustainable long before those terms even existed. Their wines reflect an ancient tradition and a singular sense of place, yet have a timeless appeal that knows no borders.
So break out your flannels, dust off your sheet pans and Dutch ovens, and get in the food (and wine) mindset with the help of some chefs and sommeliers who are already feeling fall flow.
Brahm Callahan, Master Sommelier, Beverage Director Himmel Hospitality Group
Ribera y Rueda Brand Ambassador
@Brealsomm
@Grill23andBar
I love to entertain and having spent the better part of my life in restaurants, I feel comfortable hosting larger groups, which is a lot of fun but can be intimidating for home cooks. For me, the key is to adapt some recipes from the restaurants where I work that are built for ease of pick up, or that layer a lot of flavors without requiring a ton of prep.
I recently hosted a dinner party for 20 people, and paired wines and cooked everything myself. Below are a few from the dinner that were especially popular. First, a spicy white pizza with stracciatella (a creamy, mozzarella-like cheese), prosciutto, and truffle oil. It was followed by Chef Brian Kevorkian of Grill 23 & Bar's roasted wild mushrooms, finished with shallots, sherry and fine herbs — an ideal side.
The food and company were awesome, and it was really fun to see some professional dishes put together in a residential kitchen. For the wine, I chose the 2016 Bodegas Naia Verdejo from Rueda, which is made in a more fruit-driven style, but with great body and rich texture from added lees contact, it paired really well across the board. It was perfect for the pizza as the ripe fruit helped mellow the spice, it has that creamy mouthfeel that cut through the earthy component of the mushrooms.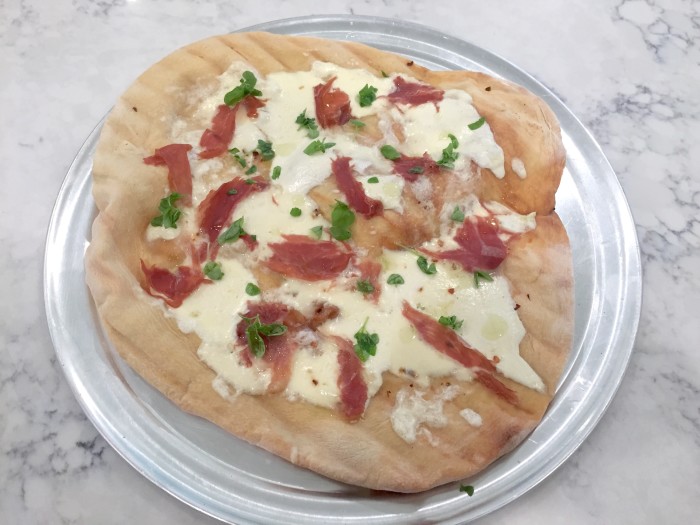 Grilled White Pizza with Spicy Onion, Garlic, Stracciatella, Prosciutto and Truffle Oil
Makes two pizzas
Pizza dough:
1 teaspoon sugar

1 yeast packet

3 ½ – 4 cups white flour (if you want more texture, use 1 cup whole wheat flour)

1 tablespoon salt

3 tablespoons olive oil

1 cup water (warm)
Pizza:
Pizza dough (you can purchase pre-made dough, or make from scratch)

1 large onion

3 cloves garlic

4 tablespoons EVOO

1 tablespoon red chili flakes

1 quart stracciatella cheese

8 ounces prosciutto

1 ounce truffle oil
Make pizza dough: Add sugar and yeast to warm waterproof for 5 minutes. Combine flour, salt, and olive oil in a large bowl, and once yeast has proofed, add to bowl. Work dough until water is fully integrated; add water or flour as needed to get to appropriate ratio. Form dough into a ball and place in a large bowl that has been coated with olive oil. Cover with a moist kitchen towel and let dough rise for 2-3 hours at room temperature.
Make spicy oil: Mince onion and garlic, then sauté onion on medium heat in a pan with olive oil for 5 minutes. Add garlic and chili flakes, and cook until garlic is crispy. Place oil, garlic and onions in a small bowl and save for later.
Assemble the pizza: Take a fist-sized portion of dough and roll it out as thin as you can while still being able to work it. Brush one side lightly with olive oil and place on a hot grill. Once dough has firmed on grill, flip pizza so both sides have been cooked on the grill and are firm. Then add spicy oil, onion and garlic, as well as cheese and prosciutto and cook until cheese has fully melted. Remove from grill, add a drizzle of truffle oil and serve.
Roasted Wild Mushrooms
Note: This dish is about the quality of mushrooms first and foremost. Start with a mix of the best wild (non-button) mushrooms you have available.
4 servings
Ingredients:
1 quart (roughly 1-1.5lbs) mushrooms

Olive oil

1 tablespoon salt

1 tablespoon pepper

1 shallot

1 cup sherry

1 tablespoon butter

1/4 cup fine herbs
Wash mushrooms thoroughly and dry, then roughly chop (just to make them fork friendly — not too fine). Place on a baking sheet, drizzle with olive oil and add 2 pinches of salt and pepper. Roast in the oven at 350 degrees for 20 minutes (this will vary depending on your oven as well as the kind of mushrooms you choose) until they are just under fork tender.

While your mushrooms are working, finely mince shallot and add to a pan with EVOO on low heat, and slowly cook until translucent.

When your mushrooms are just under fork tender, remove and place in a pan on medium heat and finish with sherry, confit shallots and butter until fork tender.

Place in a medium bowl and garnish with chopped fine herbs.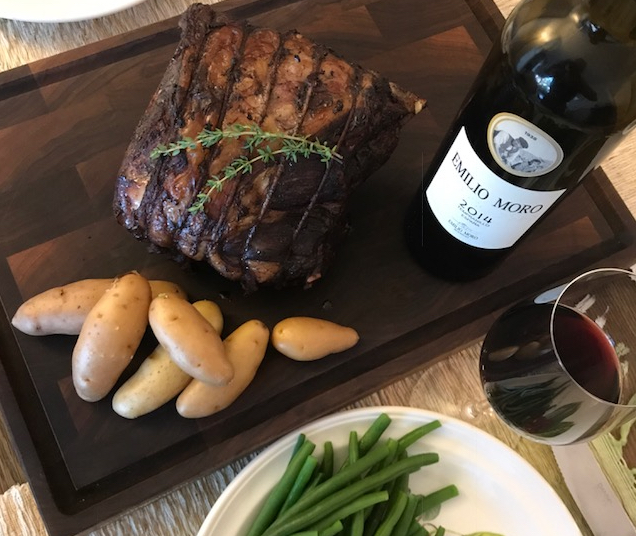 Elizabeth Smith, CS, Wine Program Coordinator at the International Culinary Center®
@in_vino_glorias
@iccedu
@criminaldefencebutcher
This dish is a simple recipe that produces a delicious, comforting result. Lamb shoulder is a slightly tougher cut because it's a hard-working part of the animal, but it has a ton of flavor. This means you don't need too many ingredients to make an incredibly tasty meal, and slow-cooking is an easy way to tenderize the meat.
The recipe comes from Spanish Chef José Pizarro, but I like using red wine in the recipe rather than white like in the original, and am more liberal with my salt, pepper and garlic.
It's the perfect recipe for a lazy autumn Sunday at home because there's fairly little hands-on work, other than basting while the unctuous smell of roasting lamb fills the house. As evening falls and the day gets colder, tucking into tender, richly sauced lamb and savoring plush red wine brings an almost primitive satisfaction. One of my happiest memories of this dish is serving it to my Croatian mum, English dad and Taiwanese husband and parents-in-law. All three cultures have some variation of a roast lamb shoulder, and everybody loved this meal, which was easy to make and looked spectacular on the table.
I paired it with a Tempranillo from Ribera del Duero, where the Tempranillo grape produces the rich, dark-fruited wines that have made this region world famous. The full body and velvety soft mouthfeel of Emilio Moro's 2014 Tempranillo make it a great pairing for the succulent lamb, with enough tannin and acidity to balance out the lamb's richness. This wine offers notes of black plum and cassis, vanilla pod and coffee, charcuterie and black pepper, and damp dark earth. Its savory, earthy undertones of leather and tobacco also are a beautiful match for the gaminess of the lamb.
Serve the lamb with buttered fingerling potatoes, crunchy green beans and good company.
Slow-Roasted Lamb Shoulder
Serves 4-6
Ingredients:
1 bone-in shoulder of lamb (about 4 pounds, trimmed of excess fat & sinew)

Salt and black pepper

1 head garlic

1 handful flat parsley leaves

1 cup water

1 bottle dry red wine

2 tablespoons extra-virgin olive oil

3 sprigs thyme, leaves stripped
For the lamb: 
Rub lamb shoulder liberally with salt and pepper, and place in a roasting pan or Dutch oven.

Finely chop the garlic, then grind the garlic and parsley into a paste with a mortar and pestle, and rub onto the lamb.

Mix the water, wine and olive oil and pour slowly over the lamb. Sprinkle thyme leaves on top, cover, and leave to marinate for 1-2 hours.

Roast the lamb uncovered, fat side down, in a 275 F degree oven for 3 hours. Baste every 15 – 30 minutes. Turn the shoulder fat side up, and roast for a final 25 minutes at 425 F.

Let stand for 15 minutes before carving.
John Rittmaster, Owner and Wine Director, Prima Vini Wine Merchants & Prima Restaurant
@primavini
I had something like this dish at a Spanish restaurant in Amsterdam (don't ask why I was eating Spanish food in Holland!) and pretty much fell in love with it on the spot. I sort of invented my own version of it soon afterwards, and have tweaked it a bit over the years based on what's available. It's really simple and popular either as a first course or as a main, depending on what wine we serve. The key is, of course, getting really good live clams and really good shrimp. 
John's Spanish Clams (photo at top of page)
Serves 6 as an appetizer, 4 as a main course
Ingredients:
1 piece nice Spanish chorizo sausage

3/4 pound large (12-15 count) shell-on prawns

2 pounds nice, live Manila clams, soaked in heavily salted water for half an hour

1 bottle Rueda Verdejo wine, 1/4 the bottle at room temperature; the rest nice and cold

3 cloves garlic, chopped fine

1 medium shallot, chopped fine

Chili flakes (optional)

1 good handful chopped Italian parsley or cilantro
Sear the chorizo sausage over high heat in a deep sauté pan, cas- iron skillet or, best of all, a wok. Remove and drain on a paper towel when brown on both sides, leaving the oil in the bottom of the pan.  

Sear the prawns with shells on in the same pot, removing once the shells color and have some brown spots — about 3 minutes. Remove. Add the well-scrubbed clams to the same pot with around a quarter of a bottle of good white Spanish white (of which you should be drinking the other half while you cook). Sprinkle the chopped garlic and shallot over the proceedings along with chili flakes, if using.  

When the clams start to open add back the chorizo, shrimp and a good handful of chopped parsley (or cilantro). Test the liquid as it reaches a boil and adjust seasonings with salt and pepper as required.




When the clams are all open (discard any that don't), pour it all into a bowl.

Cut some crusty bread. Drink a bottle of

Bodegas Tionio Ribera del Duero

, eat the clams and pretend you're in Spain.