The Homesick Texan's Brief History Of Chile Con Queso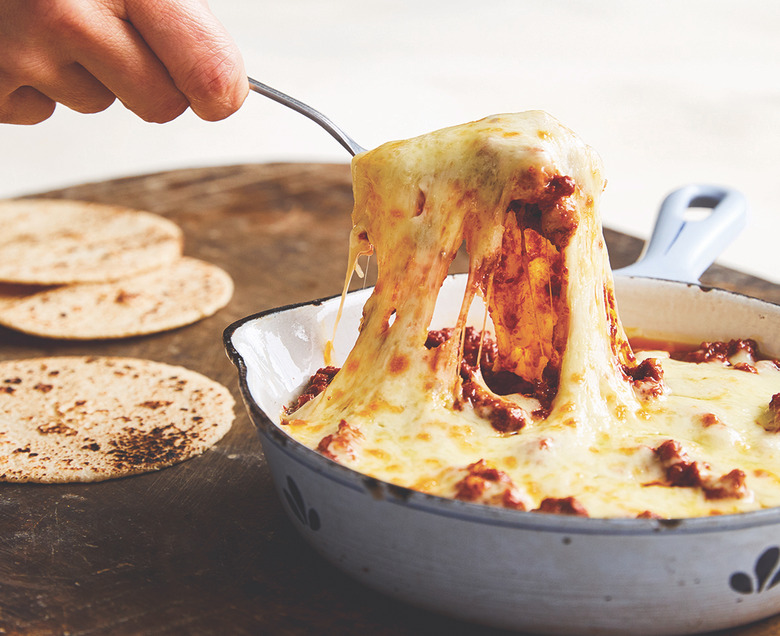 We may receive a commission on purchases made from links.
There's a very good reason there's an exclamation point at the end of Homesick Texan Lisa Fain's new cookbook, Queso! It's hard not to say it without, well, exclaiming! If there's one dish in the Texas repertoire to be truly excited about, it's queso. This book has every recipe — plus some essential knowledge — you could ever need to become a true master. Take it one step further and learn the history of chile con queso before you dip your next chip. 
Reprinted with permission from Queso!
In the late 1500s, Spanish explorers arrived in the area around what is known today as El Paso, Texas, along the Mexican-American border. With them, they brought livestock, such as cows and goats, which that part of the world had never seen. Dairy was not known to the Native Americans, as their diet was made up of indigenous ingredients such as corn, squash, and chiles. From that point, however, as the old world connected with the new, it was perhaps inevitable that one day cheese would be paired with chiles and a culinary alliance would be born.
Although the exact moment when chile con queso came into existence has not been determined, the earliest reference to it in print can be found in the 1816 Mexican novel, El Periquillo Sarniento (The Mangy Parrot) by José Joaquín Fernández de Lizardi. The next citation occurred in 1865 in the Mexican poem "Glosa del Chile Verde con Queso," in which an anonymous poet laments that women of his era know much about artifice and fashion but little about practical matters such as stewing chiles with cheese.
Despite the presence of chile con queso in the literature of the day, Mexican cookbooks from the 1800s did not feature recipes with that name, though dishes composed of chiles with cheese did exist. One such recipe, Chiles Poblanos, found in the 1887 cookbook La Cocinera Poblana, was made up of poblano chiles, cheese, and tomatoes.
Although chile con queso most likely originated in Mexico, the first published recipe to use the phrase appeared in the United States. An 1896 article about Mexican cuisine in the magazine, The Land of Sunshine included a dish called Chiles Verdes con Queso, which was a mixture of long green chiles, tomatoes, and cheese. Like all early Mexican versions, it was intended to be a side dish, with the cheese enhancing the chiles, much like cheese melted onto cauliflower. Its evolution to a dip was yet to come.
Now, looking toward Europe, Swiss fondue and its British counterpart, Welsh rarebit (or rabbit), became popular in the United States in the late 1800s. Fondue is a pot of melted cheese for dipping bread and vegetables; Welsh rarebit is a melted cheese dish that is poured over toast. Neither was considered a side dish but instead was an appetizer or the main event of a meal.
Then, in 1908, a Kentucky newspaper ran a recipe for Mexican rarebit, a take on Welsh rarebit that added chile pulp to a base of melted cheese, milk, and egg and was served over toast. In 1909, the San Francisco newspaper Call published a similar recipe, but replaced the chile pulp with chili powder, a blend of ground ancho chiles with herbs and spices, such as oregano and cumin. One of the fathers of chili powder was a German immigrant in Texas named William Gebhardt. He began to market his Eagle Brand chili powder in 1896, and in 1911 his company produced a cookbook that included a recipe for Mexican rarebit similar to the San Francisco version.
About the same time, recipes for and references to Mexican chile con queso began appearing more frequently in the press. Eventually, an astute cook realized that combining rarebit (and getting rid of the egg often used in its preparation) and chile con queso would make for a fine dish, which leads us to a recipe for Mexican rarebit that appeared in the 1914 edition of Boston Cooking School Magazine and that called for green chiles, tomatoes, cheese, beer and corn. This version, though intended for pouring over toast, was very close to what most would consider American chile con queso today.
In Texas, chile con queso appeared in restaurants as early as 1910, when San Antonio's Gunter Hotel offered it, according to the book The Menu Maker. (In 1922, O. M. Farnsworth asserted that the menu for his Original Mexican Restaurant, also in San Antonio, had not changed since it opened in 1900. Chile con queso was on the menu at the time, so perhaps it was served back in 1900, though no one seems to have documents to confirm this.) It is not known what form this dish took — whether it was a side dish or a sauce to be poured over tostadas or toast.
Then, in the early 1920s, a recipe with the name Chile con Queso appeared in the Woman's Club Cook Book of Tested and Tried Recipes published by the Woman's Club of San Antonio. Like some Mexican rarebit recipes, this chile con queso used cayenne and paprika instead of the fresh chiles found in Mexican chile con queso. But it did not contain egg and it was the first chile con queso recipe to call specifically for American cheese. A truly American queso in both name and style had arrived.
After that, chile con queso appeared frequently in Texas publications and community cookbooks. These early recipes were served over toast or tostadas or were enjoyed as dips with potato chips, crackers, tostadas, or Fritos, after their invention in 1932. American cheese was a popular choice in these early recipes; Velveeta, which was invented in 1918 but not widely marketed until later, didn't make its first appearance in a queso recipe until 1939, in What'll I Cook? published by the First Christian Church of Lubbock.
In 1943, Carl Roetelle opened his canning plant in Elsa, Texas, and began to market Ro-Tel tomatoes, which were tomatoes blended with green chiles. Then in 1949, a Ro-Tel ad appeared with a recipe for making a chile con queso by simply heating a can of the spicy tomatoes with American or processed cheese until melted, and serving the dip with toasted tortillas or Fritos: a Tex-Mex classic was born.
While most of Texas was enjoying chile con queso made with American cheese, green chiles, and tomatoes, in the area around El Paso and southern New Mexico, the dish with that name had more in common with what was found across the border in the Mexican state of Chihuahua. It wasn't meant to be just a side dish any longer, however, as it was also served as an appetizer with tortilla chips and tortillas, much like it was across the rest of Texas.
Chile con queso, in all its forms and permutations, was still very much a regional specialty when First Lady Claudia "Lady Bird" Johnson shared her version in the Washington Post in 1964. Despite the attention, the dish wasn't popularized, though people in the Southwest, Texas, and Midwest continued to make queso. In these regions, it became a staple at social gatherings. There wasn't much variation in the recipes, however, until recent years, when creative cooks took the basic formula and crafted it into something new.
The history of chile con queso is rich and varied, much like the dish itself. In this chapter, I've included recipes that show the beginnings and evolution of this uniquely North American blend of the Old World and New. Admittedly, a couple of the recipes are included for their historical significance and not their tastiness. I've shown how they were originally written, and also given suggestions on how to adapt them to today's tastes, so be sure to read the headnotes before making the recipes. That said, most of these recipes are as fresh and inviting to people today as they were over one hundred years ago.