Ed Begley Jr. Is Very Passionate About Food Waste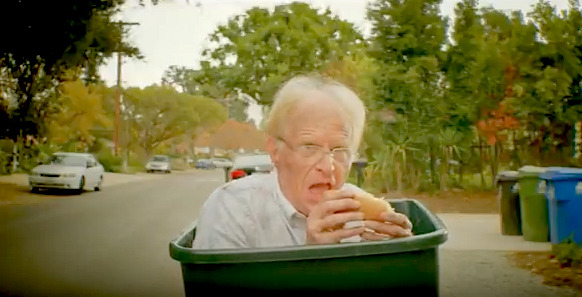 You know Ed Begley Jr. He's that actor from... you know, everything — he's insanely prolific. But did you know that Begley's a hardcore green activist as well? In addition to many other contributions to environmentalism, the California native loaned his famous face and striking know-how to a 2007 HGTV reality series (later picked up by Planet Green), Living With Ed. The show was about his small, largely sustainable home which generates a mere $300 a year in energy bills, and his journey to live with as low a carbon footprint as possible. He even has a line of eco-friendly plant-based cleaning products.
His progressive website, Better Than Ed, is packed with the kind of pragmatic advice that just may save the planet. And now, he's tackling food waste with all his might for YouTube channel CrowdedPlanet, via the not-for-profit Center for Biological Diversity.
Check out this PSA where Begley crawls into a trash can and eats half a hot dog to make an excellent point. And the next time you're re-re-watching that one episode of the tragically short-lived Party Down where he pops too much Viagra at the elderly singles dating seminar, smokes a joint in the bathroom, makes out with Jane Lynch then accidentally dies for a few minutes, be like: "I know that guy. He's a really good guy."