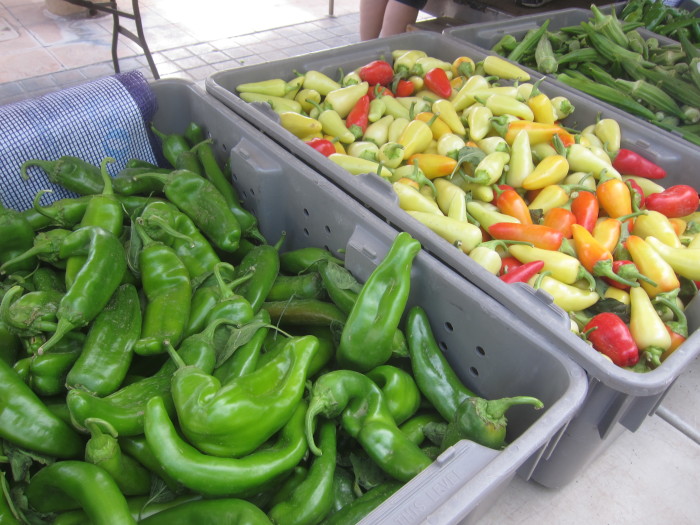 When it comes to Southwestern cuisine, particularly in New Mexico, the green chile is king. And among those peppers, the green chiles grown around the town of Hatch are considered to be the cream of the crop, like the finest Grand Cru wines within the Bordeaux region of France. To continue the wine analogy, a Hatch green chile is not actually a particular species or variety of pepper, but rather an expression of the particular terroir of the high desert, dry air, hot days and cool nights of the region. The same way that Bordeaux wines can be a blend of different grapes — for example, Cabernet Sauvignon, Merlot, Cabernet Franc and Malbec — a jar of chopped Hatch chiles can be a combination of varieties — like Joe Parker, Big Jim and Sandia — to achieve the desired flavor and level of heat.        
Another unique aspect of New Mexico chiles is how they spell the name of the capsicum peppers with an "e" instead of an "i" to differentiate it from the spicy bowl of meat (and occasionally beans) that is more popular to their neighbors to the east in the Lone Star State. While the cans and jars of green chiles that you might find on your local grocery shelf might be labeled with the Hatch moniker, that name is frequently misused. Only peppers grown in and around the valley that surrounds Hatch, New Mexico can technically bear that appellation.
Just in case you're not totally confused yet, the same chiles that are grown in New Mexico are also occasionally labeled as Anaheim or Colorado chiles. They can be green or red, depending on what level of ripeness they are harvested at, and heat levels can vary from virtually no spice similar to a green bell pepper to infernal. One thing that chile lovers agree on is that Hatch peppers are at their most delicious when they have been roasted, either in wire mesh tumblers over propane jets that line the streets of Hatch during the annual Chile Festival over Labor Day weekend or simply blistered over the burners of your home stove or in the oven. Hatch fans descend on the small town during the Chile Fest to buy their yearly supply of roasted chiles by the sackful, cognizant of the fact that harvest season is short, usually August through September.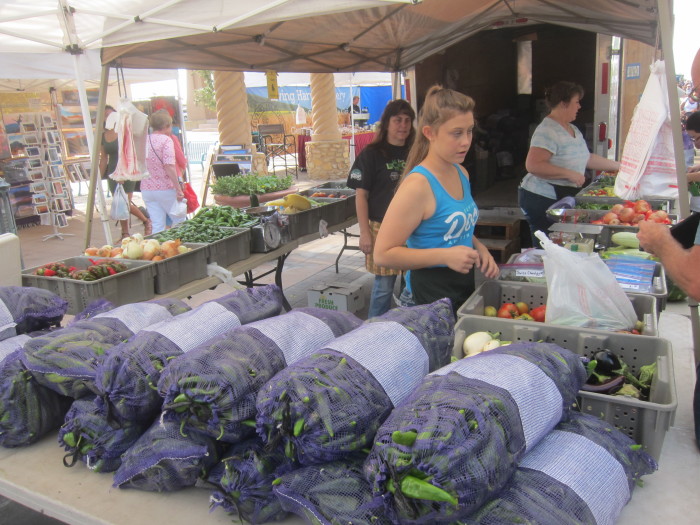 In attempt to educate the public about the nuances of Hatch green chiles and expose America to this regional delight, a pair of entrepreneurs out of Brooklyn have dedicated themselves to raising the profile of this particular product. Zia Green Chile Company takes its name from the ancient sun symbol originated by the Native Americans of Zia Pueblo which is featured on the New Mexico flag and license plates. The business is the brainchild of Nate Cotanch, a native Southwesterner with New Mexican roots that stretch back to the 1500s.

Together with his college friend and business partner Elliot Anderson, Cotanch works directly with the famers around Hatch to create the perfect blend of green chiles which they sell as a jarred product in medium or mild green varieties or as a red chile. The red chiles are a particularly novel product, because often the fully ripened peppers are tied up in long ornamental strings called ristas or dried and crushed into powder. The opportunity to incorporate their rich sweet smoky flavors into sauces and salsas is a rare treat.
Before packaging, the peppers are roasted, chopped and then packed in a light solution of lime juice, garlic and salt to keep them shelf-stable for up to two years. During the harvest season, Zia also ships fresh chiles by the 5 lb. bag for roasting at home. Orders are picked up from the fields every Monday for shipment on Tuesdays and delivery to most of the country within three business days.
Over the past three years, New York residents may have encountered Cotanch and Anderson at Smorgasburg in Brooklyn, where Zia has earned legions of fans by drawing them in with the intoxicating aroma of fresh chiles cooking in their little table-top roaster. In addition to selling their jarred products, the Zia crew also use their products in freshly prepared dishes like chicken sopapillas with green chile salsa or carne adovada, a braised pork shoulder with red chiles. The dish which Zia is best known for at Smorgasburg has to be their Frito Pie, with patrons acting as walking billboards as they stroll around Williamsburg eating directly from precious little corn chip bags.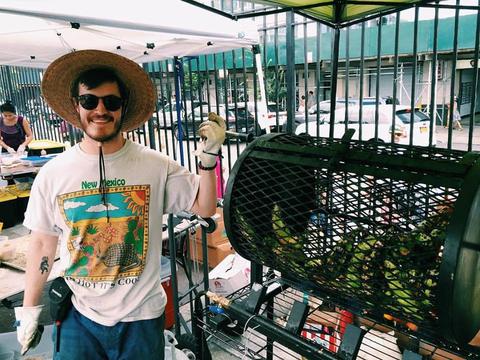 As part of their outreach to educate the public, Zia invited two chefs with roots in the Southwest to join them for a trip to Hatch for last week's Chile Festival. John Lewis is the chef/owner of Lewis Barbecue in Charleston, known for his fantastic beef brisket, mastered during stints working with Aaron Franklin in Austin and at La Barbecue. Lewis spent his teenage years living in El Paso, just across the mountains from Hatch, so he is quite familiar with the flavor profiles of the succulent chiles. He recently opened a small experimental spinoff of Lewis Barbecue in a restaurant incubator called Workshop Charleston. At his cheekily named Juan Luis, Lewis shares the flavors of his youth in dishes like puffy tacos, enchiladas, burritos and chile rellenos.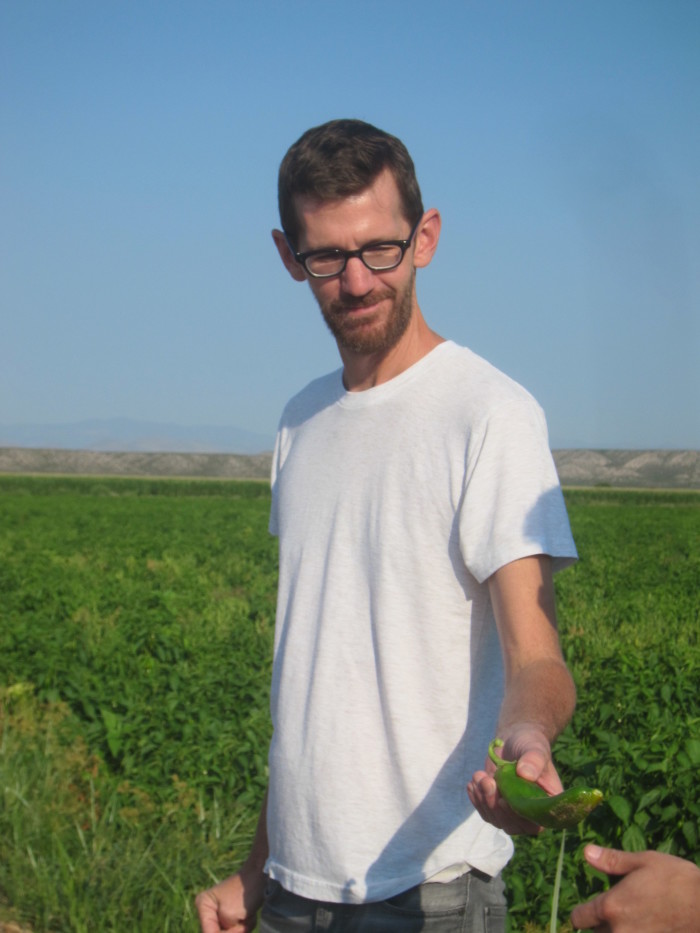 Bryan Weaver is the chef at Butcher & Bee in Nashville. The second outpost of B&B, the original is in Charleston, and the owner of the restaurant group, Michael Shemtov, is also the impetus behind Workshop and Lewis' landlord. Weaver has roots in Texas and Colorado and is beginning research on a  new restaurant concept that will incorporate the flavors of the Southwest into his cuisine.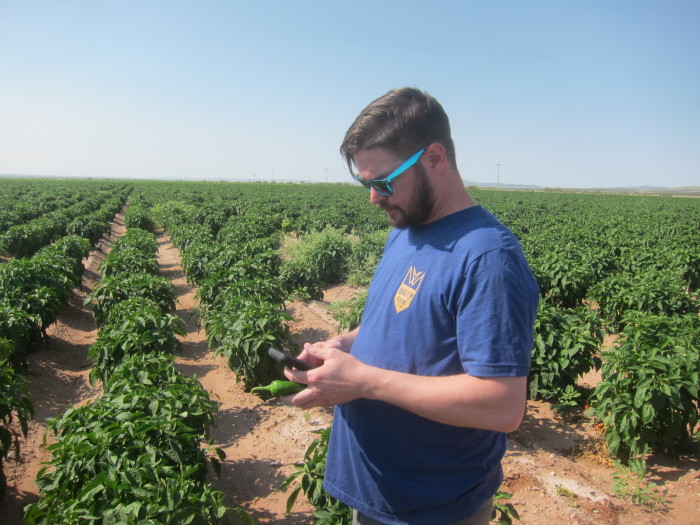 Lewis and Weaver flew to El Paso and then took the hour-long drive to the Las Cruces hour to soak up the culture of New Mexico and learn about the green chiles that are at the heart of the state. Research stops included visits to The Chile Pepper Institute, an international non-profit research facility based out New Mexico State University.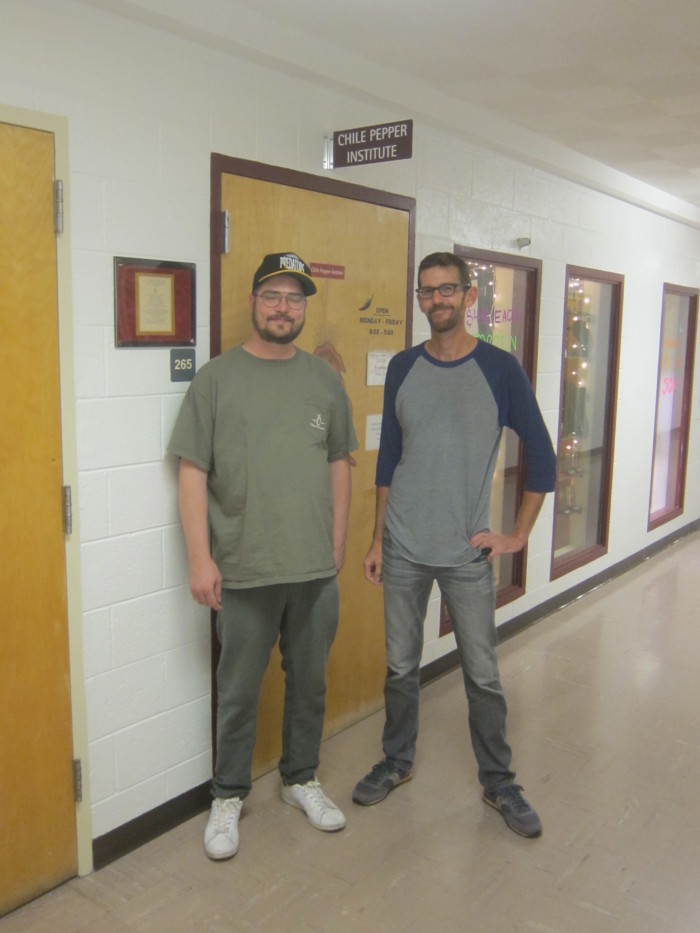 There, the chefs toured the demonstration garden where they viewed and tasted come of the more than one hundred chile varieties grown on their test plots, including several strains developed specifically by the chile breeders at the Institute.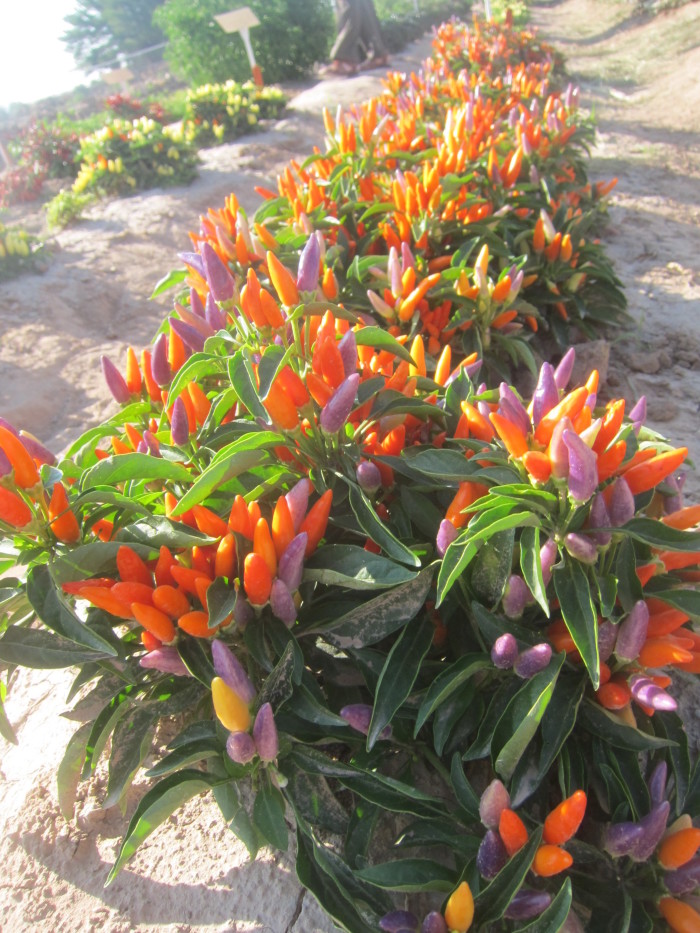 Other visits included trips to local chile farmers where the chefs learned about the difficulties of finding labor to work the fields and harvest the chiles. Restricted by migrant worker status, many of the H2A temporary work visa holders are quite sought after, and the competition with the California grape harvest can be acute. Chiles are not an every year crop, either. Crop rotation is essential to maintain healthy soil, and most chile farmers only plant peppers in a particular plot once every 6-7 years, alternating with other crops such as cotton, alfalfa, corn, onions or lettuce. But chiles are definitely the cash crop, so farmers must maintain large enough fields to be able to plant at least part of their field in Hatch green chiles every year to stay afloat. Harvest yields are also based on the availability of water from the nearby Rio Grande to supply their drip irrigation systems in the arid climate.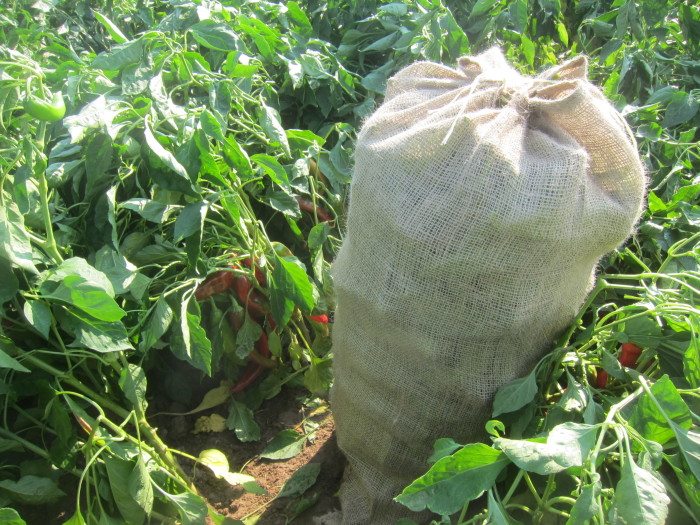 Of course, Weaver and Lewis had to actually taste the chiles as part of their culinary research, so field trips were arranged to local restaurants for red chile and bean breakfast burritos, an iconic green chile cheeseburger at Sparky's, a legendarily kitschy Hatch restaurant and music venue, and even some more questionable choices like green chile milkshakes and cocktails served out of a pepper pod.
The chefs actually got to take part in a roasting at the invitation of a few locals that they met at Sparky's. While the process was quick, taking only about two minutes per 25 lb. batch, it was a fine occasion to enjoy a few longnecks on a hot day.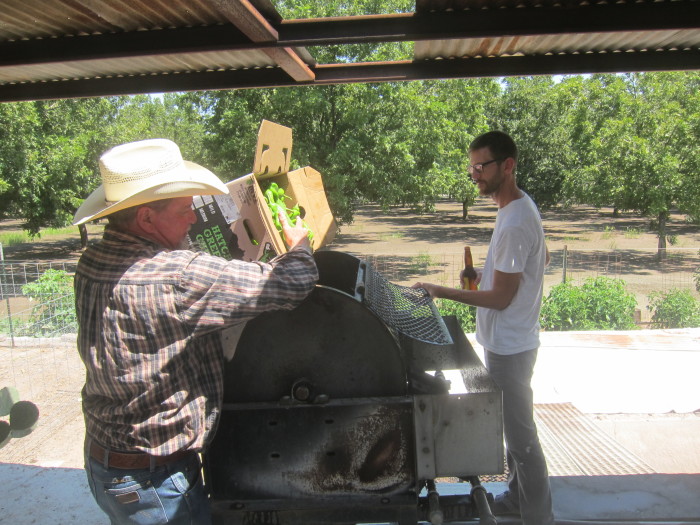 The highlight of the trip was of course the Hatch Chile Festival, held near the small municipal airport in adusty field right across the street where Lewis' great-great grandparents are buried. Estimates of the crowds that flock to the fest ranged from 30,000 to a Sean Spicer-esque 100,000 — though the lower number is probably closer to accurate over the course of the weekend fest.
The assembled chile fans walked the midway of carnival rides and listened to local country music bands play pretty darned passable versions of their favorite Nashville tunes while sipping on green chile-flavored beers in the biergarten.
Ristra stringing classes were offered every hour for the craftier of attendees, or you could just stand among all the roasters and breathe in the smell of fire, smoke and chiles.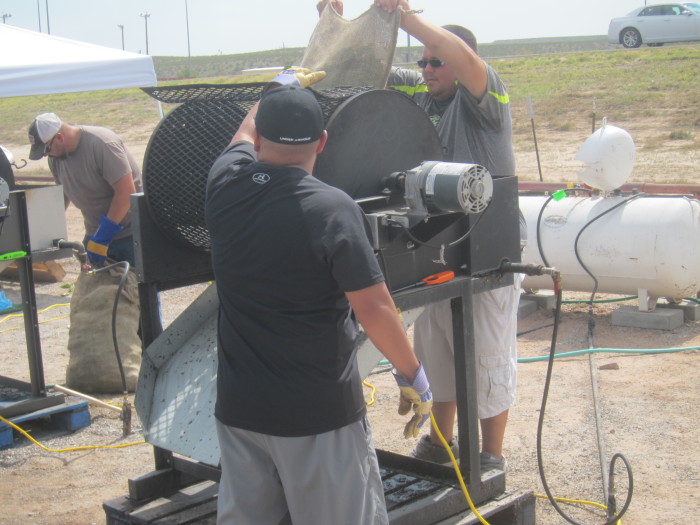 By the time the Chile Queen was crowned, Weaver and Lewis felt fully immersed in Hatch culture.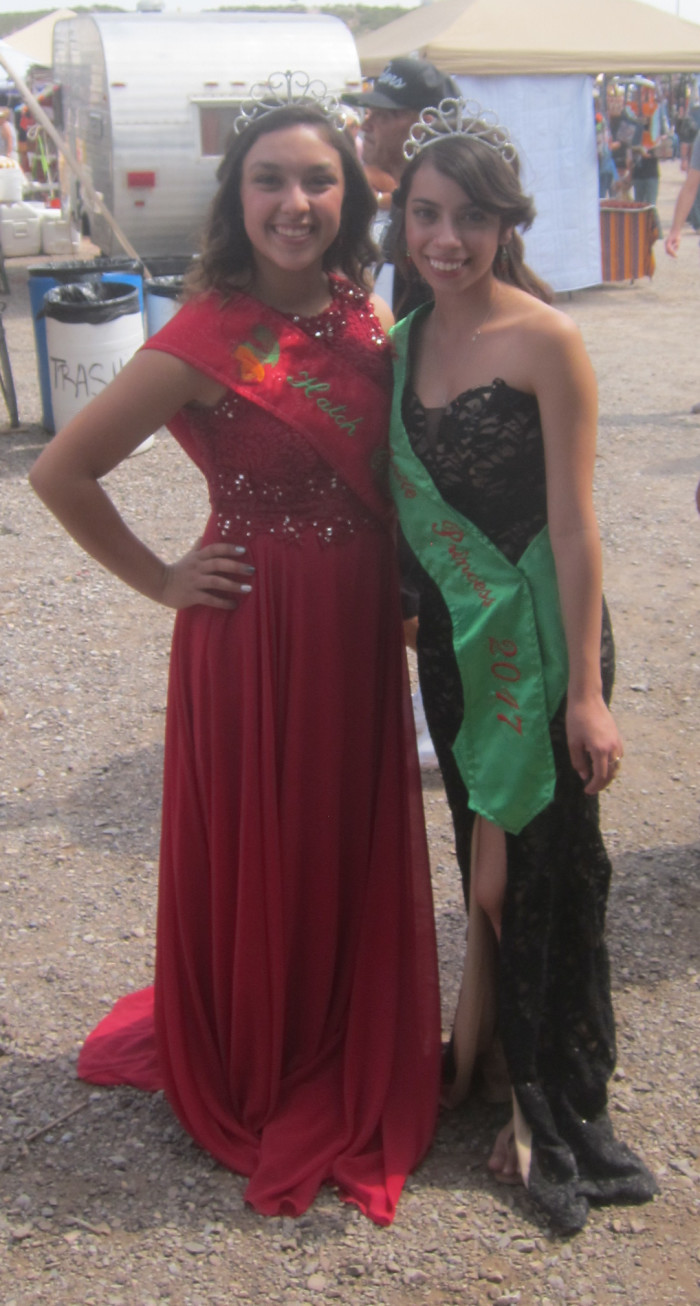 Thanks to Zia, not only will they be able to take their newfound knowledge back to their restaurants to use in the kitchen, but they'll also have wholesale access to the chiles themselves. Lewis has plans for a huge chile roasting in the parking lot of his barbecue restaurant on September 16, so if you happen to be in Charleston, he'd be happy to lay some Hatch on you.