New York City's been home to Friend Of A Farmer for more than 30 years. It wasn't until December 2015 that its co-founding husband and wife team of Carrie and Terry Morabito decided to expand their six-table Gramercy Park location to Brooklyn Heights.
Terry built the two-story townhouse from the ground up, including tables, fireplaces and small details that run throughout the restaurant.
Friend Of A Farmer started out as a jam and baked goods stand at the Union Square Greenmarket. Carrie opened the small Gramercy Park café in 1986, making everything from ingredients available at the Greenmarket. After a shining review in The New York Times, lines to get in wrapped around the block. Terry and Carrie expanded the café to the next store next door and above before crossing the East River into Brooklyn.
Now, Weston Morabito, one the Morabitos' two sons, has taken up front of house duties as the assistant director of operations. For our latest Design Finds, we asked him about the inspirations for the restaurant's designs, which evoke farm-style city dining better than just about any place out there. (This interview has been condensed and edited for clarity.)
Your dad builds all the furniture in the restaurant?
Basically everything. I mean, this antique [cabinet] we just have had in our house. But all the tables, all the kind of quirky little wooden furniture pieces, the candleholders downstairs he built. It's all handcrafted. The entire restaurant he built himself with a couple of his guys. My mom's kind of the visionary. She sees it and they collaborate quite well together. It's been working for 30 years. They haven't killed each other just yet. [laughs]
Did he also build the furniture at the Gramercy location?
Yeah, all the tables. I don't know if a customer would notice, but the tables are a little darker, a little thinner [at the Gramercy location]. It's a smaller restaurant, so it works better with it. That's the beauty of building your own furniture. You can makeshift it to what you need.
Was handcrafting the restaurant always the idea?
He's been in construction since he was 18. I think restaurants go through so much money just spending it on repairs and furniture. He knows how to do everything off the top of his head. He comes in at 7 a.m. if we have a broken pipe. He knows how to fix it. From nuts to bolts, he does it all.
Do you know the inspiration behind the cement tables?
He's always liked working with cement. It's such a malleable material. Our first house we moved into on Long Island, he made the kitchen floor out of cement and pebbles. It looked beautiful. I'm starting to see a lot of places do it, but it started in our kitchen. After that, we built it—we have a dining table that's 10 thousand million pounds that took forever to get into the house—he built that. So it's just the next logical step. A lot of this stuff starts in our personal home life and just makes its way into the restaurant. It helps give that vibe of a little more family oriented.
How about the barn house look?
My dad is from Auburn, New York, which is a little town outside of Syracuse. They lived there before they moved to Staten Island. It's got that Upstate vibe — the wallpaper, the barn-feel kind of comes from that. So, [it comes from] his upbringing.
Speaking of the wallpaper, do you know where it's from?
This one is actually newer. You probably couldn't tell, but the one at Gramercy has been up for literally 30 years. Now we can't find that same cloth. It's not even a wallpaper it's like cloth, like what you would sit on on a couch. But yeah, this one is a new one. The one at Gramercy is probably out of production now. We're out of luck on that one.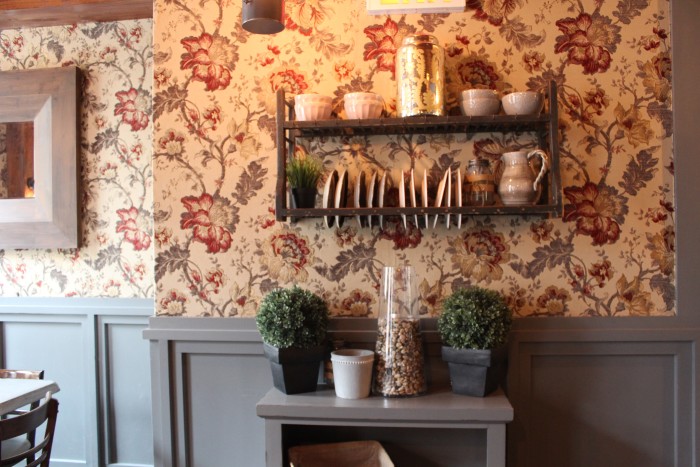 Where do the little knick-knacks throughout the restaurant come from?
Little knick-knacks have probably at one point or another been in our actual home. The one by the fireplace, I want to say like when TVs were 50 inches wide, we had a TV in that mantle and now it's holding a rooster and some fruit. So it's come a long way. But all the things he didn't build, usually came from inside of our house.
This [plate holder] was either in my sister's room or our dining room and held plates. I think it looks a little bit better here now, it really completes the room.
Does you ever get requests for custom furniture pieces?
We got one a couple weeks ago for one of these big rectangular tables. People always ask where we get them and aren't aware that can be purchased. Once in a while we get someone asking, "Where can we get these?" and we go from there, have our dad give them a call and it's an easy chain of response. It's slowly picking up as we get busier.